By:
Arkansas State Parks Staff
Winter To-Do List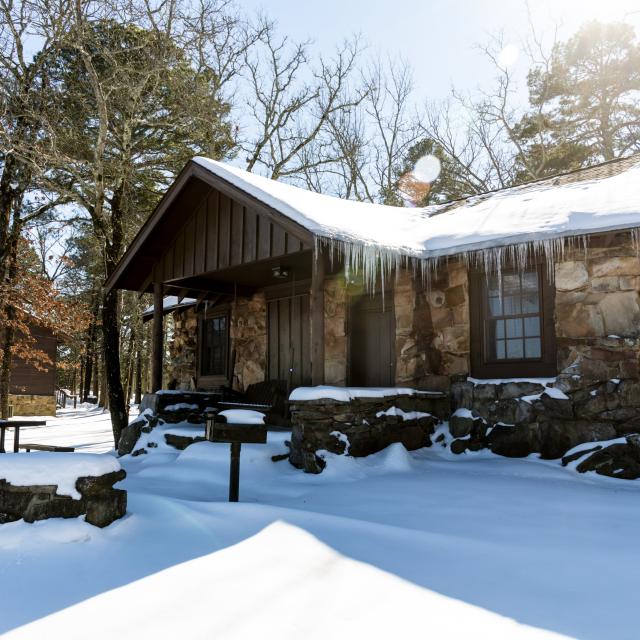 Get out of your rut this winter! There are so many things to do in the Arkansas State Parks system, so why not plan early and bring the whole family along?
Get Your Heart Rate Up
Forget snakes, chiggers, ticks, and the memories of sweltering heat when you head outside! Plan your winter wonderland hike where you can see views for miles and watch for wildlife. Spot animal tracks in the mud or snow and see how many you can identify — is that a deer hoofprint? In certain state parks, interpreters offer guided hikes to help you connect to the great outdoors in meaningful ways. 
More of a thrill-seeker? Mountain biking is second to none in winter. The trails are less crowded, and the feel of the wind whipping onto your face will inspire you. Whether you are a beginner or expert, there's spectacular singletrack out there to explore. Maybe this is the year when you tackle Arkansas's Monument Trails (world-class destinations)! 
See 'Em Soar & Cast Lines
Since the leaves have long fallen off the trees, birding takes on new heights. Mid-morning is the perfect time to spot fowl in their natural habitats. Little ones will squeal in delight as wintering eagles and other migratory birds take flight over frozen lakes. Birding programs are offered in quite a few parks, and our birding blog has lots of ideas on trips. 
Bundle up and sink a line into one of the thriving lakes, where crappie and trout prefer the cold water — that means you have an even better chance of landing one! Don't forget your thermos of hot cocoa or apple cider to keep you warm. 
Learn & Grow
With history like an onion, The Natural State's park system is home to museums and historical sites waiting to be explored. Interactive exhibits and activities show off Arkansas's culture, art, history, and nature. 
Stay Cozy
Many state parks have cozy cabins ideal for romantic getaways. Bring your honey and snuggle up next to the fireplace with your favorite books. Maybe you want a unique experience? Rent a YURT or a camping cabin. Or book a room at one of our hotel-like lodges and let us do the cooking and cleaning. Connect on hikes, game nights, and homemade dinners. There's something for everyone.
Volunteer
The Arkansas State Parks system wouldn't be what it is today without the support of volunteers. Give back and be part of the legacy as a steward of the parks by signing up to volunteer.