Arkansas lodges
Looking for a special place to spend the night when you visit Arkansas? Five state parks offer grand lodges in Arkansas and a stay there is comparable to lodging in a resort hotel room. Their locales include some of Arkansas' most scenic mountain and lake settings. Spend a few nights at a luxurious lodge on crystal-clear DeGray Lake, a fascinating folk center in the Ozarks, or one of three spectacular mountain vacation destinations around the state. Each of these magnificent Arkansas lodges also has a restaurant on the premises that serves up first-class fare and appetizing views. The outdoor recreation is also hard to beat – take one of several hiking trails to the top of Mount Magazine, the highest point in Arkansas, ride the impressive Skyline Drive, aka Scenic Highway 88, up to Queen Wilhelmina State Park or spend a summer day on the water at DeGray Lake Resort State Park, located south of Hot Springs. 
Want to stay in a unique historic place? Historic Washington State Park has the perfect place. The Jailhouse Bed and Breakfast is a jailhouse that has been renovated with all the modern amenities. 
If you're planning a business retreat, group meeting or even a wedding-related events, combine comfortable accommodations with each lodge's state-of-the-art meeting and conference facilities.
Choose one of these fantastic Arkansas lodges in our scenic state parks for your next getaway. For more state park vacation rental options, check out our cozy cabins and serene campsites. Use the search function below to find the right lodge for you, then call or click to make reservations and start planning your trip today!
Near Hot Springs and Little Rock, Arkansas' resort state park is located on the shores of beautiful DeGray Lake. Here, you'll find first-class lodging and amenities along with outdoor fun and adventure year-round. DeGray Lake Resort State Park offers a 96-room lodge with conference center just off shore and on an island; 81 Class B campsites, and three Rent-A-Yurts; an 18-hole championship golf course with driving range, practice green, and pro shop; disc golf; swimming; tennis; and hiking trails and guided horseback riding that are available in the park with world-class mountain biking trails nearby. The full-service marina has bait and tackle, fuel, and boat rentals including party barges, kayaks, and pedal boats.
At the peak of the state park experience is Mount Magazine, Arkansas' highest point at 2,753 feet. People come for the sweeping views alone, but there is much to see and do from this unique spot. Mount Magazine State Park is a place of relaxation, exploration, nature study, and is within the Ozark-St. Francis National Forests. It is a destination for outdoor sports and extreme adventures with mountain biking, horseback riding, backpacking, and ATV riding. Mount Magazine is the state park system's most dramatic location for technical rock climbing, and it's one of only two parks to offer hang gliding launch areas. Scenic overlooks, hiking trails, picnic area, pavilion, and visitor center with gift shop add to the amenities. A wide variety of programs led by park interpreters highlights the mountain's natural diversity.
Ozark Folk Center State Park is dedicated to perpetuating the music, crafts, and culture of the Ozarks. Located in Mountain View, Ark., and open mid-April to late-October, the park offers visitors an opportunity to watch artisans work, to stroll through the Heritage Herb Garden, and to hear live Southern mountain music. When booking a visit, check availability at The Cabins at Dry Creek, our beautiful cabins with suites available, and amenities of home. Enjoy Southern cooking in the Skillet Restaurant. One of Arkansas' five lodge parks, the Ozark Folk Center also has a conference center with facilities for unique and memorable meetings.
Petit Jean State Park is an Arkansas classic, a natural and historic treasure that has welcomed travelers for decades. The natural beauty and ancient geology of the legendary Petit Jean Mountain inspired the creation of Arkansas' first state park and with it our state park system. The park mirrors the mountain's rugged beauty with its rustic-style, native log and stone facilities constructed by the Civilian Conservation Corps (CCC) beginning in 1933. The CCC built trails, roads, bridges, cabins, and the focal point of the park, historic Mather Lodge, a 24-room lodge overlooking Cedar Creek Canyon with a restaurant, meeting rooms, and gift shop. The fireplace in the lobby serves as a welcoming gathering place in the winter.
Queen Wilhelmina State Park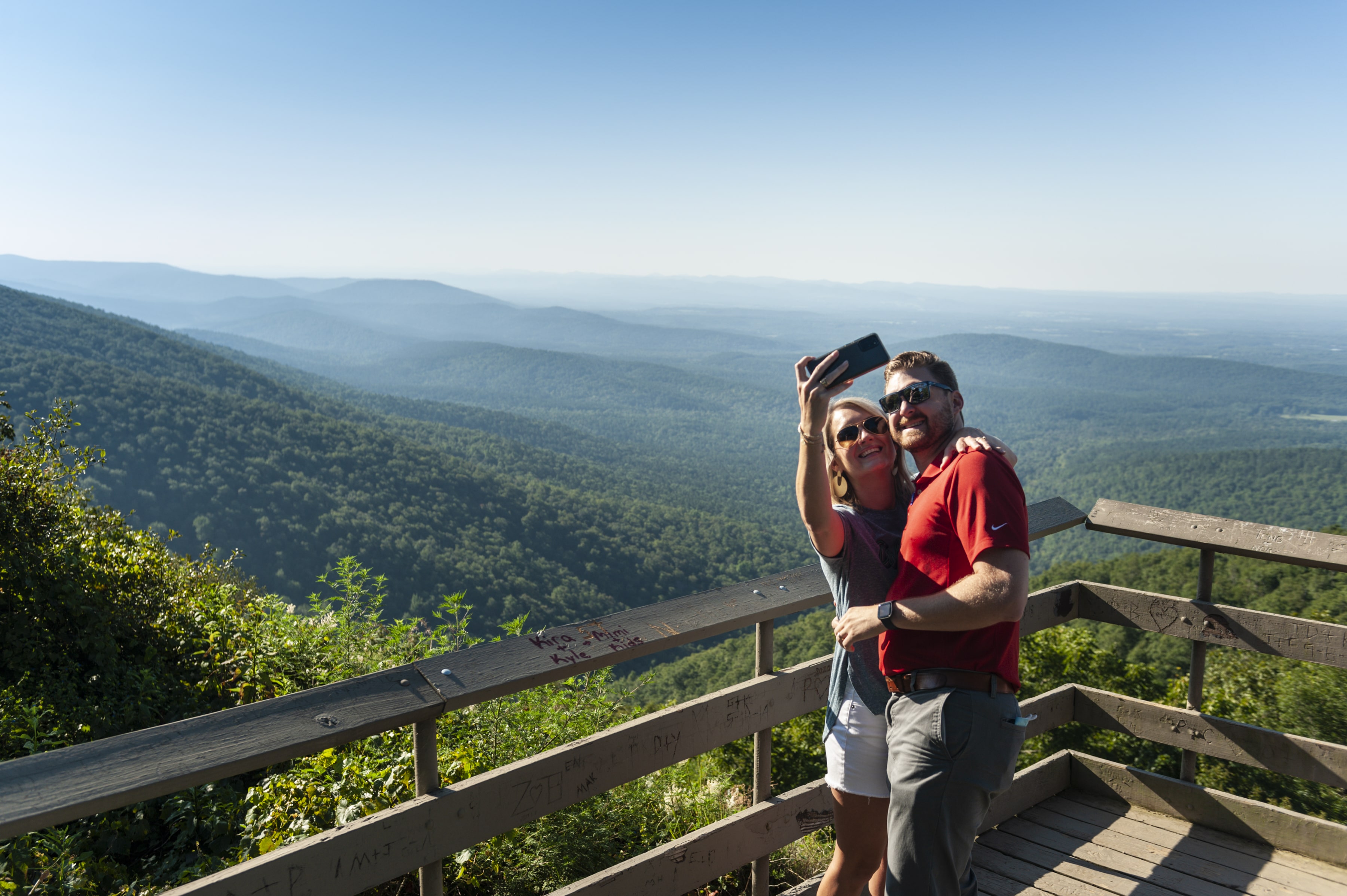 Located atop Rich Mountain, Arkansas' second highest peak, Queen Wilhelmina offers some of the most breathtaking views in the state from the fully renovated lodge. Travel the Talimena National Scenic Byway to this park and its lofty setting. This site is as rich in history as it is in scenery. The original lodge was built in the late 1800s as a Victorian resort named Wilhelmina Inn to honor the young Queen of the Netherlands. Two inns followed the original "Castle in the Sky." The latest inn is today's park lodge, the crowning attraction at Queen Wilhelmina State Park. The 40-room lodge features a new look and many modern updates. Enjoy Southern cuisine and first-class hospitality in the Queen's Restaurant. A conference room with private balcony accommodates up to 75.
Get Inspiration with our
Park Newsletter
Start Planning with the
Arkansas State Parks Guide