Arkansas State Parks
Watchable Wildlife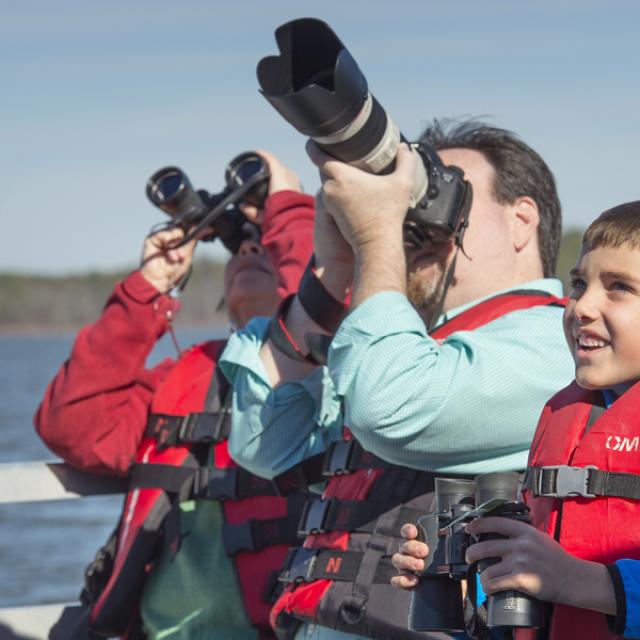 Watchable Wildlife in the Arkansas Outdoors
Looking for Arkansas wildlife? The diversity of Arkansas' six natural divisions provides thousands of acres of habitat for wild animals. Plus, Arkansas is on the famed Mississippi River Flyway and is a favorite stop for migrating butterflies, songbirds, ducks and geese that fly through Arkansas by the millions each fall and spring. Arkansas is also on the edge of the eastern forest and the western plains and many migrants and strays — from birds to butterflies — find their way here.
Twenty-five Arkansas state parks have been selected for inclusion in the Watchable Wildlife program, implemented on a state level by the Ark. Game and Fish Commission (AGFC). This national program identifies locations where outstanding outdoor habitats or migration qualities attract Arkansas wildlife and offer you the best chance of viewing wildlife, large and small, in the Arkansas outdoors.
Many state parks have Arkansas wildlife, birding and butterfly checklists to assist you in finding the best locations and knowing what to look for when you get there. On the park page, click Brochures and Maps to see available park brochures. If they are not online, the park may have a paper copy of Arkansas watchable wildlife guides, trail maps and other resources at the Arkansas State Park visitor center that you can use to plan your outing. Plan to visit these special wildlife-watching zones for a glimpse of Arkansas' amazing animals!
Get Inspiration with our
Park Newsletter
Start Planning with the
Arkansas State Parks Guide