Hiking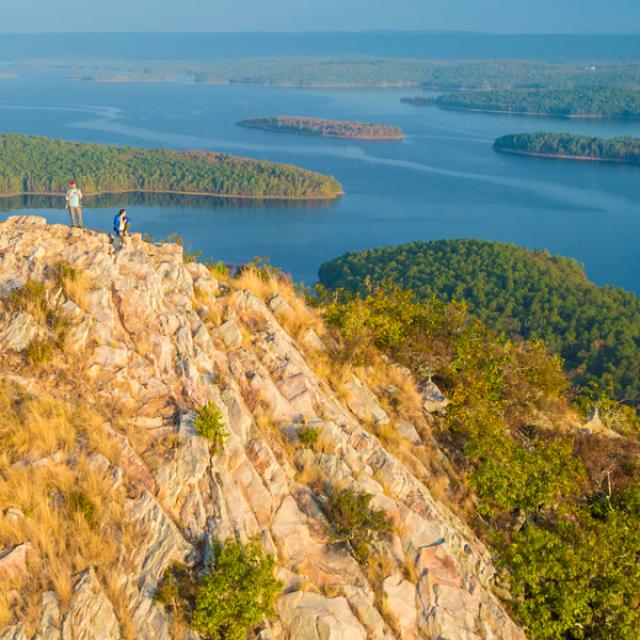 Blazing trails
Arkansas State Parks offer 300 miles of hiking trails, the best way to experience the special beauty of Arkansas. Trails course their way through mountain terrain and alongside rivers and streams. They wind through bottomlands teeming with wildlife and travel through historic sites that showcase Arkansas history. The state parks have every difficulty level and distance, so you can choose the right adventure for you.
Petit Jean State Park offers trails from easy to strenuous levels. Hike to the 1845 historic log cabin constructed by John Walker or take the Cedar Falls Trail to enjoy the sites of the waterfall. Nature lovers will enjoy a leisurely hike at the foothills of the Ozark Mountains at Lake Charles State Park. For the more experienced hikers, head to Mount Nebo State Park to see the breathtaking views from sunrise and sunset points on the mountain. There is something for everyone to experience the rich landscape or Arkansas.
Order a free copy of the Arkansas Adventure Guide produced by the Arkansas Department of Parks and Tourism to learn all about Arkansas's many hiking trails – including those within the Arkansas state parks systems – and other outdoor adventures for travelers who live an active lifestyle. Call 1-800-NATURAL or visit Arkansas.com to order your copy.
Get Inspiration with our
Park Newsletter
Start Planning with the
Arkansas State Parks Guide