Media Kit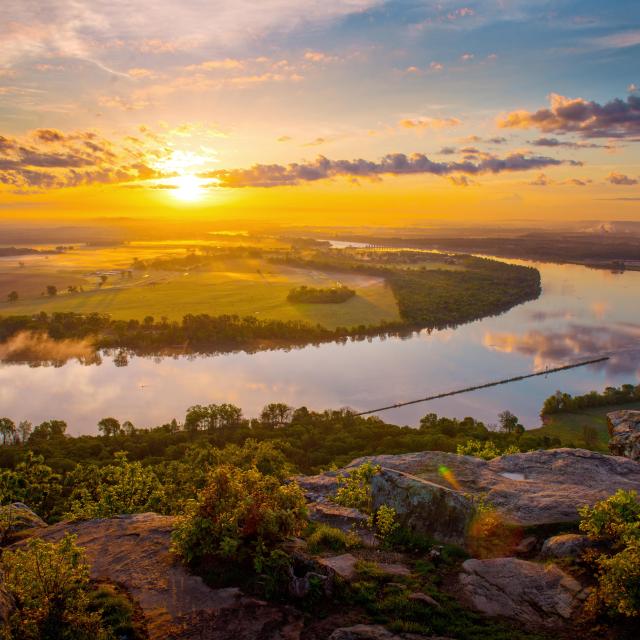 The Mission & Goals of Arkansas State Parks
Arkansas State Parks enhance the quality of life through exceptional outdoor experiences, connections to Arkansas heritage, and sound resource management.
Our goal is for you to experience excellent hospitality and to form a personal connection to the parks. We honor tradition while seeking innovation, aiming to be treasured and relevant for generations to come.
We are committed to:
Providing quality recreational and educational opportunities
Preserving natural, historical, and cultural resources
Enhancing the economy
Leading in resource conservation
Honoring tradition and Seeking innovation
The State Parks of Arkansas had their genesis in 1907 when officials of the Fort Smith Lumber Company toured Petit Jean Mountain in the Arkansas River Valley. Although concerned about difficult logging operations due to rugged terrain, they were so impressed with the mountain's beauty that they suggested it join the National Park System. By 1921, company physician Dr. T. W. Hardison was leading this effort: After securing Legislative approval, he approached National Parks Director Stephen Mather with an offer.
Upon review, Mather asserted the property was indeed striking, but not of national significance. He challenged Dr. Hardison to establish a State Park system—an idea Hardison enthusiastically embraced. With land donations and Legislative support, Act 276 of 1923 was passed and Arkansas State Parks was born.
Growth came in the 1930s with vital contributions of the Civilian Conservation Corps. Parks were added and the CCC built facilities and infrastructure, much of which stands today. Then and now, State Parks were favorably received. The system now comprises 52 state parks on 54,400 acres, with 1,800 campsites, 208 cabins, and 5 lodges serving 8 million visitors annually.
In 1996, Arkansas voters passed a constitutionally dedicated conservation sales tax benefiting Arkansas State Parks and three sister conservation agencies. Today, Arkansas's State Parks are among the most respected in the U.S.
Media Contacts
Shealyn Sowers, Chief of Communications, Arkansas Department of Parks, Heritage and Tourism 

Get Inspiration with our
Park Newsletter
Start Planning with the
Arkansas State Parks Guide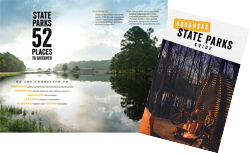 Parks Senior Staff
Shea Lewis –  Cabinet Secretary, Arkansas Department of Parks, Heritage and Tourism 
Suzanne Grobmyer – Chief of Staff, Arkansas Department of Parks, Heritage and Tourism 
Shealyn Sowers – Chief of Communications, Arkansas Department of Parks, Heritage and Tourism 
Jeff King – Deputy Director, Arkansas State Parks
Justin Rotton – Deputy Chief of Communications, Arkansas State Parks