Experience Arkansas'
Fall Colors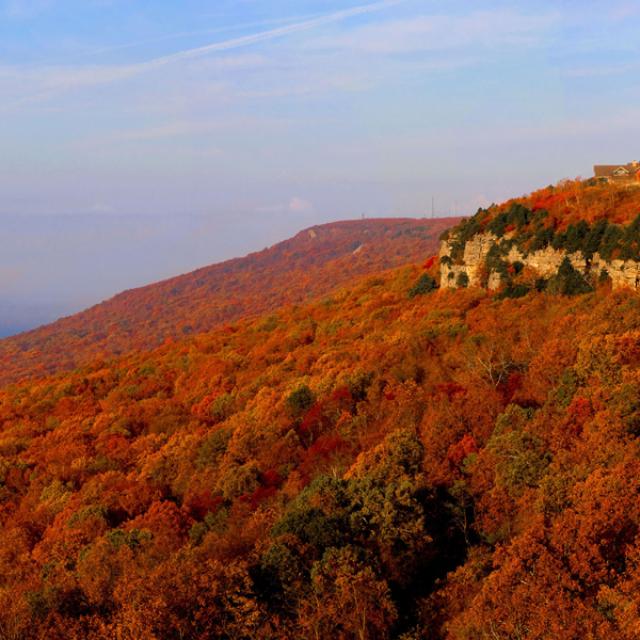 Experience Arkansas' Fall Colors
Every autumn, nature paints the mountains and values of Arkansas State Parks with gorgeous hues of gold, red, and orange. Our state parks showcase autumn's finest colors while allowing you to explore the state's varied landscapes and even wildlife on a fun-filled road trip. 
Arkansas' autumn attractions aren't limited to scenery; fall weather is ideal for enjoying the variety of outdoor activities that state parks have to offer, such as camping, hiking, wildlife watching, and mountain biking. You'll also find art and history attractions and fun, family-oriented fall festivals, and events all over the state.
Whether you plan to stay for a night or a week, fall foliage vacations and adventures in Arkansas' state parks have a lot to offer. Make your travel plans now. 
Fall Foliage Reports
View park photos taken by visitors below and we'll be adding in new ones as they come in this fall so you can see where the best leaf-peeping is. Share yours and be a fall foliage reporter by using #Arkansasfall and #ARStateParks on your social media posts or use the uploader tool below. 
Traditional Peak Color Times in Arkansas
Northern Arkansas, Ozarks: Notable color change starts in late September or early October. Peak color is in late October.
Central Arkansas and West-Central Arkansas, Ouachita Mountain Range: Trees are changing noticeably by early to mid-October. Peak color is typically late October or early November.
Southern and Eastern Arkansas: Foliage usually begins changing during mid-October. Peak color is early to mid-November. 
Get Inspiration with our
Park Newsletter
Start Planning with the
Arkansas State Parks Guide