Arkansas State Parks
Geocaching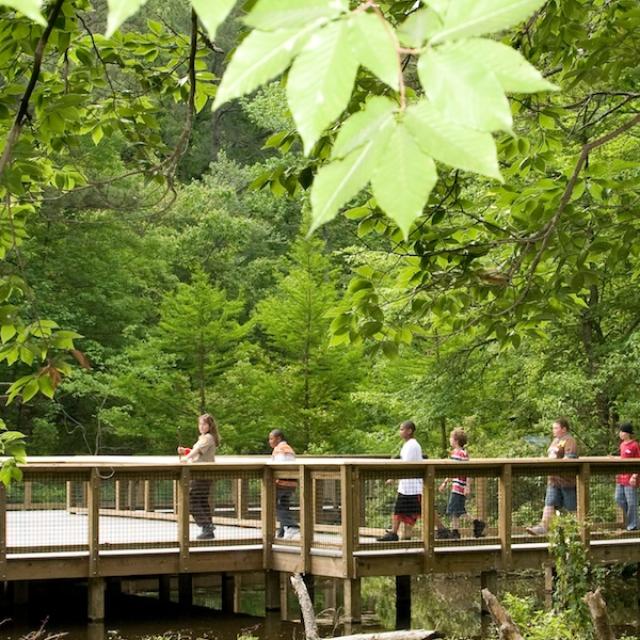 Prime geocaching for kids and adults alike
Arkansas state parks offer plenty of geocaching for kids and adults, another form of outdoor adventure in The Natural State that is becoming increasingly common. The hallmark of the Arkansas State Park system is its diversity, and this wide variety of natural and historic settings, landmarks and architectural works makes for great getaways and enjoyable geocaching in Arkansas.
Come explore the State Parks of Arkansas and test your expert cache-seeking skills in some of The Natural State's most scenic and historic settings.
Geocaching is a fun activity for everyone!
Geocaching for Kids – Geocaching in Arkansas State Parks can be a fun and rewarding adventure for school groups, youth groups and families.
Groups Geocaching – You can have a blast finding geocaches in teams with your group in the Arkansas outdoors.
Couples Geocaching – You can spend a fun weekend hiking with your significant other geocaching in a wilderness setting; then settle down at the end of the day to enjoy a romantic dinner for two.
For information on placing a geocache in an Arkansas State Park, go to our geocaching policy for details.
You can also download our geocache permit.
Are you ready for Arkansas's ultimate adventure in geocaching? Arkansas has 52 beautiful, historic state parks, each with their own special mission. The other thing they each have is a geocache. This Arkansas geocaching adventure is based around visiting all 52 state parks. Each cache has a clue that will help you find the coordinates of the final, 53rd cache, located somewhere in the state. Just download the clue sheet and start your adventure. We encourage you to upload photos on the geocaching.com page when you find one and also to tell us about your visit to the park on the state park blog. As an extra incentive, for a limited time you can pick up an Arkansas State Park geocoin at the final location and send it on its way to travel around the world! These geocoins will be randomly placed in ParkCache geocaches so keep watching those caches.
 
Plan some time for each of the parks and enjoy your visit. Learn about natural, cultural and state history. Take in a hike, a swim, a boat ride. Go fishing, ride on a bike trail, try some new outdoor activities or just relax. Have a great time and we'll see you and your GPS soon!
 

​​
For geocaching details and clues, go to: www.geocaching.com. This is the official website where you can learn about the latest caches in your area, how to hide a cache, and how to start experiencing this fun and exciting scavenger hunt sport.

Due to the historic and archeological resources at the following 10 state parks, geocaches may only be placed in these designated parks by authorized staff:
Conway Cemetery State Park
Herman Davis State Park
Jenkins Ferry Battleground State Park
Louisiana Purchase State Park
Marks' Mills Battleground State Park
Parkin Archeological State Park
Poison Springs Battleground State Park
Prairie Grove Battlefield State Park
South Arkansas Arboretum
Plum Bayou Mounds Archeological State Park
Get Inspiration with our
Park Newsletter
Start Planning with the
Arkansas State Parks Guide