By:
Arkansas State Parks Staff
Pondering Pinnacle Mountain
This week Pinnacle Mountain has been frozen with solitude.  The warm-weather crowds have diminished to a handful of bundled, determined hikers.  I no longer see colorful climbing dots moving slowly to the top when I look up.  Instead, my eyes tend to focus on the protruding, sharp rock outlays along each side of the uplifted land.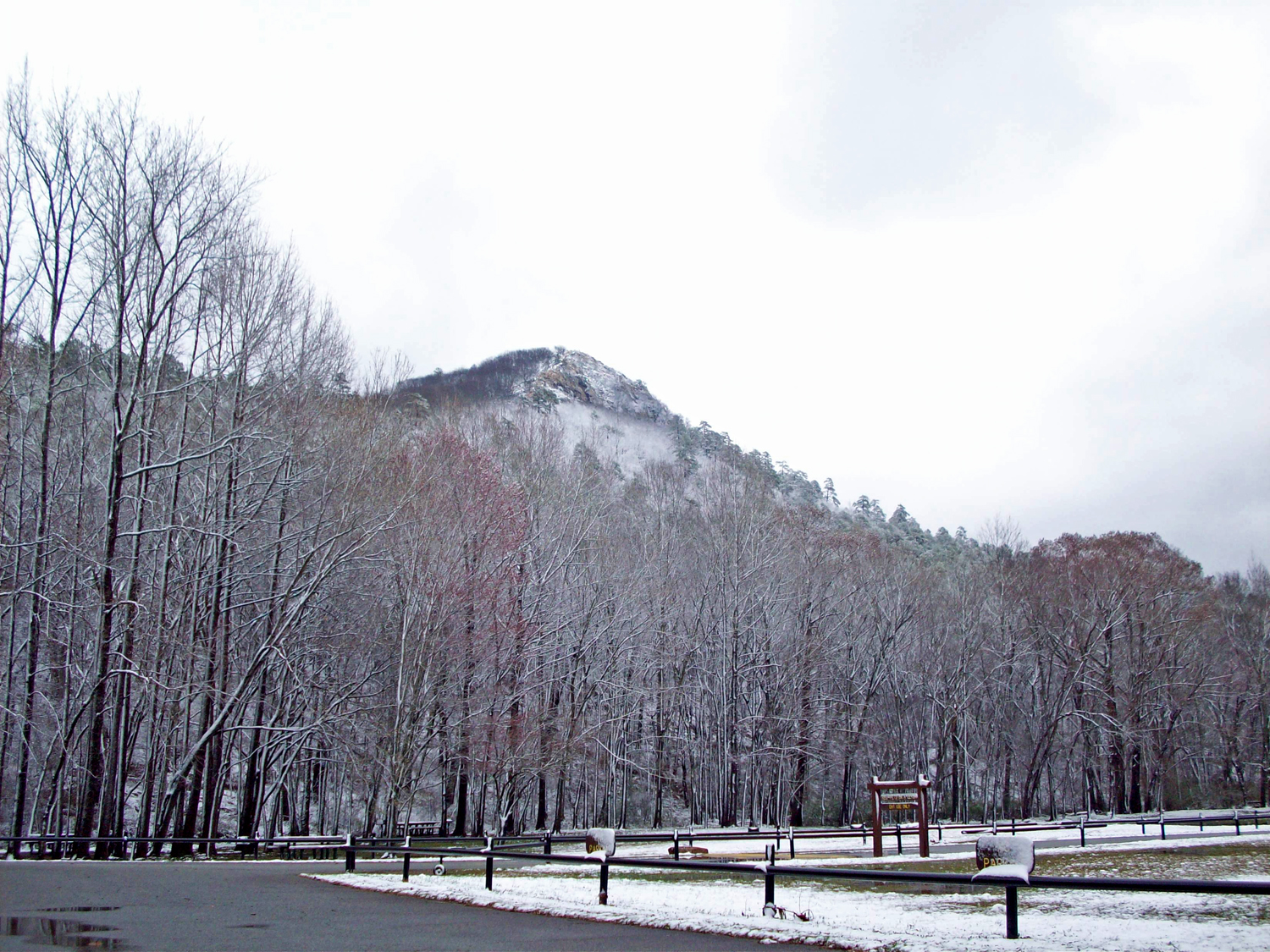 ​
As I gaze at the mountain's nakedness, it's easy to recognize why such a dramatic landform is admired by all who know it. What is not so easy to recognize, is how such a landform arose from the earth.
The Making of a Mighty Mountain
Composed of Jackfork sandstone, Pinnacle Mountain rises 756 feet from the base.  Like all the rest of the Ouachita Mountains, it is in the eroded "crumple zone" which resulted from the collision of two continental plates of the earth's crust.  Before the collision process altered this region, the Ouachitas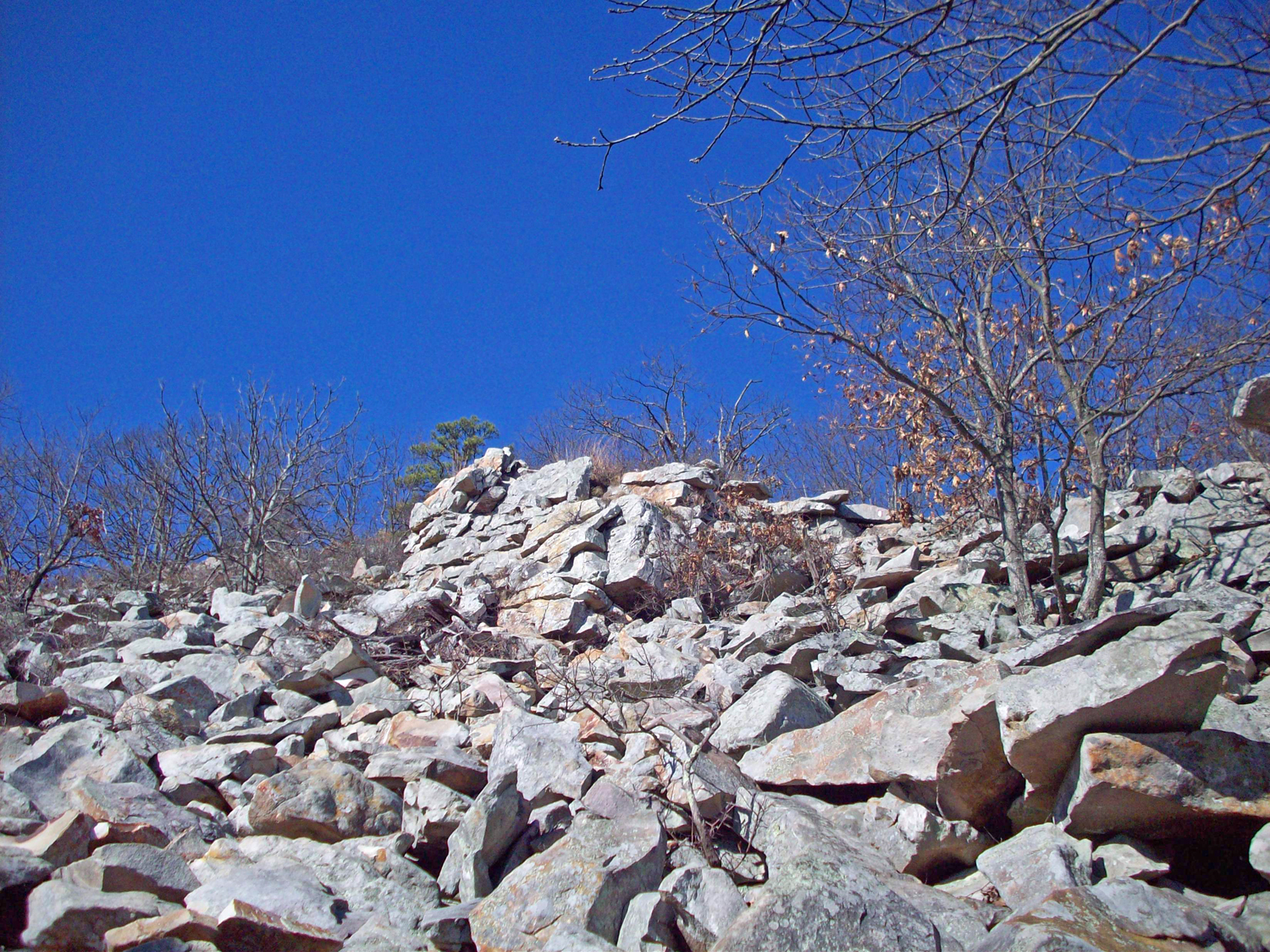 ​
were accumulating sediments on the ocean floor several thousand feet below sea level.  After 275 million years of erosion, the Ouachitas–including many peaks like Pinnacle Mountain–are the greatly reduced remains of a once young and mighty mountain range.  The "cone" form of Pinnacle Mountain we see today is simply a small resistant remnant of a highly eroded ridge which runs east and west for several miles.
Look All Around, But Look Down Too
When you hike up the cone-shaped mountain, it is easy to divert your attention away from the wonders of the mountain itself.  It took me several climbs to condition myself not to focus on the sparkling waters of Lake Maumelle or Arkansas River in the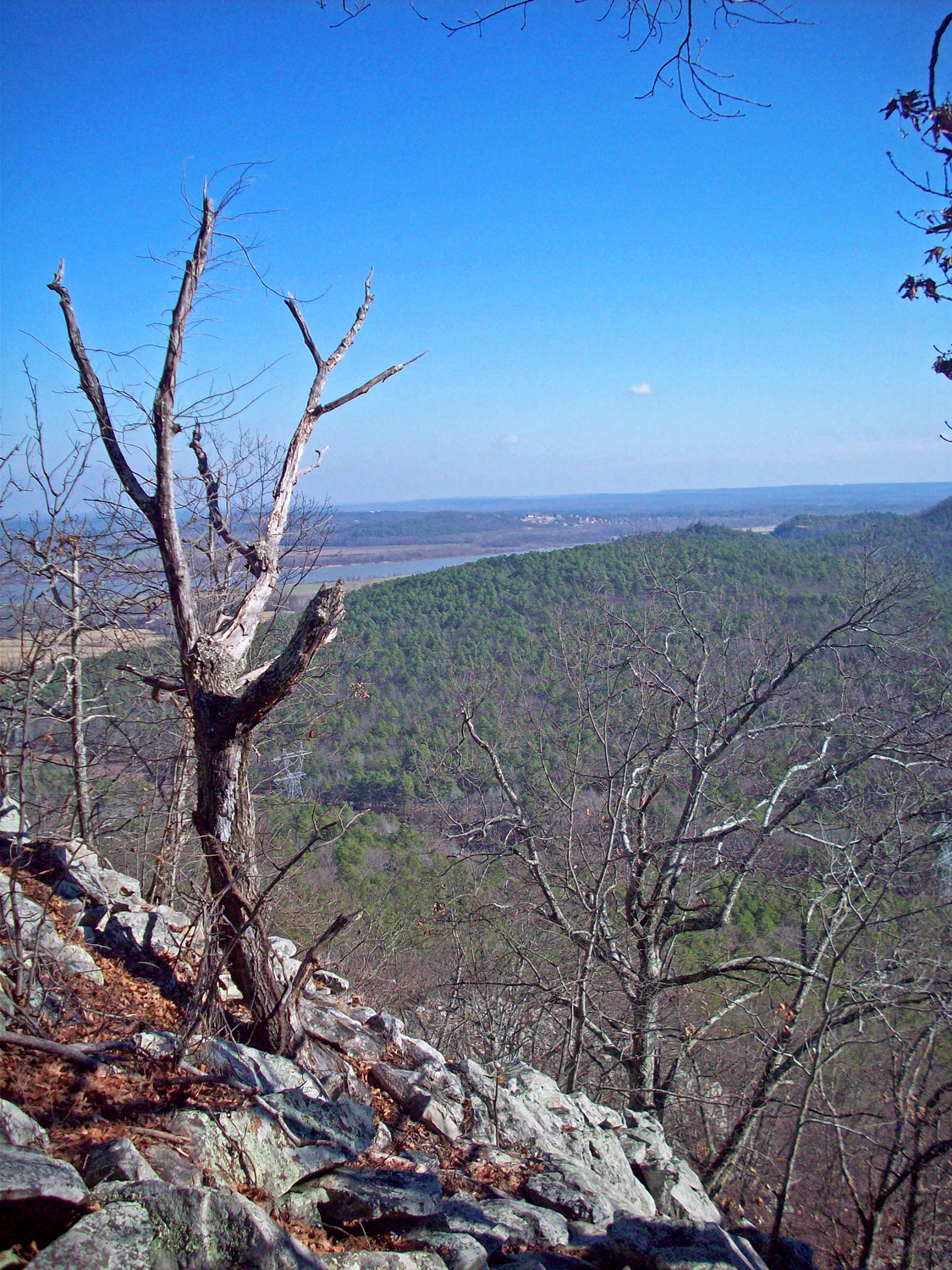 ​
distance, but instead on the dramatic landform right under my feet. Once I took my eyes and camera off the view, I fell in love with the Jackfork sandstone and became filled with wonder at the creation of the Ouachita Mountains.  It amazed me how simple it was to connect those physical geography facts from high school and college to something that was right beneath me.  Before my discovery, continental plates existed only in text books and on exams, but truly, they are visible, touchable, and climbable!
This Stone is Full of Stories
One of my favorite parts of climbing the mountain is the feeling of the sandstone beneath my hands.   It has a rough grainy texture that embodies its name well.  There are countless sandstone boulder fields on the mountain and scattered around this 2000-acre park, which makes them easy to take for granted. However, without this stone, many important places around Little Rock would not exist as we know them today.  Over 75,000 tons of rock was taken from the base of the east side of Pinnacle Mountain to create the Lake Maumelle Dam for Little Rock's water supply.  Also, rock was moved from other areas of the park prior to the 1950s to help build the local Joe T. Robinson Schools and Shrine Country Club.
Two Routes to the Top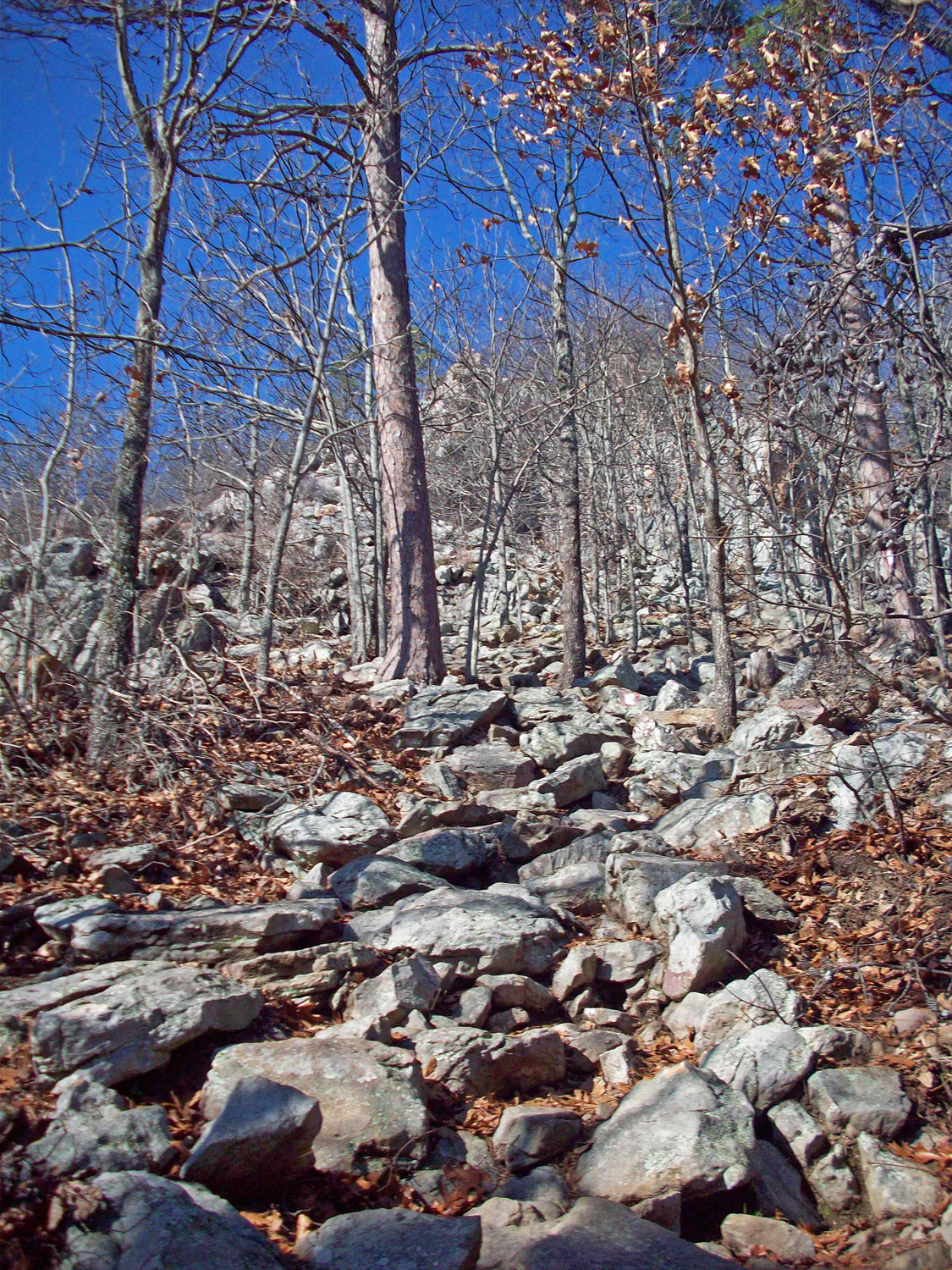 ​
There are a number of trails at Pinnacle Mountain State Park, all designed to showcase various aspects of this diverse landscape. Collectively, we hope they help you understand that everywhere you walk here, from wetlands to upland ridges, you see an ever-changing web of life that flourishes because diverse habitats are protected.
In case you haven't been to the top of Pinnacle Mountain, you should know that there are two main routes for getting there. The most popular path is via the West Summit Trail. This rocky trail begins at the park picnic grounds and winds its way up to the top for ¾ of a mile. To return, you must retrace your steps, for a 1 ½ mile round trip journey, or hike down the other side of the mountain using the rugged East Summit Trail and return on the Base Trail for a total hike of about 3 miles.
If you prefer more of a challenge, plan to go up and down the mountain using the more rugged, ¾-mile East Summit Trail. This route is often referred to as more of a "climb" than a hike, as it crosses several boulder fields and takes a more direct (steeper) route to the top than the meandering West Summit Trail. Technical rock climbing is not required, but much of the hike does require hands-and-feet scrambling as opposed to upright walking.
Either way, this hike is considered strenuous and you should allow at least 1 ½ hours travel time—plus give yourself extra time along the way and at the top for reflection and exploring.
Learning from the Land
Pinnacle Mountain is a dramatic landform that has inspired me to learn more about my local surroundings.  It is also a place where I have been able to provide curious students with real world examples from their textbook lessons and state-mandated curriculum.
No matter your reasoning for visiting Pinnacle Mountain State Park, I am sure that the scenic view—and the mountain itself—will ignite your passion for understanding your environment. I hope you are one of the next bundled-up, determined, wonder-filled hikers that I meet at the top!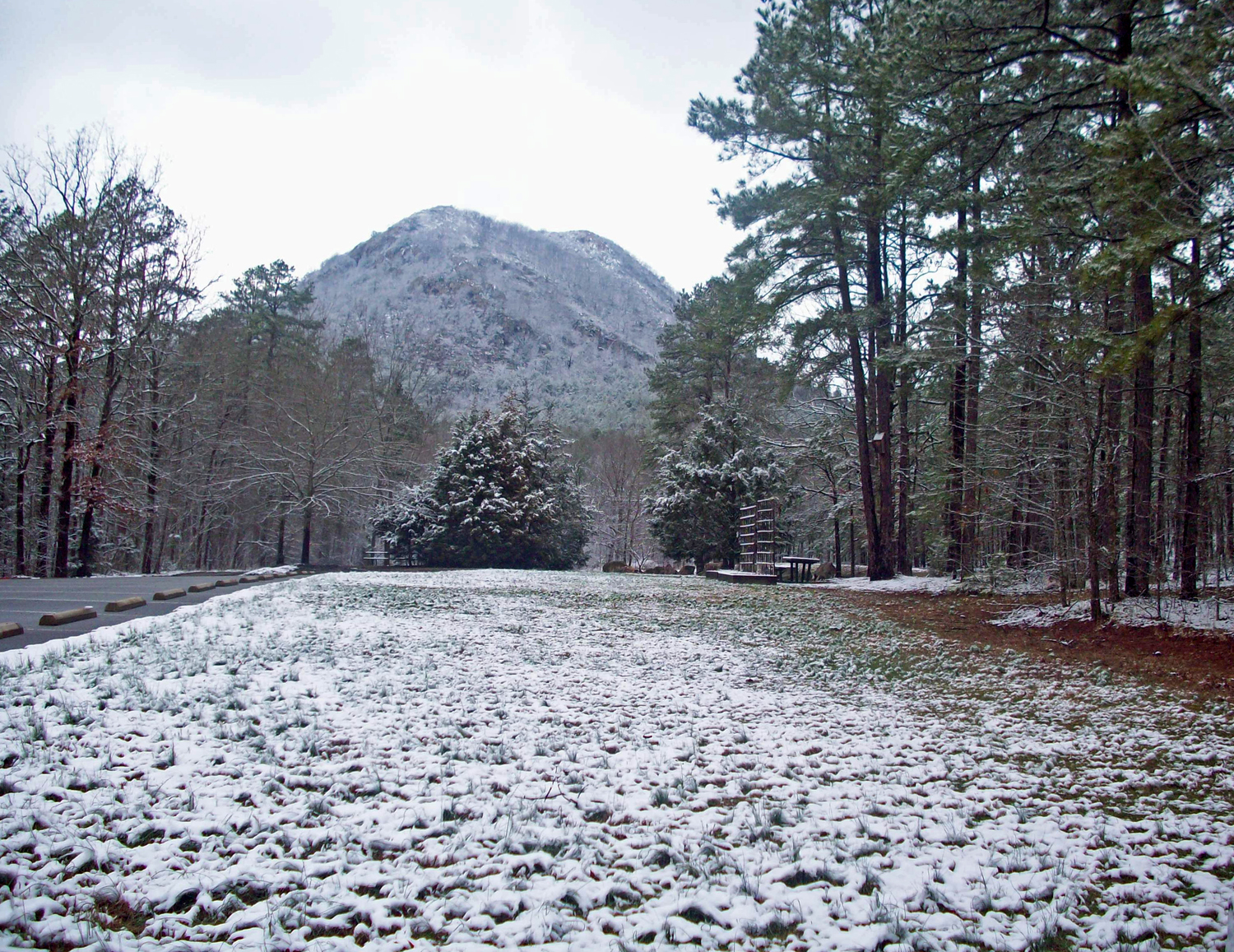 ​