Music Roots Hits All the Right Notes
The Music Roots Program in Stone County provides traditional folk music instruction in local schools. Skilled musicians provide youth with classes in traditional folk instruments: guitar, banjo, autoharp, dulcimer, mandolin and fiddle. Classes are held during the school day to ensure participation. And instruments are provided for the students to use as long as they are in the Music Roots program.
This program represents the very essence of the Ozark Folk Center State Park's efforts to perpetuate, present, and promote the Ozark way of life. In conjunction with the Mountain View School District and the Ozark Folk Center State Park, and the philanthropic work of the Committee of 100 and the Mountain View Bluegrass Association, the program is a part of the students' daily classwork. The Music Roots Program provides the instructor and if needed, the instrument free of charge to the student.
The kids also have an ensemble class that teaches them how to perform as a group so they can book shows and actually gig together.  Check out this video to hear from one of the teachers, Shay Pool, and some of the students about why the Music Roots program is so important, and hear these amazing kids play!
Music Roots began in 1999. It is our hope to see this program continue to grow and expose the children of Mountain View to music deeply rooted in the Ozarks. If you would like to contribute to the program, you can call Ozark Folk Center State Park at 870-269-3851.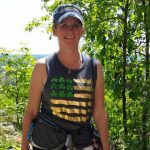 Monika Rued is the public information officer for Arkansas State Parks. She and her son, Pierce, love the outdoors and taking advantage of our incredible state parks. Monika is passionate about sharing everything Arkansas has to offer, making a difference for families in need, her family, enjoying incredible local fare, rock climbing, and as a ginger is always on the quest for the best sunscreens and moisturizers.