Birding in Arkansas State Parks
Arkansas has some of the finest bird watching you will find. We have several birding opportunities in Arkansas state parks. Many of our parks have bird watching checklists, and many park interpreters are avid birders who will delight in helping guide you to view some of the many the birds of Arkansas. At Bull Shoals-White River State Park, kids got a unique understanding into the life of an eagle during one of our events, including if they are taller than an eagle and how their wingspan matched up.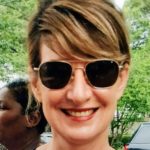 Meg Matthews is the Public Information Coordinator for Arkansas State Parks. She enjoys hiking, biking and swimming at state parks with her friends and family. Meg has recently joined the state parks team after spending years as a broadcast journalist. She is excited to tell all of the wonderful stories about state parks!