Arkansas State Parks has been chosen from a field of 300,000 candidates to receive a Special Achievement Award. This comes from the internationally recognized Environmental Systems Research Institute (Esri) for innovative use of technology.
This specific technology combines something called a Geographic Information System (GIS) with the latest web technologies. At first glance it might sound complicated and not related to everyday use – but that couldn't be farther from the truth.  This system simply stores and displays information in a multi-layered digital map. This allows park planners, superintendents and other staff to understand not only what's on the surface of any area of an Arkansas State Park, but also what's below it, around it and/or connected to it. So, instead of multiple, unrelated spreadsheets about park boundaries, trail locations, underground utilities and campsites, the GIS integrates all the unconnected information and creates one consistent set of facts that can all be seen at the same time through the Arkansas State Parks GIS Web App.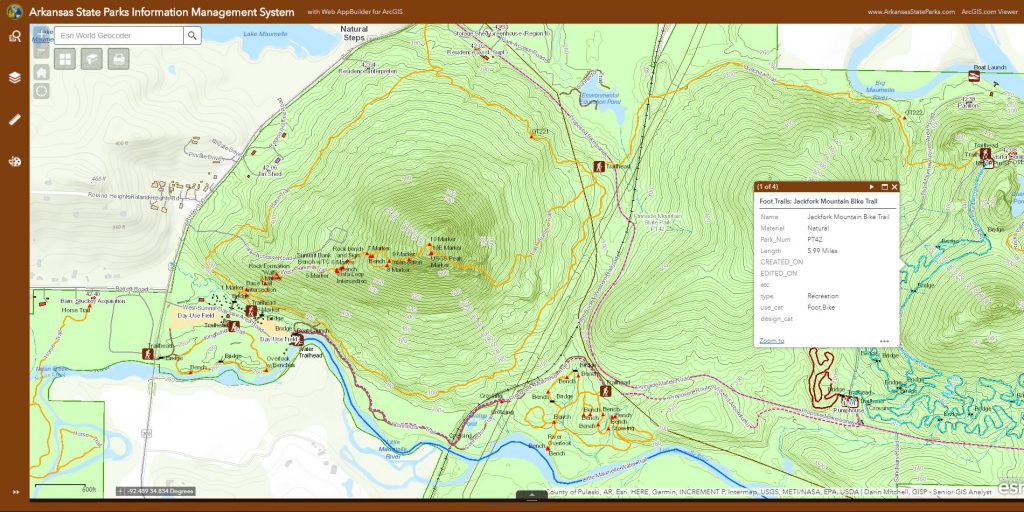 "This was something that took a lot of time and park staff from rangers, interpreters, accountants and more to collect the data, clean it up and put it all in one place for everyone to view," Arkansas State Parks Senior GIS Analyst Darin Mitchell says. "It's increasing communications, that's basically what the GIS is – a visual communication tool."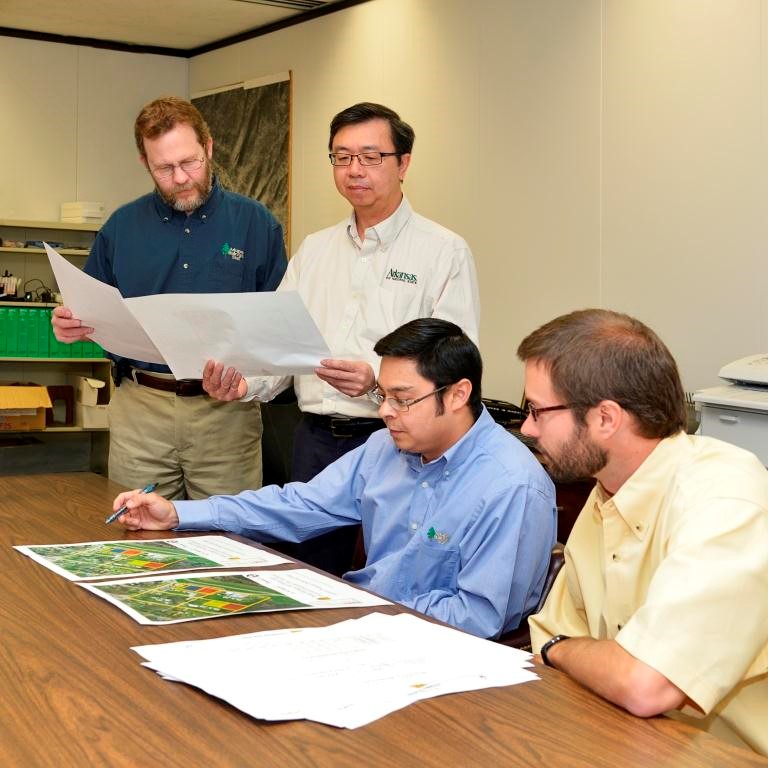 The Arkansas State Parks GIS Web App was developed to provide park staff with easy access to maps and information on their desktop or mobile device. The GIS database contains data on thousands of park features, while the interactive online map displays everything from man-made structures to natural and cultural resources, including buildings, rivers, infrastructure, recreational facilities, trails, and even future development plans.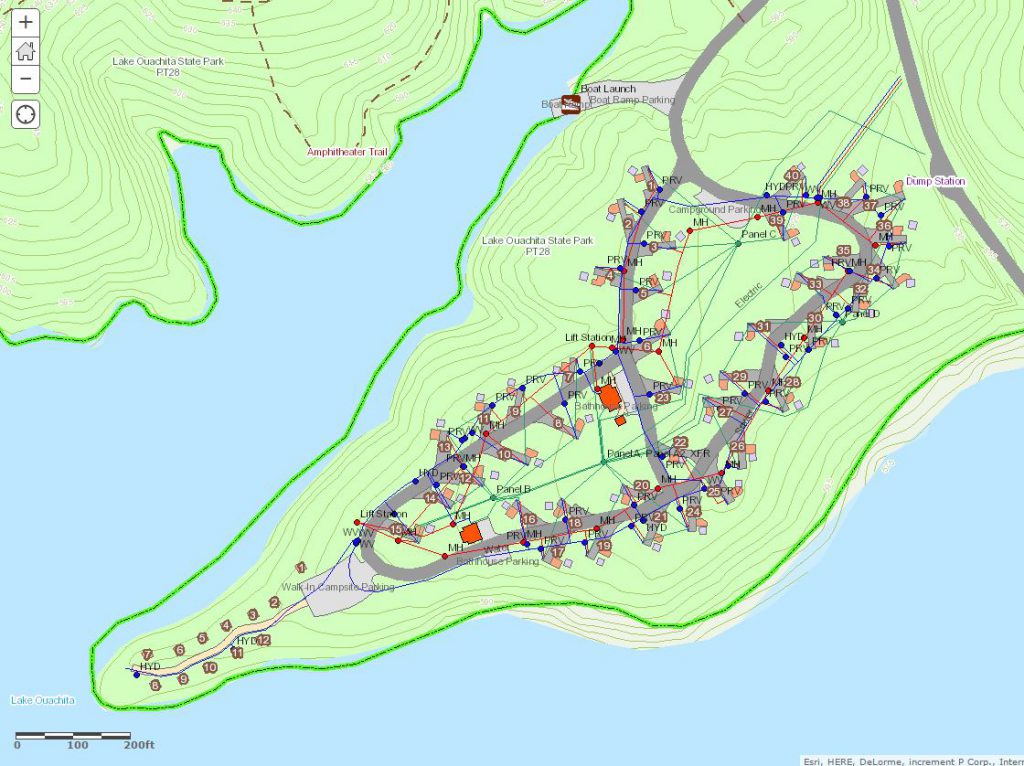 "Being able to visualize and track all of a park's natural features, facilities and infrastructure helps us manage our resources and maintain the overall quality of the park." said Mitchell. "GIS not only helps us track our assets, but it also helps us understand the geographic relationships between our visitors and all the activities, sites, and experiences that we provide throughout the state."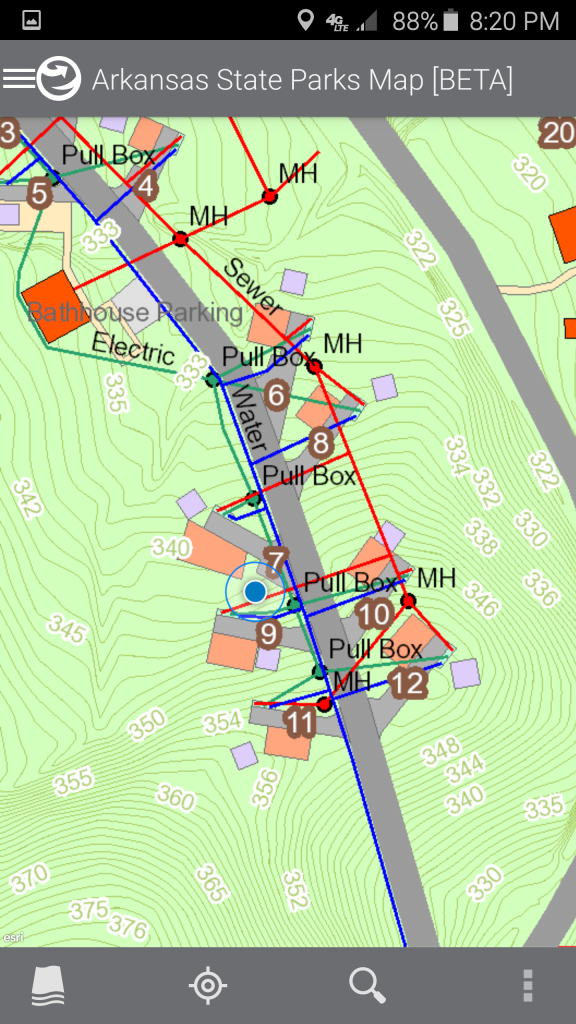 "The Special Achievement Awards provide a great opportunity to showcase all the outstanding successes of our users," said Jack Dangermond, Esri founder and president. "The distinct accomplishment in the GIS Award recognizes exemplary organizations implementing spatial analytics technology to change the world. Highlighting the good work of users—in industries ranging from commerce to government—benefits the entire GIS community, and that's very valuable."
GIS web technology allows park superintendents, maintenance staff, law officers and others to instantly access detailed maps and information in the field.  GIS has been used for trail mapping, search and rescue operations, resource inventory, media production and variety of park programs and projects.  Park planners are using digital maps and data to create paperless reports and presentations for environmental, historical and cultural protection, long-range development, and more.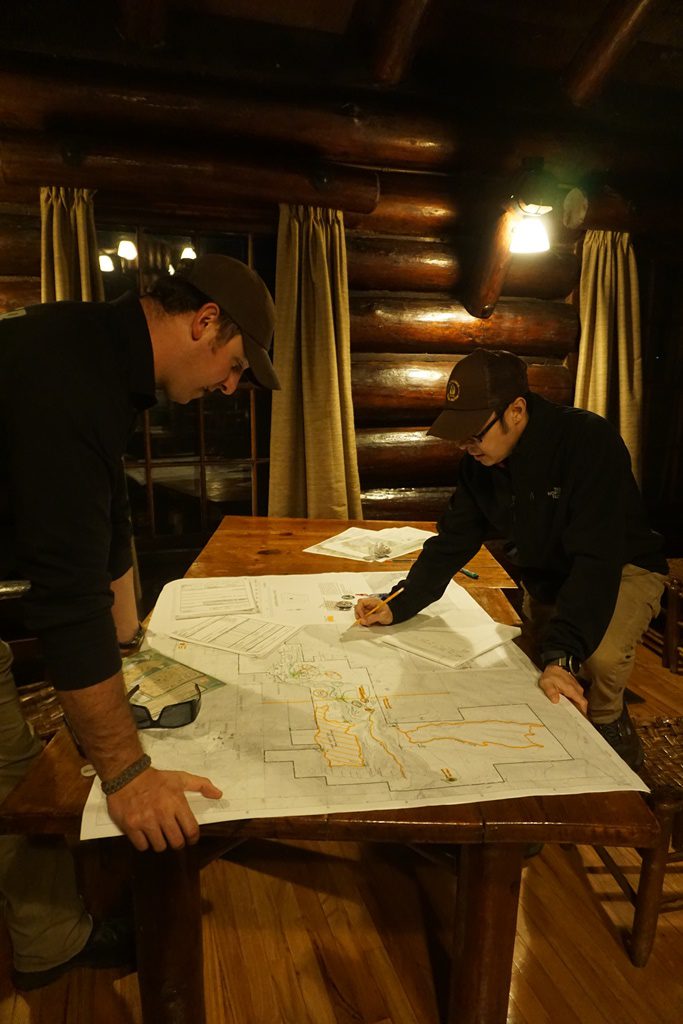 "I think this shows how we are modernizing as an agency and keeping up with the digital world." said Mitchell. "We've invested in GIS technology and manpower and I feel that this award is real proof of a return on that investment."
Arkansas State Parks was one of 180 organizations in areas such as agriculture, defense, transportation, nonprofit work, telecommunications, and local and state government to receive a Special Achievement in GIS Award. Esri staff annually nominates hundreds of candidates from around the world for consideration, and Dangermond selects the finalists.