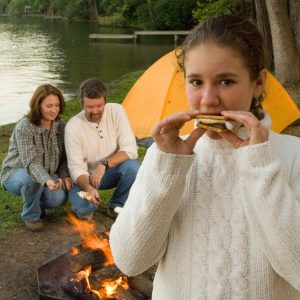 Ah to see the world through a child's eyes – such innocence, such joy, such wonder! Today, take advantage of National S'more Day and let your taste buds take you back in time. Head out to an Arkansas State Park to enjoy this ooey, gooey campfire treat just like you did when you were a kid.
The traditional recipe is so simple you never need to write it down. Toast a marshmallow, place it on a graham cracker, add a piece of chocolate then top with another graham cracker. Eat and repeat. Of course S'more aficionados have a few tricks up their sleeves to create the perfect treat.
• If you are toasting your marshmallow over a grill, campfire or wood fireplace keep in mind the fuel you use may influence the taste, so it's best to not use accelerators.
• Wait for the fire to be mostly coals.
• Marshmallows cook faster on a coat hanger or a metal rod – if you use this method make sure the handle is heat resistant so you don't burn your hand.
• Patience will pay off – holding the marshmallow further away from the heat. This will give you that golden toasted result and it will puff up.
• While nearly impossible to not make a mess, placing the chocolate on one graham cracker, then putting the marshmallow (still on the stick) on top of that, then the second graham cracker. Smoosh it together while pulling the stick out will give you at least a chance of creating a unified result.
• To prevent burning your mouth (we've all done it!) wait a few seconds before taking that first bite.
Arkansas State Parks are celebrating S'mores Day in several ways. Lake Fort Smith will provide the fire and all the ingredients from 8:00-9:00 p.m. on their Visitor Center back porch. DeGray lake Resort State Park will hold their s'mores event at their amphitheater from 9:00-9:45 p.m. They will teach visitors how to start a fire the old fashioned way first, then everyone can make their own s'more. Both of these programs are FREE! Go to www.ArkansasStateParks.com to see all of our programs and events.
Whether attending a s'mores program or doing it on your own, you can impress your campfire companions with some little known facts.
1. The treat was a campfire staple long before the dictionary officially recognized it in 1974: The first known s'mores recipe was published in the Girl Scouts handbook Tramping and Trailing with the Girl Scouts in 1927. The snack was originally called "some mores."
2. The S'mores Cookbook says Americans buy 90 million pounds of marshmallows every year. It's estimated that, during the summer, approximately 50 percent of marshmallows sold are roasted for s'mores.
3. According to The Hershey Company, it produces more than 373 million milk chocolate bars each year, enough to make 746 million s'mores.
For those who like to do their prep-work at home before heading out, consider making s'more bundles ahead of time and heating them up at the camp fire.Cindy Pawlcyn, chef-owner of the legendary Mustards Grill came up with this method.
1. Fold 12 sheets of foil, each 12 by 20 in., in half crosswise; then oil tops. Center 1 graham cracker on each oiled doubled sheet, then top with a chocolate piece, marshmallow, and another cracker. Gently fold foil over s'mores and crimp to seal.
2. Heat packets on a cooking grate over glowing coals in a campfire or on a grill over medium heat (about 350°), turning often just until chocolate softens, 2 to 3 minutes. Or, using tongs, grasp packets on sides and heat over a low fire.
Make ahead: Through step 1, up to 3 days, airtight and chilled.
Another variation on the theme is to skip the campfire all together and enjoy the air conditioning inside an Arkansas State Park restaurant. Mount Magazine's Skycrest restaurant offers s'mores dip as a dessert. Assistant Manager Coeta Dooly says" The customers love it." Here is their recipe:
S'more Dip
¼ Cup Semi-Sweet Chocolate Chips
½ Cup Milk Chocolate Chips
3 Tablespoons Sweeten Condensed Milk
1 Pat of butter
Top with 1 ½ cups mini marshmallows
Spray small skillet add all ingredients except marshmallows
Top with Marshmallows and bake 5 minutes in a 425 degree oven.
Remove and serve with 5 large graham crackers broken in half.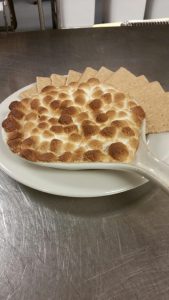 Go to our website and follow us on social media for everything you want to know about all 52 state parks.
For more information contact Public Information Coordinator Meg Matthews at (501) 837-3086 or [email protected]