Video Blog: Mountain Biking…Squirrel!
The popularity of mountain biking has exploded in Arkansas. With mild fall temperatures and beautiful autumn color, now is the time to get on your bike and ride. Meg Matthews found out you might get more than you bargained for in her video blog!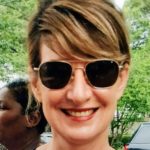 Meg Matthews is the Public Information Coordinator for Arkansas State Parks. She enjoys hiking, biking and swimming at state parks with her friends and family. Meg has recently joined the state parks team after spending years as a broadcast journalist. She is excited to tell all of the wonderful stories about state parks!