By:
Arkansas State Parks Staff
Anyone with grade school or college-age kids already knows that Arkansas's spring break is coming up fast, March 19-28. Arkansas State Parks are open for business and ready for guests who want safe, outdoor, family-friendly places to play and make memories!
Today's blog is from Sarah Keating, one of our park staff who has made a family tradition of going Spring Break camping in the State Parks of Arkansas.
Why I Take My Kids Camping in Arkansas State Parks
Every year as my girls get older, they become more involved in school, sports, and other activities. It seems I have less and less time to spend with them doing the things that I love, such as exploring nature and watching sunsets. These are activities that for me hold fond memories of my childhood, and I want to share these things with my children.
Several years ago, my oldest daughter, Courtney, and I took our first spring break camping trip to Woolly Hollow State Park. After much planning, packing, and eager anticipation of sunny days and spring wildflowers, it turned out to be a cold and rainy week. Some people would have just cancelled the plans and stayed home, indoors, but I had made a promise that we would go camping and Courtney's heart was set on it. Our camping trip was on.
It was one of the most memorable trips we have ever taken and it began our family's Spring Break camping tradition.
The rain did keep us in our tent at times, where we had tons of fun just spending quiet time together, playing cards, talking about whatever came to our minds, and listening to the rain drip-dropping on our tent's rain fly.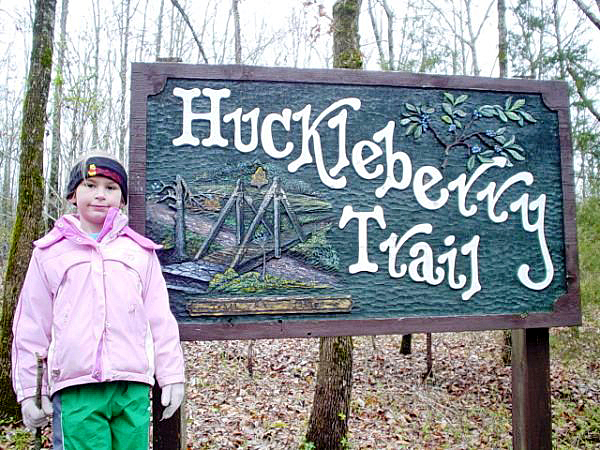 Finally, it stopped raining, and we took the chance to explore Woolly Hollow's Huckleberry Trail. We reached a spot where a creek's high water was up over the trail. It was not unsafe, but it was enough water that we'd need to get our shoes wet to continue our hike. I silently wondered if we should turn back, but Courtney insisted that we take our shoes and socks off and wade out across the icy cold water barefooted.  On the other side, we could put our socks and shoes back on and continue our walk comfortably.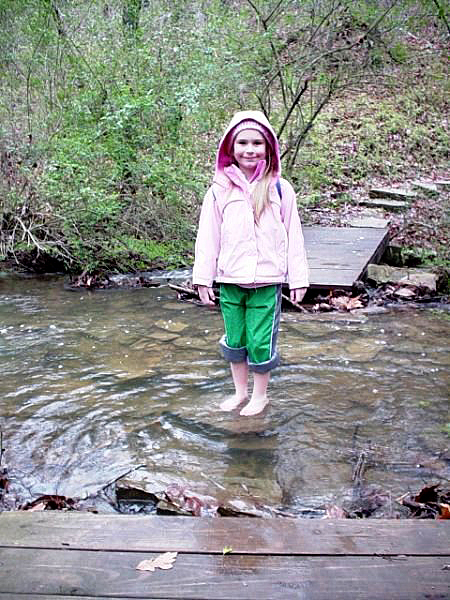 To me, this was just a small inconvenience, but to my child, this was one of the most fun, adventuresome things we did all week! Such a simple experience–crossing that cold creek barefoot– was exhilarating for us both. I was proud of my daughter for insisting that we keep going. She was tickled that we worked together to solved a problem, and that we did something a bit on the wild side. I love that we will always share the memory of that moment.
Now, I have a second daughter who is old enough to go camping too, and my husband and I make an annual effort to schedule a family camping trip every Spring Break.  We have hung onto several activities over the years that are a must on every trip:
Our family has now taken many fantastic Spring and Fall Break camping trips, at some wonderful Arkansas State Parks. Here are a few favorite excerpts from our journals: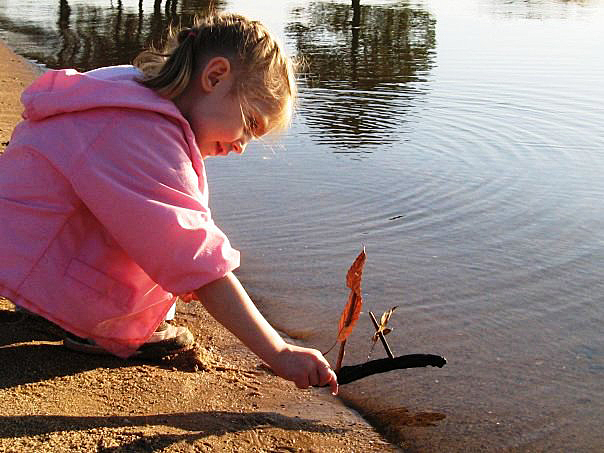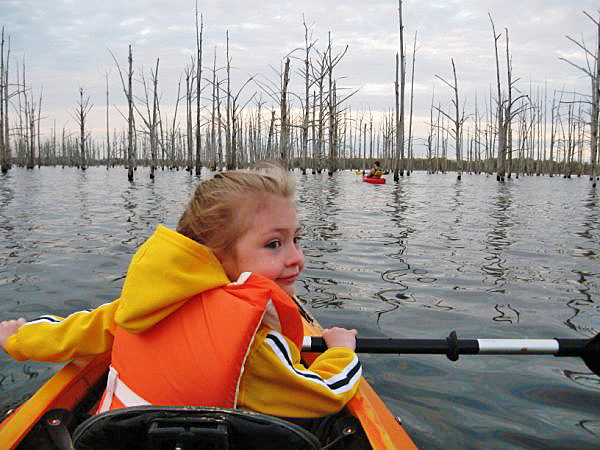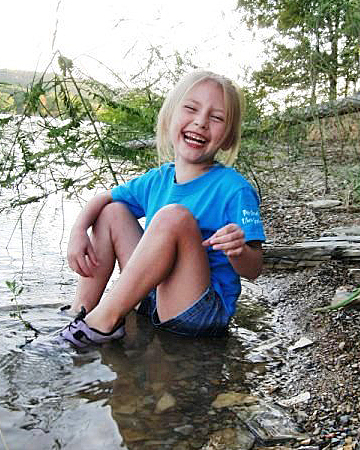 I just made our reservations for this year at Daisy State Park on Lake Greeson, and we're looking forward to sharing all these traditions again and making new ones to add to our list.
* * *
State park interpreters in over 25 locations have scheduled daily programs during Arkansas Spring Break 2010, and quite a few actually have programs scheduled throughout the month to also accommodate different spring break dates from neighboring states like Texas, Louisiana, Oklahoma, and Missouri.
Programs include guided nature hikes, kayak tours, arts and crafts, hands-on workshops, historic site tours, and much more. Programs are scheduled at different times throughout the day, with additional evening activities such as night hikes, campfires, and owl prowls. In addition, many historic state park sites offer daily tours. Most programs are free of charge. Those requiring fees include most lake cruises, kayak tours, and site tours. Fees are minimal in most cases.
Park Finder Map:
Every town in the Natural State has at least one state park within an hour's drive! CLICK HERE to see a Park Finder map.
Online Calendar of Events:
You can also check out our online calendar of events to see what's scheduled at your local park, or to help plan a day or overnight trip to a park further from home. CLICK HERE to find a program that fits your schedule. You can customize your search by date, park location, city, zip code, and keyword (such as "kayak," "hike," "archeology," or "birding").
Besides scheduled, interpreter-led programs the State Parks of Arkansas provide facilities and settings for plenty of things you can do on your own in the parks, including geocaching, hiking, mountain biking, watching wildlife, studying Arkansas history, exploring nature and history exhibits in our visitor centers, and more.
Additional resources:
Parents wanting additional resources for year-round outdoor activity ideas might check out the following Web sites:
No matter what your family does this year during Spring Break, remember, your Arkansas State Parks are here for you. Make plans now to visit one soon.
School's Out, State Parks Are In! Arkansas Spring Break 2010