"IT TAKES TIME—loose, unstructured dreamtime— 
to experience nature in a meaningful way. "

―Richard Louv, author of Last Child in the Woods: Saving Our Children from Nature-Deficit Disorder 
According to our mission, one way Arkansas State Parks enhances guests' quality of life is by providing exceptional outdoor experiences. But, can we accomplish this enhancement for those who are hesitant to link nature experiences with quality of life? I am well-suited to answer this question.     
Unnatural Roots 
Up to the age of 30, I lived in Chicago. I remember nature represented something to control, to beat back. Spiders, squirrels, leaves, raccoons, and nests were exclusively invasive. Not invasive in a conservation sense, but in a barbarians-at-the-gate sense.   
When I turned 30 and left the city for rural, downstate Illinois, I was surprised that nature-as-nuisance was not a universally held belief.      
Grinning Entomologists  
Once downstate, I was hired to develop educational content for—oddly enough—nature centers. One of my responsibilities was to consult with content experts, usually natural scientists. These consultations took place at the local university. 
Have you ever been confined to a university lab with an enthusiastic entomologist who is passionate about studying insects? How about an excitable ethnobiologist who can't stop talking about how human cultures interact with native plants and animals? It takes patience, practice, and experience to pull meaning from these people's specialized language. I love all impassioned scientists, but once they start talking about their life's work it can be hard to keep up.  
After about a dozen or so consultations, I noticed something peculiar. Nearly all the natural scientists had something in common: They were always smiling. It was as if they possessed insight inaccessible to me.    
Chuckling Park Interpreters  
Fast forward about 18 years to 2018, when I found myself living in Little Rock and employed by Arkansas State Parks. I am the Creative Services Coordinator, which grants me the privileged position to impact park visitors by managing designs of park exhibits, signs, and publications. 
Working for Arkansas State Parks has afforded--the particular experience? Exceptional privilege? Curious honor? --of interacting with energetic park interpreters, all of whom share a deep-seated appreciation, gratitude, and understanding of the natural world.  
Park interpreters' ingrained passions often overflow into their conversations, which are rapid and quick to confound me. Much like my earlier consultations with natural scientists, as I settled into this new job I found myself attempting to construct meaning from their specialized language. 
If you walk up on a highly-engaged group of park interpreters, you might hear the following gems:  
Yesterday, I photographed a pair of butter rumps! (I soon learned that a butter rump was not an indulgent, cinnamon-encrusted pastry but a bird, the yellow-rumped warbler.) 

Have you tried using a jerkbait? (An internet search for this word revealed the "jerk" in jerkbait does not denote an idiot or fool, but the jerking motion of the fishing rod when using the bait.)  

The tree is stubby but has a heck of a dripline. (A park interpreter informed me that a dripline is the outer circumference of a tree's canopy, where the majority of rainwater is shed to the ground.) 
Huh? Listening in, I often felt like a first-time guest attending an unruly family's Thanksgiving. Nonetheless, I noticed something peculiar about my park interpreter co-workers. They had one thing in common: They were always smiling. It was as if they possessed insight inaccessible to me.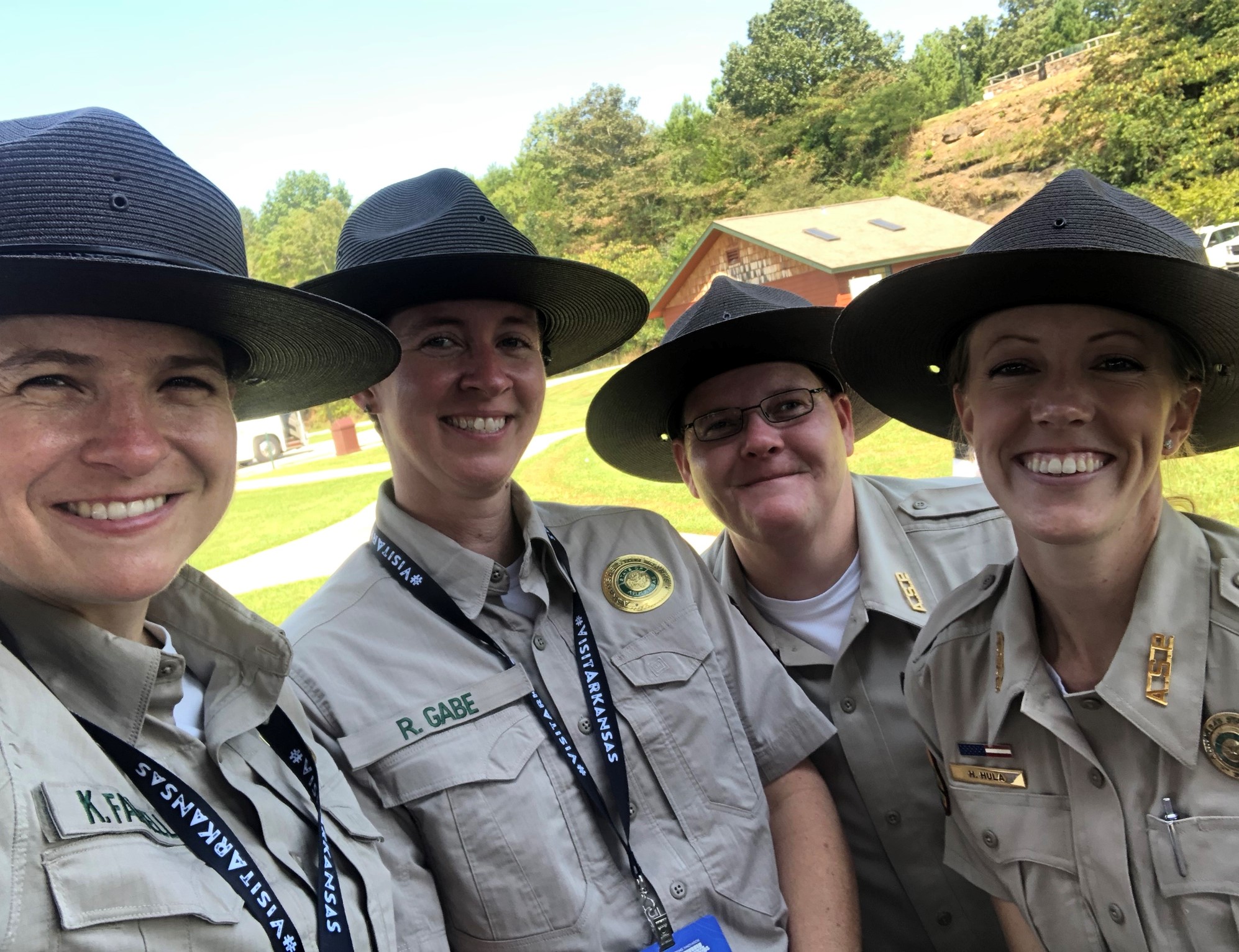 The smiles of park interpreters divulge a keen sense of enlightenment. 
Adult-Onset Nature Awareness (A.O.N.A.) 
I have visited just more than half of our Arkansas State Parks 52-park system during my two-year tenure here. It has been a life-changing experience. I learned to appreciate nature through those who value nature firsthand. But, I remained personally resistant to embrace nature wholeheartedly, despite countless studies indicating the link between nature and enhanced quality of life. 
During my life prior to Arkansas State Parks, I did not take note of my surroundings. The environment was simply a location where daily life unfolded. I was internally absorbed by goals, regrets, deadlines, needs, finances, comforts, and fears.  
One evening at Petit Jean State Park, I momentarily stepped outside after a long day in conference. I was alone. I sat down on a boulder atop a sandstone promontory overlooking the forested lower canyon.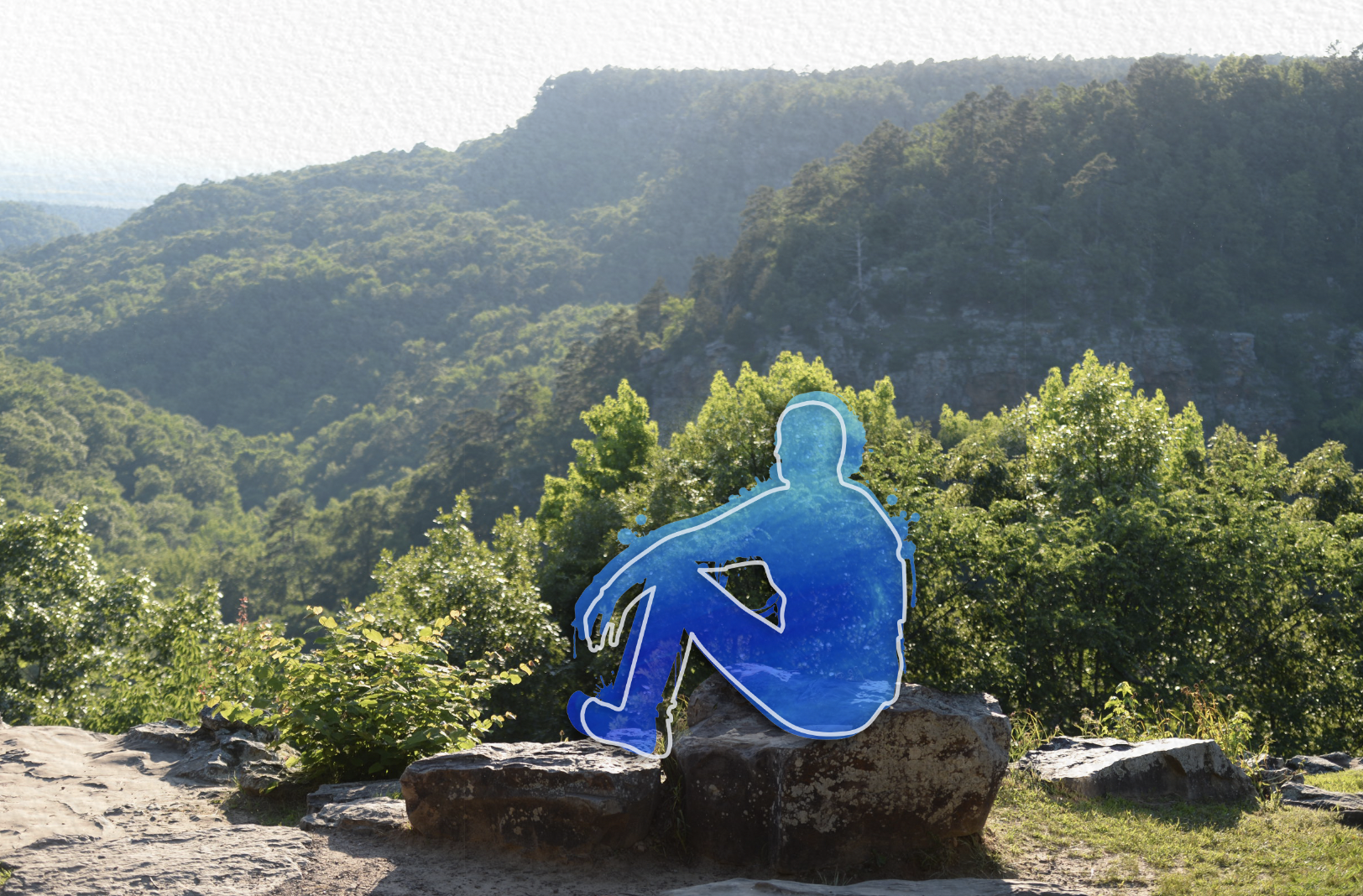 Petit Jean State Park offers an indelible viewshed brimming with meanings. 
I became conscious of the setting sun's lingering warmth. I thought about the simple comfort warmth granted me. Inexplicably, my mind turned to how sunshine and warmth affected everything before me: the thermal-soaring hawks, the warmth beneath my seat, the green beneath my feet, and the forested canyon harnessing sunlight to eventually produce oxygen.      
I felt as if and the entire environment took a universal, deep breath of fresh air.  A sense of belonging washed over me—a sense I never sought. It was simply offered. For several moments, I was absorbed by the present. My habit of focusing on past regrets or future goals washed away.  
This was the exact instant I experienced my first bout of what I'm calling "Adult-Onset Nature Awareness." Because this nature awareness occurred so late in my life, I assumed that I was "the last man in the woods," or at least the last person to value the woods. But thanks to Arkansas State Parks, I could now readily be the last man to exit the woods.  
Perhaps this is what all the talk about "enhanced quality of life" is about. Maybe others with a similar upbringing and skepticism as mine could experience a similar insight at an Arkansas State Park.  As I reflected on the entirety of my experience, I smiled. 
Come visit, it's worth a shot.