There is something uplifting about natural waterfalls. They are simply examples of gravity at work. It could be a little ripple and splash over a rocky rivulet.  It could be a brook babbling playfully through the heart of a forest or a trickle tumbling down a series of stair steps of a wet season streambed.
It could be a washboard cascade sliding down a mountainside or rapids of a young river bouncing from boulder to boulder. It could be a thunderous leap from a high cliff into a pool below.
No matter its size or volume a waterfall adds quality to any hiking adventure: Beautiful in so many ways, yet these same sites would go almost unnoticed without splashing water. Mount Magazine State Park and a few other Arkansas State Parks offer plenty of opportunities to truly experience nature at its best.
Waterfalls enhance our senses.  Listen to their trickles or roars.  No two have the same music or rhythm. 
Each seems to have a pulse like a living entity.  Feel their spray and vibration. Breathe in their pure, cool, misty air.  Soak in light and dark contrasts of their natural colors.  Let them wash away your worries.
There is a scientific explanation for this. Thunderstorms, crashing waves, and waterfalls split air molecules, creating negative ions which have positive effects on our brains. So if you suffer from cabin fever, seek out a waterfall.
Artists spend hours trying to capture essences of waterfalls with oil or watercolor paints.  Many people whip out little pocket cameras for quick snapshots.  Some pose in the foreground to let everybody they know they had been there.  Almost every coffee table book and calendar of natural scenery contains magnificent images of waterfalls.  Tim Ernst published a wonderful coffee table book that focuses on waterfalls in Arkansas, as well as a guide to locating many of them.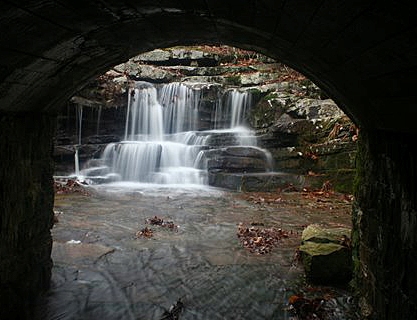 ​
Most of today's point-and-shoot cameras don't have the features or lens quality to take more artistic photos.  For good quality landscape photography you need a camera that has changeable settings.
Two things to remember when trying to capture such quality images are "slow down" and "hold still."
"Slow down" refers to the shutter speed on your camera.  Exposure times need to be at least half a second.  "Hold still" suggests that a tripod is required.
More important is getting out to those wild places. Many waterfalls are in rugged, hard to get to locations that can challenge adventurous explorers. This is true about many of Mount Magazine State Park's waterfalls. Creeks flow in all directions from the mountain, especially after rainfall. Many of these waterfalls are outside state park boundaries, are seldom visited, and lack names. This writer has not seen all of the waterfalls Mount Magazine has to offer. This rugged mountain does not give up all her secrets easily.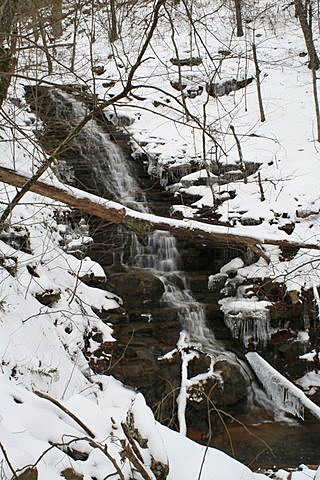 ​
"Slow down" also refers to your experience in wild places. Before taking photographs, study, listen, and soak in all it has to offer.  Memories will come flooding back each time you view images captured by your camera. Let them wash away your worries.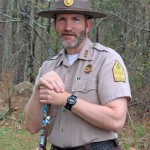 Don Simons is a Park Interpreter at Mount Magazine State Park. One of the state's great naturalists, Don has been showing and explaining the "Natural State" to visitors for 29 years, at Daisy State Park, Lake Chicot State Park and now at Mount Magazine. Don is also an excellent photographer whose work can be seen throughout the Mount Magazine Lodge and Visitor Center and in publications. Don has the unique ability to entertain children and adults at the same time while also teaching about the world around them. Don is an active member of the National Association for Interpretation and is a Certified Heritage Interpreter.