River Running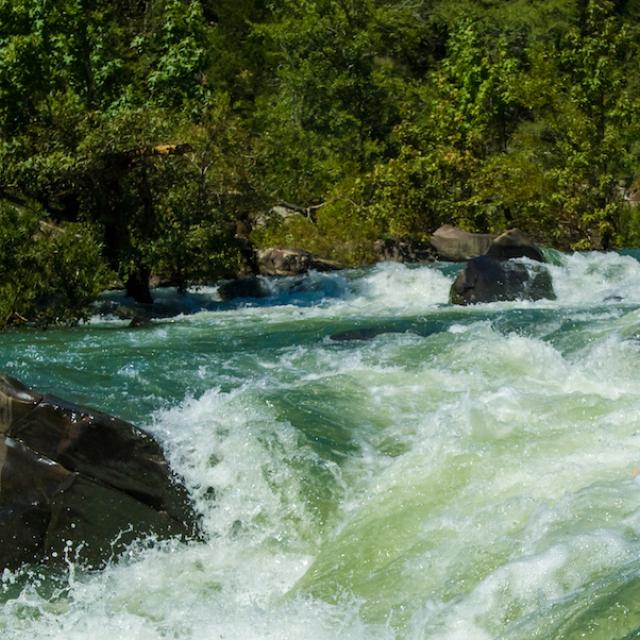 Get your adrenaline pumping
Arkansas' rivers and streams offer something for everyone, from peaceful river floats to adrenaline-pumping white water rafting in Arkansas. For a real river rafting adventure, try the Class IV rapids of the Cossatot Falls in the wild and scenic Cossatot River of Arkansas.
Cossatot River State Park-Natural Area
The Cossatot River is Arkansas' premier whitewater experience for kayakers and canoeists. When the water is high, the paddlers are here. This National Wild and Scenic River, however, is a watershed basin with flow levels dependent on rainfall. After significant precipitation, the river level rises, allowing experienced paddlers the opportunity to test their skills in challenging Class IV and V whitewater. At Cossatot Falls, a rocky canyon with distinct ledges, the river drops 33 feet in elevation within 1/3 of a mile. Late winter to early spring is peak whitewater paddling season. Class IV-V whitewater is for experts only. When the water level is normal, the river's rapids are usually considered Class II-III whitewater.
You can swim, fish and float through riffles and small rapids, from pool to pool, as you relax and enjoy the Cossatot. Make it a day trip, or bring your tent and camp at access points that stretch along the river. This is a wonderful wilderness adventure for families. For river stage information (in feet) from the Highway 246 access, call (870) 387-3141, or visit the U.S. Geological Survey website for Cossatot River real-time data.
Note: the park does not rent equipment for white-water activities. If you have questions please call the visitor center at 870-385-2201 before you visit the park.