About Petit Jean State Park
Petit Jean Mountain has been a silent witness to history...from the prehistoric Native Americans who lived here and left their pictographs to the Cherokee who passed by the mountain traveling the Trail of Tears, from pioneer settlers to the beginning of Arkansas' state park system when the CCC construction crews built Petit Jean State Park during the Great Depression. 
1800s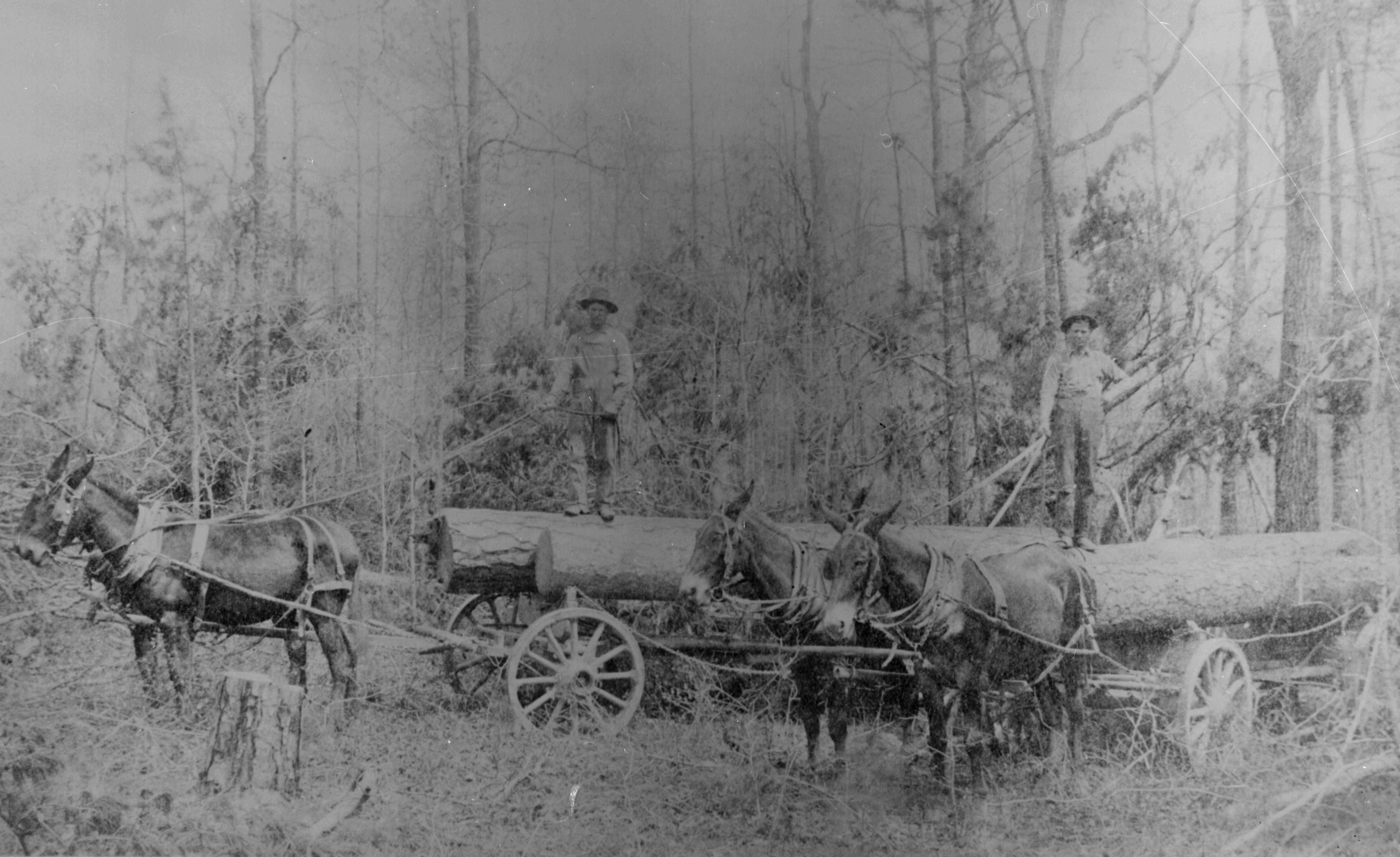 1900s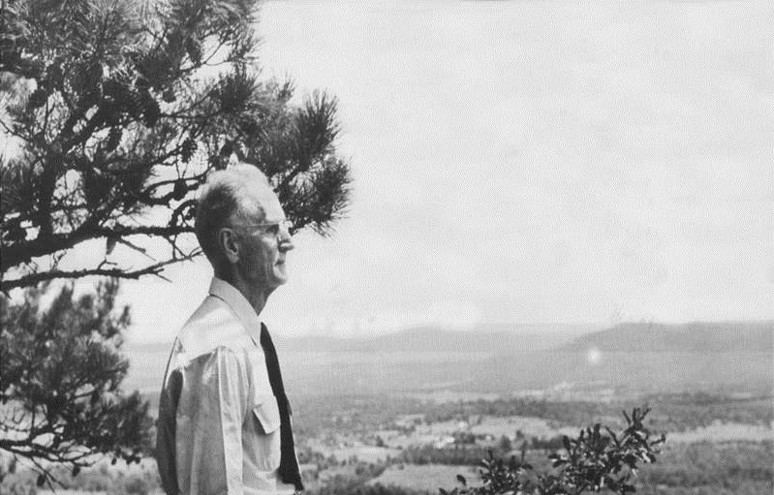 1920s
1930s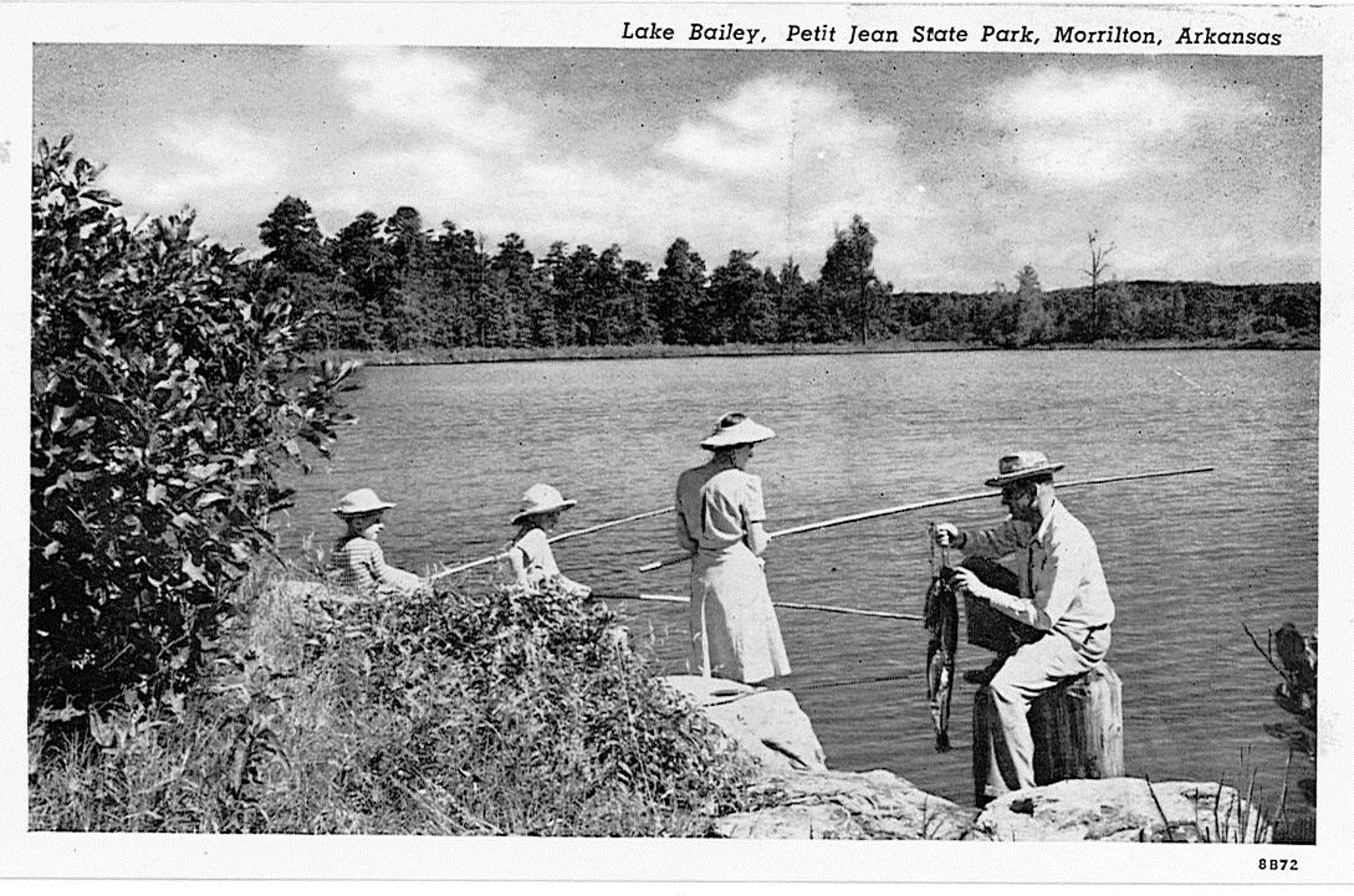 1934 - 1935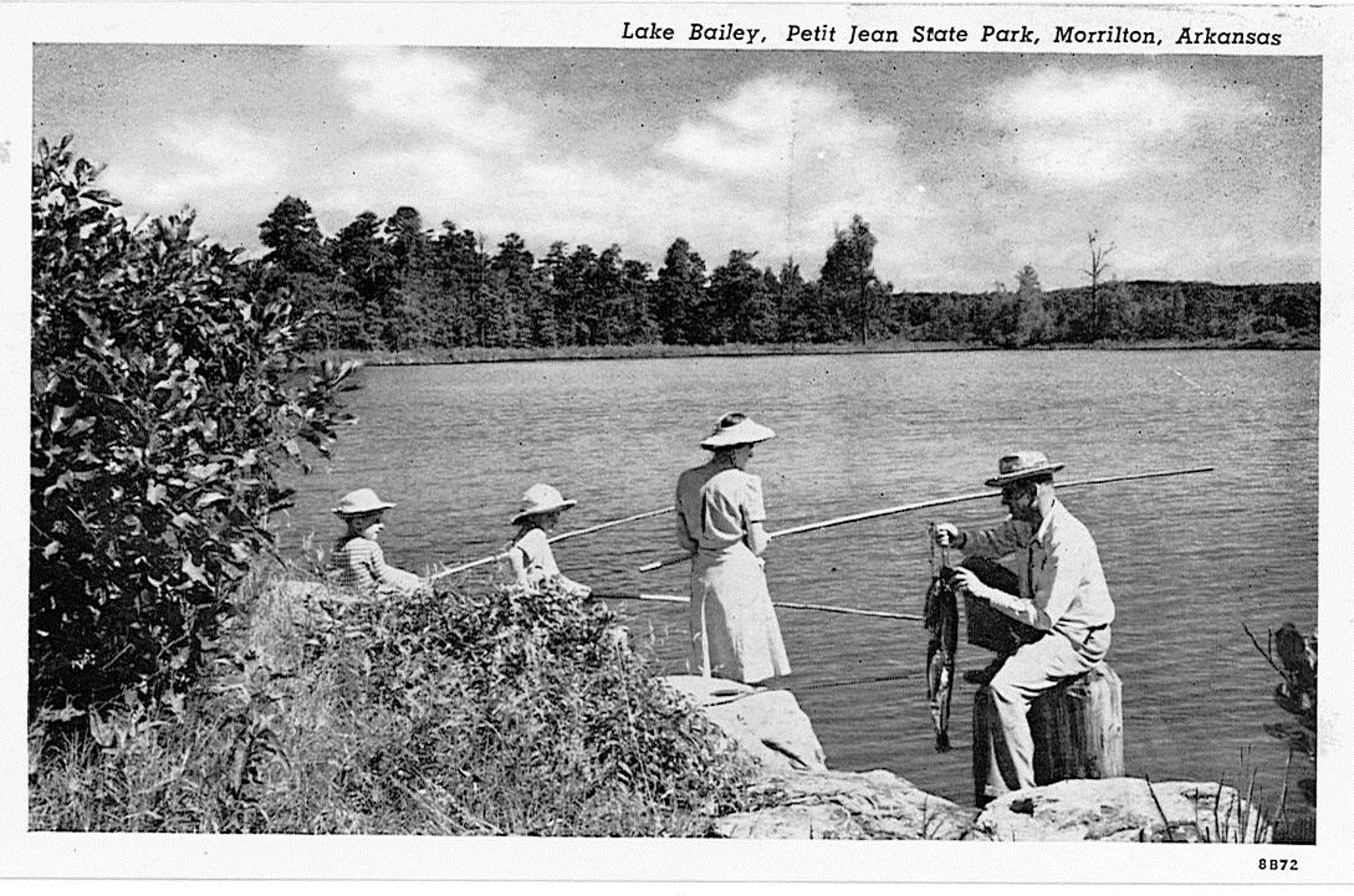 1936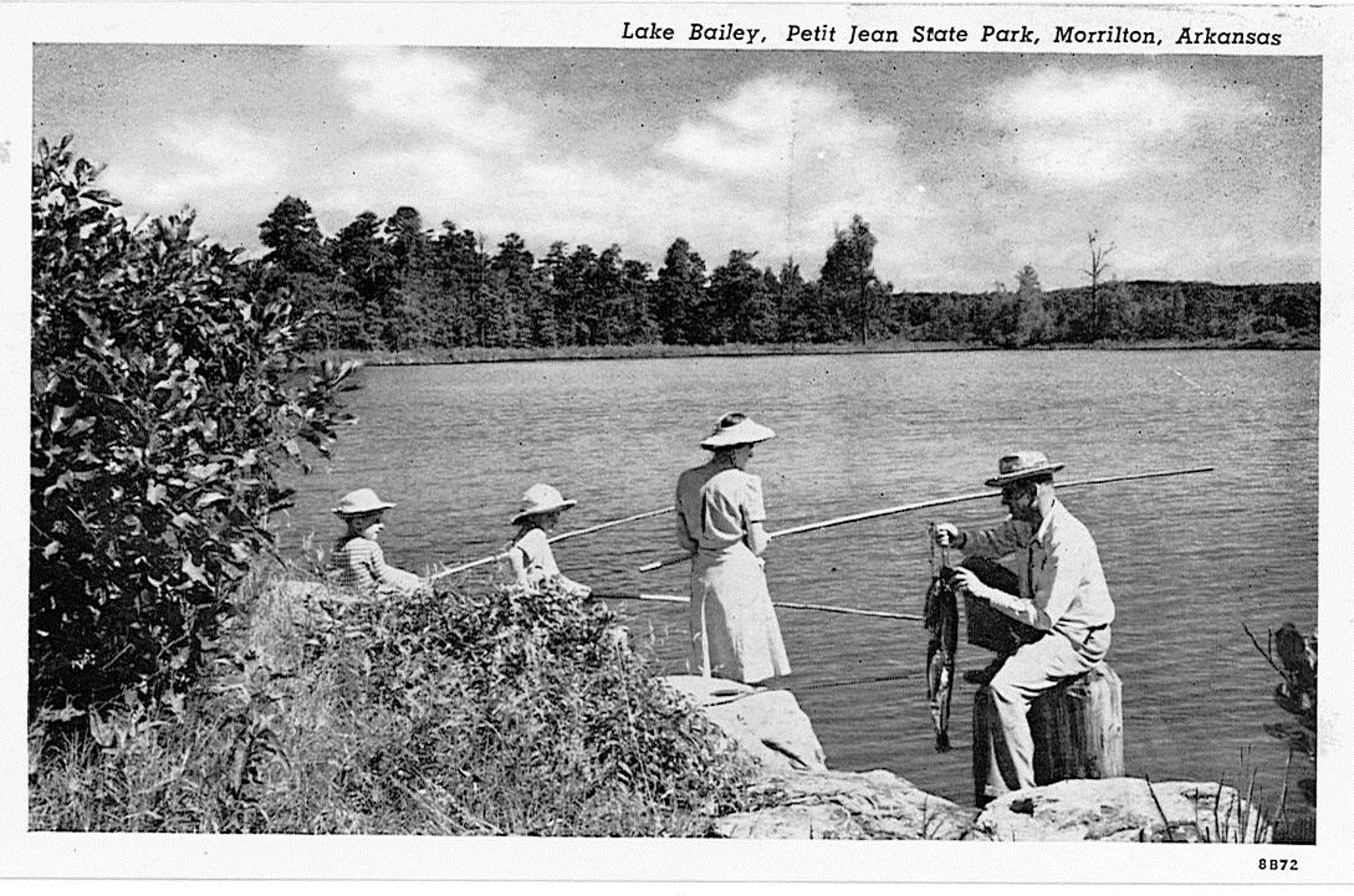 1937 -1939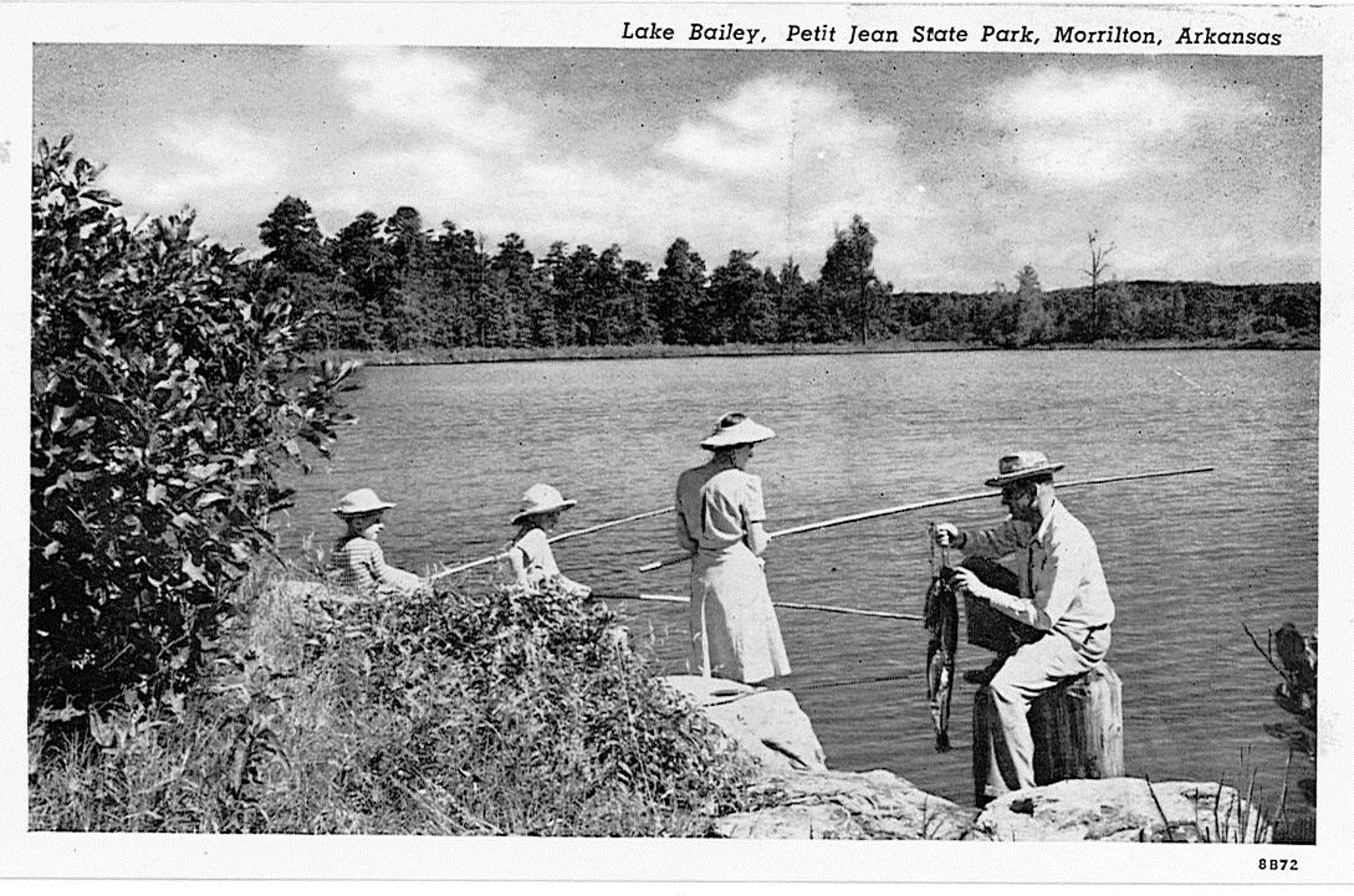 1940s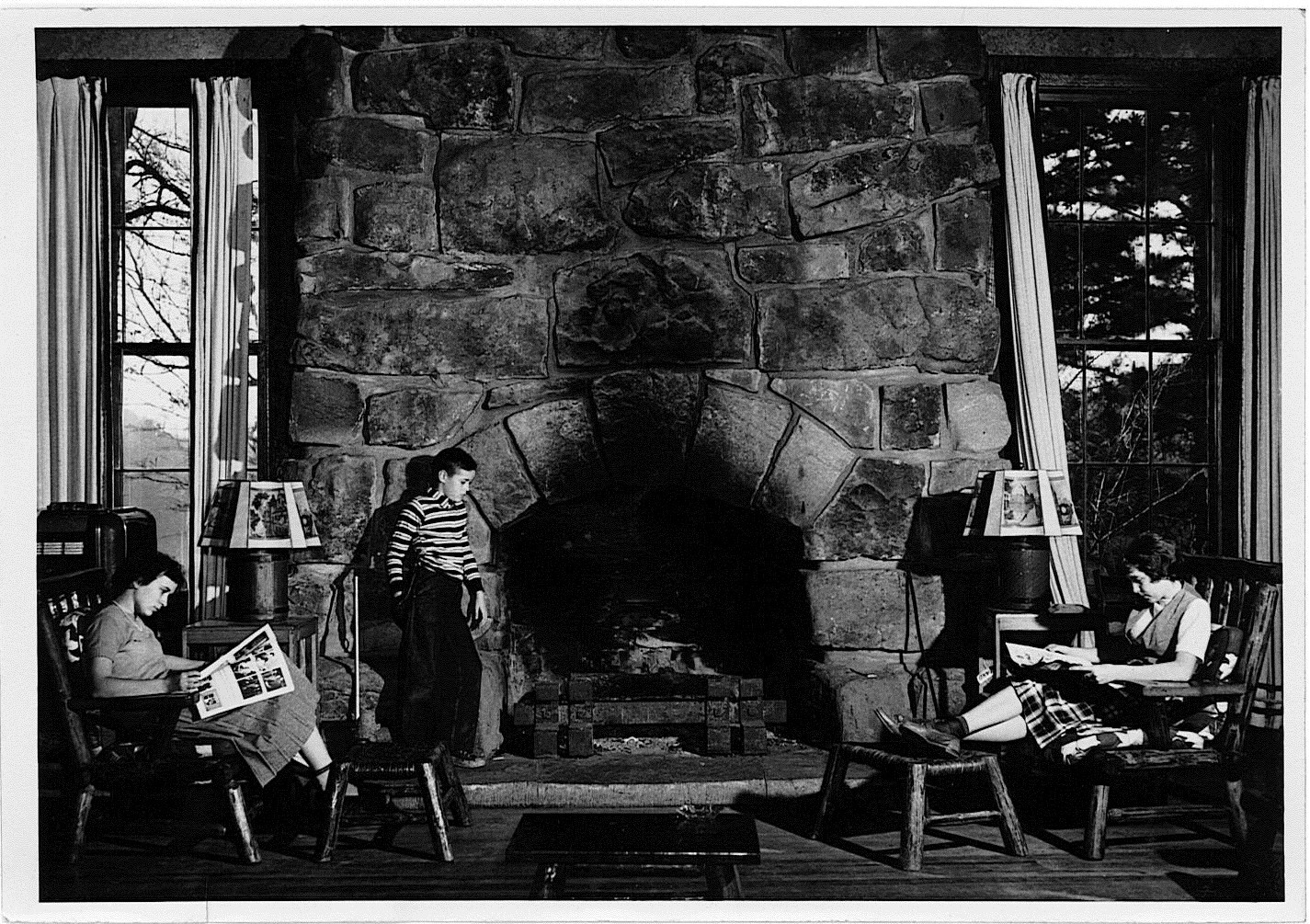 1950-2000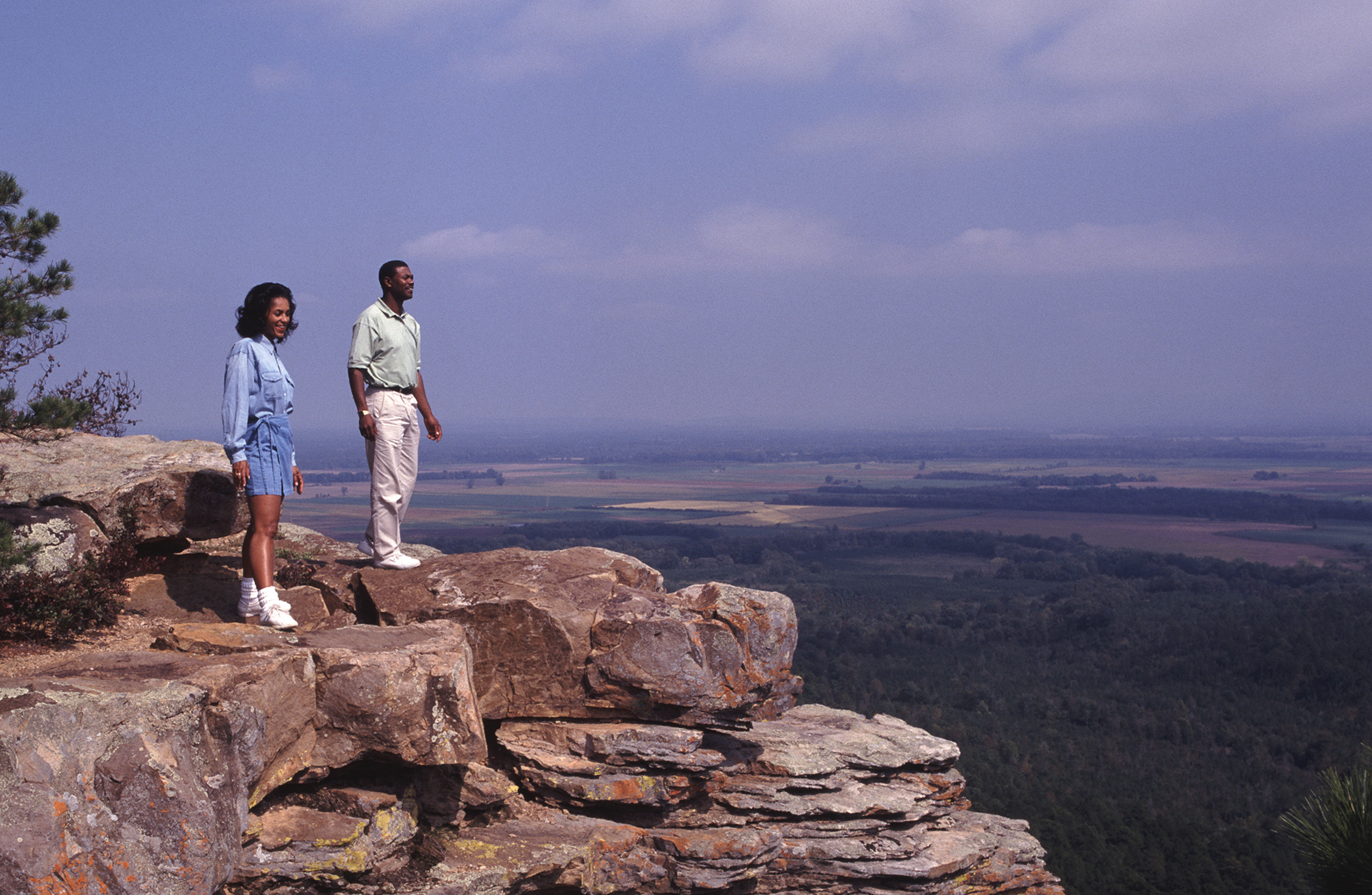 2000s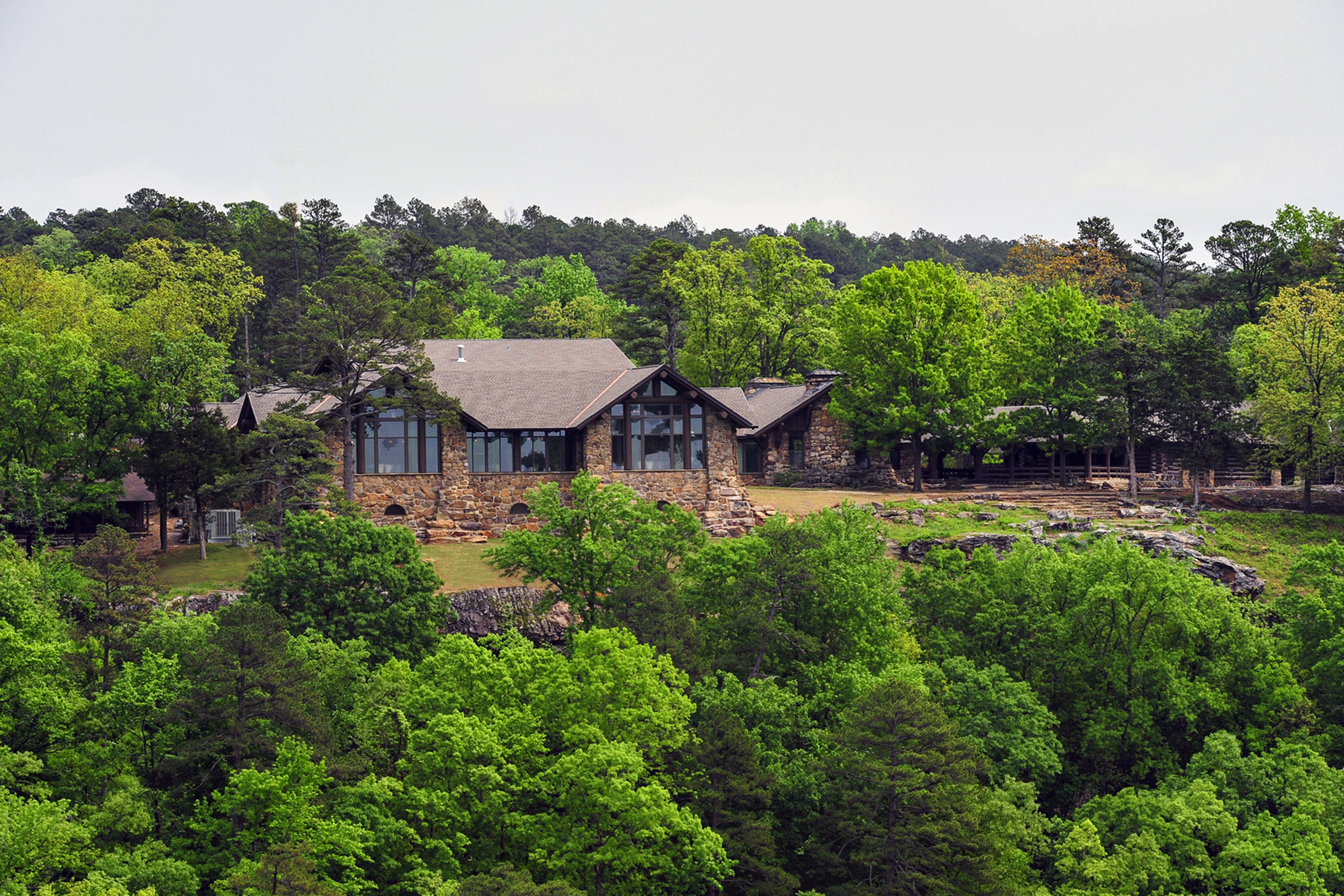 1800s
1832
Cherokee Indians pass by Petit Jean Mountain while traveling the Trail of Tears. Arkansas' portion of the Trail of Tears National Historic Trail passes through Petit Jean State Park.
1845
The first white settlers arrive on Petit Jean Mountain. John Walker, a farmer and squatter, builds a log cabin on the north side of what is now Lake Bailey. This cabin is later restored by the CCC, and may be seen at the Cedar Creek Trailhead.
1889
A well is drilled for Dan Nelson near the current campground "A" area of Petit Jean State Park. The farm containing the well was bought by Charles W. and Mattie Hamilton in 1913. The well still marks the "Old Hamilton" home place.
1891
Dan Nelson builds a mansion on the point of Petit Jean Mountain overlooking the Arkansas River to the east.
1900s
1906
Dr. T.W. Hardison makes his first trip to Petit Jean as part of a survey crew.
1907
While exploring the Seven Hollows region, members of the Fort Smith Lumber Company reach a decision that in that area should be left in tact. A suggestion is made that the area should be offered as a national park.
1920s
1921
Stephen Mather, director of the National Park Service, suggests that Petit Jean State Park be made into a state park rather than a national park.
Feb '23
Feb-23 An 80-acre tract, including Cedar Falls, is accepted by the State of Arkansas legislature, making it one of the first state parks in the South.
Mar '23
Act 276 is voted on and approved unanimously by both houses.
Sep '23
Initial land acquired for the Petit Jean State Park making it the first state park established in Arkansas
Nov '25
The first Arkansas state park, Petit Jean State Park, is dedicated
1927
An Arkansas State Parks Commission is developed with the mission "to protect and preserve in its original habitat and native beauty, the flora, fauna, and wildlife therein and preserve the same for all future generations."
1928
College Lodge is constructed by the YMCA as an administration building for its camp at Stout's Point. This building burns during the 1940's
1930s
1933
The federal government spends $1,750,000 to develop the area, the Civilian Conservation Corps builds two lakes, a stone lodge, 20 cabins, picnic areas, shelters, roads and trails.
1933
Major Wilborn, Major Hicks, and Superintendent Sam Davies tour the site, selecting the location for the new CCC camp.
1933
Governor Futrell suggests the state highway department assist in the maintenance of the road to the park.
1933
The mess hall and recreation hall are completed. Showers are installed and a well for the CCC camp are completed.
1933
Of the 176 men in camp, 160 have decided to reenlist. The company is increased to 200 with additional veterans from the state.
1933
Dr. Hardison is impressed with the progress following a hike from the camp at Cedar Falls and notes that work has begun on the Lake Roosevelt dam.
1934 - 1935
1934
Sam Davies announces 5 new cottages, an entrance road, and "a splendid swimming hole" discovered, later named the Blue Hole.
1934
Petit Jean VCC camp came in second (out of 200) in the district after Roaring River in Missouri.
1934
A Morrilton sign is erected that reads "Petit Jean State Park Emergency Conservation Work Under Direction National Park Service Department of Interior 15 miles."
1935
Legislature approves a bill to include the road to Petit Jean from Hwy 9 as a state highway to make the park is accessible year round.
1935
Four duplex cabins are completed, 4 miles of Seven Hollows trail are finished, lodge area is landscaped, the officers and foreman's mess are built, fireplaces and incinerators are added, picnic grounds are prepared, and furniture is built for the lodge.
1935
A regional archeologist revived interest in pictographs, arrowheads, bits of pottery, stone hammers, etc.
1935
There are 10 rooms at the lodge, 11 cottages, campgrounds and picnic areas are complete, and food service is available for up to 100 at a time.
1935
Gov Futrell declines to move $5000 from AGFC for 160-acre purchase at Petit Jean, making the NPS consider moving the camp, since the lake could not be completed.
1936
1936
An archeological project uncovers numerous arrowheads, bits of pottery, rubbing stones, etc.
1936
Forest fires imperil the area, but an educational campaign lowers the threat.
1936
The Pioneer Cabin is moved and restored, the Overlook Shelter is completed, the recreation hall and canteen are partitioned into four rooms, and the fish pond is stocked.
1936
Arkansas Supreme Court decides funds transferred from Arkansas Game and Fish would be unconstitutional. This decision means that the camp will most likely be closed in the fall of 1936.
1936
CCC camp will stay at Petit Jean for another two years thanks to funding from the state park commission, Morrilton Chamber of Commerce, and lodge and cabin revenue.
1936
Sam Davies touts park progress, including 10 miles of roads, 14 miles of trails, 10 cabins, a 10 bedroom lodge, a dam forming Lake Roosevelt, a bath house, recreation pavilion, picnic areas, parking, overlooks, and landscaping.
1936
An Arkansas Gazette Magazine interview states you can rent a cabin by writing staff.
1937 -1939
1937
The State Park Commission meets at Mather Lodge joined by Gov. Bailey and State Park Director Sam Davies.
1937
A drinking fountain is installed with the pipes running through the ice box to keep the water cold. Plumbing is put in the bathhouse and a concrete wash trough is installed.
1937
Southwest Regional Conference on State Parks meets at Petit Jean. Dr. Hardison is called "the father of the Arkansas State Park System."
1937
Construction of three cottages begins, each with three rooms and a bath. The total number of cabins will be 9 housekeeping and 7 overnight cottages. The highway to the park is rerouted to allow for the water in Lake Bailey rising.
1938
The first Park Superintendent is hired, responsible for maintaining picnic areas and providing wood and garbage disposal for visitors.
1938
Sidney Kennedy, parks planner for NPS, meets with Sam Davies and states he is "very impressed" with Petit Jean.
1939
WPA begins building the addition onto the lodge. This would add 18 rooms with bath to the overcrowded facilities.
1939
Report by the commission says 63,000 visited the park last year. Sam Davies says the small mouth stocked in the lake will be ready this season.
1939
Commission meets at Petit Jean and discusses the option of an auto fee to offset maintenance costs – .25 per vehicle or $1 annual. The proposal is tabled due to appropriated fund for state parks.
1939
Records from 1936-1939 show attendance increased each year as people hear of the area and facilities. During the summer, the lodge and cabins are filled to capacity.
1940s
1940
Lodge renovations add 30 rooms, 8 housekeeper cabins, 7 overnight cabins, picnic tables, pavilions, and expanded facilities for boating and swimming at the lake.
1940
A photo of Cedar Falls frozen solid is published in the Arkansas Gazette, and skating parties are reported to have been held on Lake Bailey.
1940
Administration building is added and houses the store, park office, museum, service unit and administration center. New barracks for group use are complete.
1940
Paving begins, and when complete will make a hard surface road from Morrilton to the park.
1941
Road paving is finally complete to the top of the mountain. The last part that remained was a two mile stretch at the bottom in the Arkansas River bottoms and a 1.5 mile length at the top of the mountain.
1941
It was announced that Petit Jean will be open all winter now. The cabins and lodge are heated by butane. Dances will be held every weekend at the boathouse.
1948
Hardison Hall, named after Dr. T.W. Hardison, is built by a contractor for Arkansas State Parks. It is used as a group dormitory and training facility.
1950-2000
1975
Hardison Hall is used for groups by the Youth Conservation Corp, and is then closed because of plumbing and electrical problems. The building is currently used for storage.
1977
Cedar Creek Canyon is added to the register of Arkansas Natural Areas.
1989
Wally Scherrey, after serving as Park Superintendent at Devil's Den State Park, is named the new Superintendent at Petit Jean State Park.
1999
Petit Jean State Park is recognized as a national landmark for outstanding landscape architecture by the American Society of Landscape Architects.
2000s
2000
The Seven Hollows Area of Petit Jean Mountain is on fire. This forest fire is fought and extinguished by 34 different volunteer fire departments and other organizations.
2004
Petit Jean State Park is presented a Certificate of Lifetime Membership to the National Association of Civilian Conservation Corps Alumni.
2008
Iron Mike statue honoring the work of the Civilian Conservation Corp at Petit Jean State Park is dedicated during the park "Founders Day" celebration.
2012
Mather Lodge reopens following a year and half long renovation, replacing the dining room, expanding the kitchen, and adding room for meetings and banquets. A new lodge swimming pool was constructed and public restrooms were added in close proximity to Cedar Falls Trail.