Accommodations & Facilities
Pavilions
DeGray Lake Resort State Park offers two covered pavilions that may be rented for group or family events. Located approximately two miles from DeGray Lake Resort State Park Lodge in the Caddo Bend area of the park, each pavilion has seating for 72 guests, electrical outlets, 3 ft. x 3 ft. podium grill, trash cans, fire pit, water, and lights. Pavilions may be rented in full day or half-day intervals.
For immediate availability, confirmable reservations and additional information, contact the Visitor Center at 501-865-5810. Email reservations are checked daily at 9:00 a.m. and 3:00 p.m.

Catering at park pavilions is available from the Shoreline Restaurant. To book an outdoor event, complete with catering or combined with guest rooms at the lodge, contact the Group Sales office at 501-865-5853. 
Pavilion Number: 1
Size: Standard
Accessibility: Accessible
Rate: $79.00/full day
50+ Person Charge: $20
Use Period: Full Day (8:00 a.m. - 10:00 p.m.)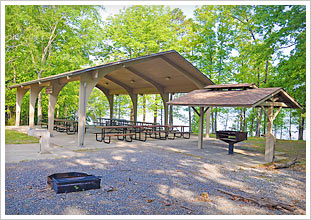 Pavilion Number: 2
Size: Standard
Accessibility: Accessible
Rate: $79.00/full day
50+ Person Charge: $20
Use Period:  Full Day (8:00 a.m. - 10:00 p.m.)