"Let's Ride: Mountain Biking in the State Parks of Arkansas" is a mountain biking exhibit at the Arkansas Capitol on display through Labor Day on the first floor. Through a collaboration with the Secretary of State's office and the Arkansas Department of Parks and Tourism (ADPT), the exhibit celebrates mountain biking in Arkansas state parks.
"Part of our mission is to enhance the quality of life through exceptional outdoor experience and provide quality recreational opportunities," Arkansas State Parks Director Grady Spann says. "We have exceptional mountain bike trails for all levels of experience and continue to develop our trails through working with several private and public partnerships."
ADPT Executive Director Kane Webb says, "Arkansas is fast becoming the cycling hub of the South, and mountain biking is a big reason why. Not only is it growing in popularity, but it's attracting cyclists from outside the state and helping to boost the economy. Last year, Arkansas played host to the International Mountain Bicycling Association (IMBA) World Summit in Bentonville, which lured travelers from 40 states and 11 countries. It brought global media coverage to our biking trails and cycling communities statewide. This exhibit at the state Capitol is yet another avenue for us to spread the word about mountain biking opportunities in our state parks."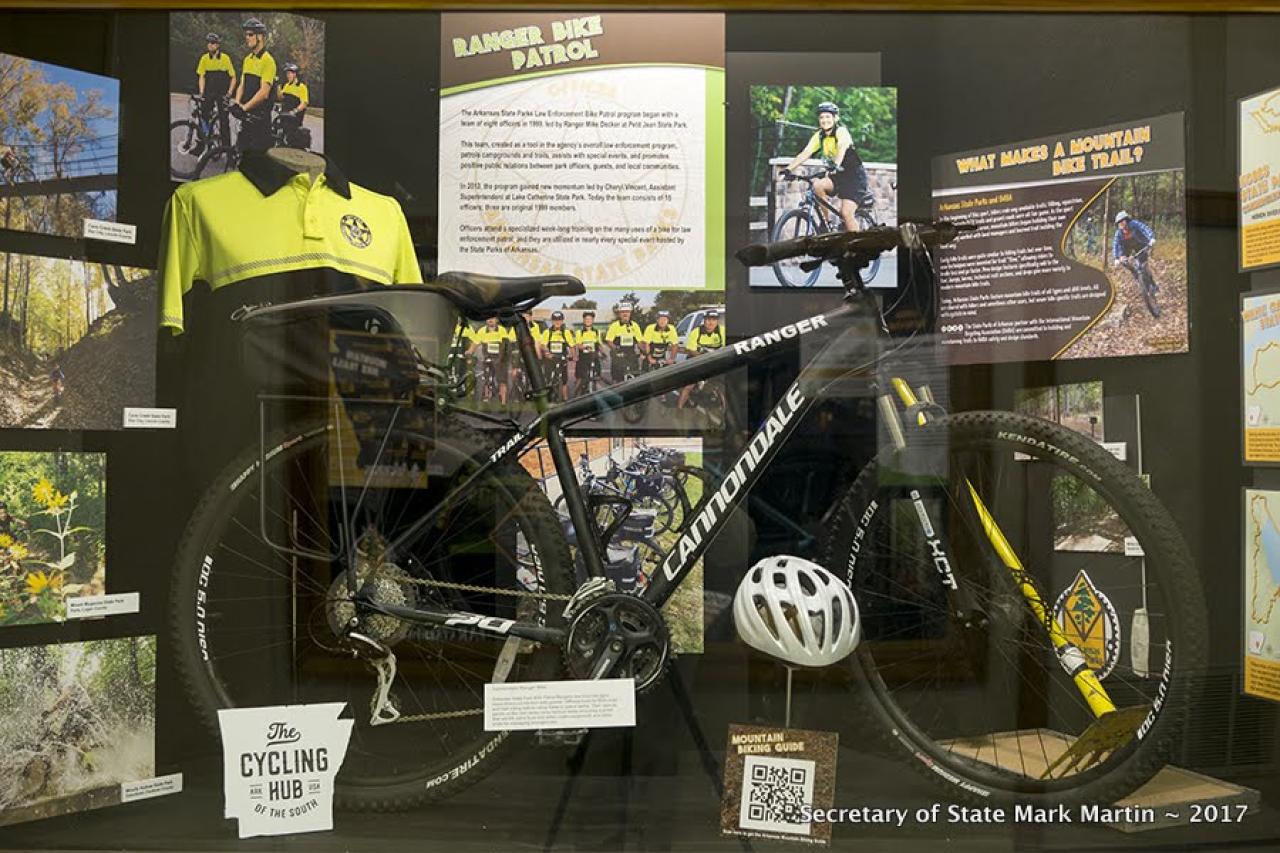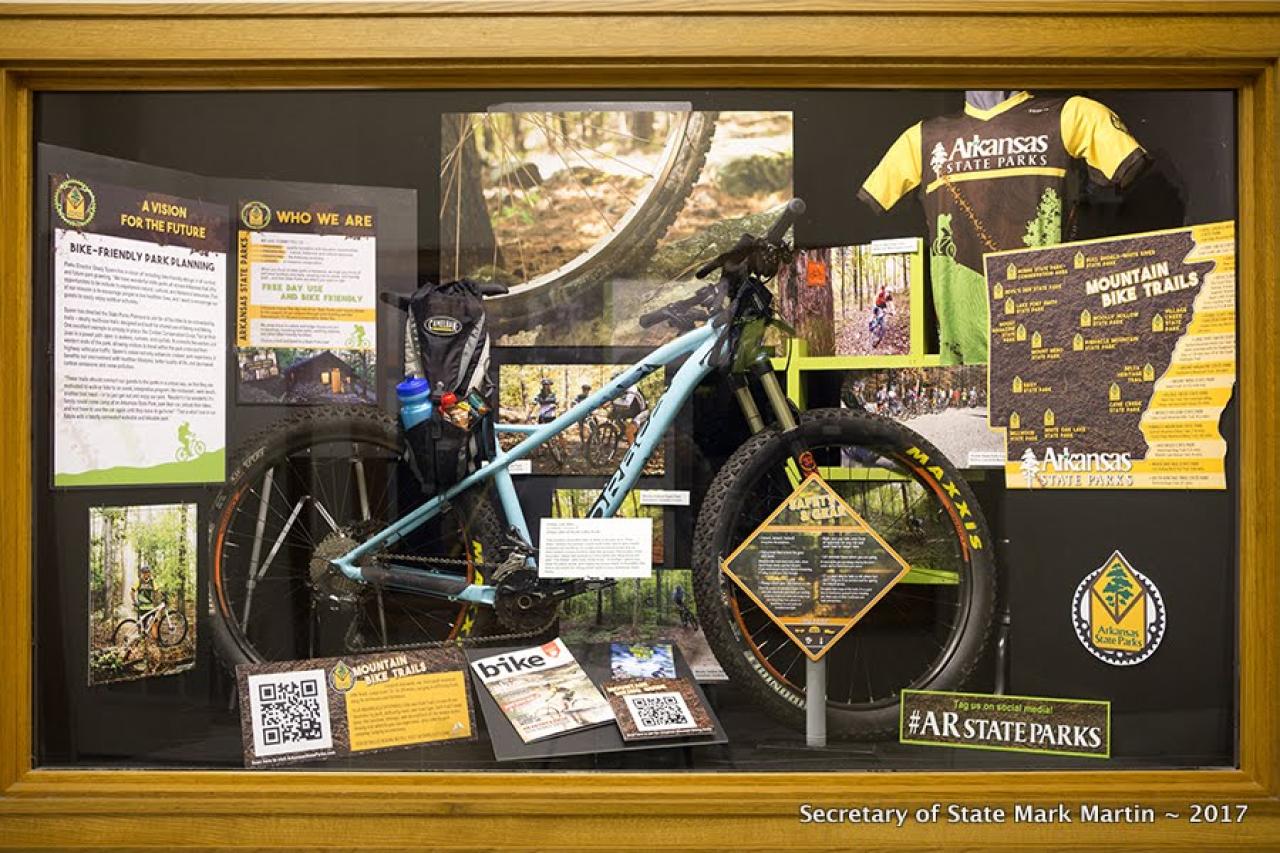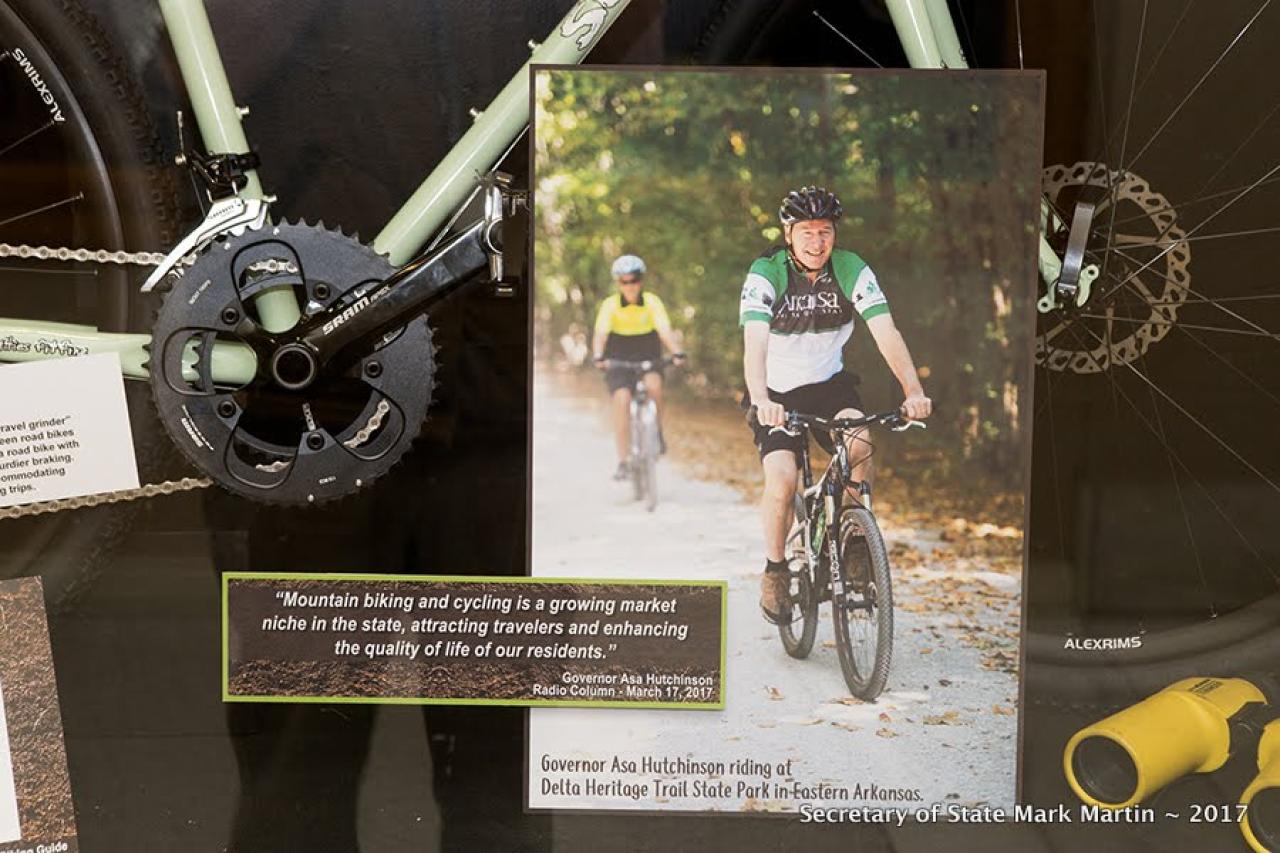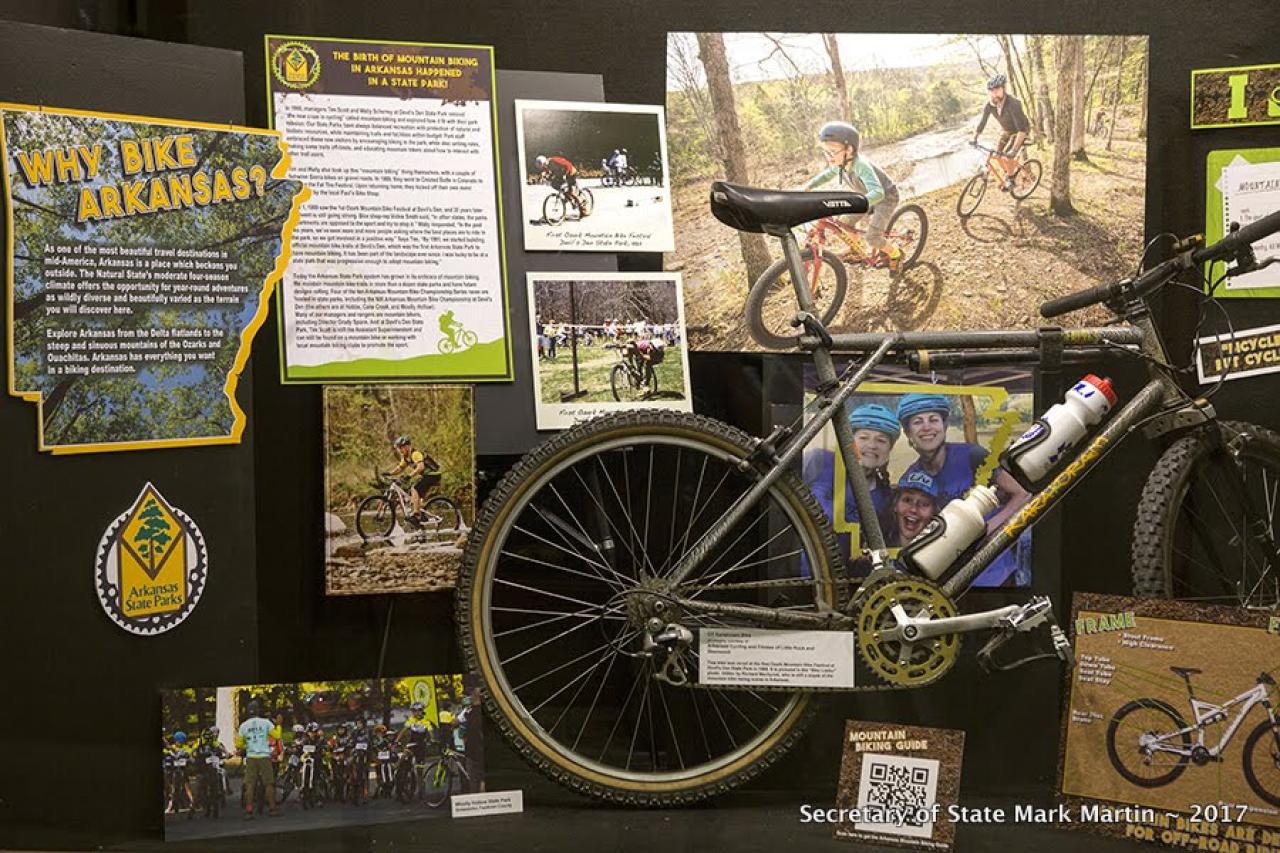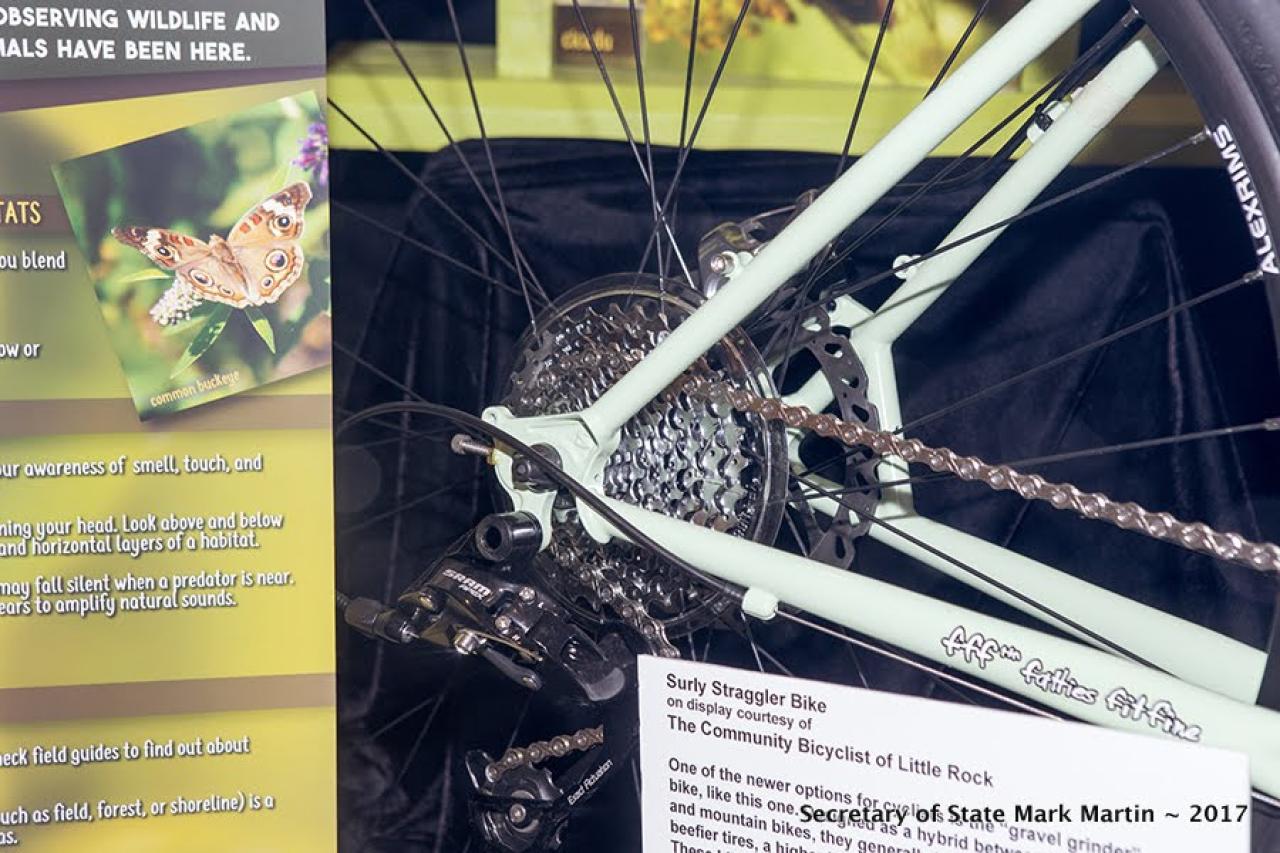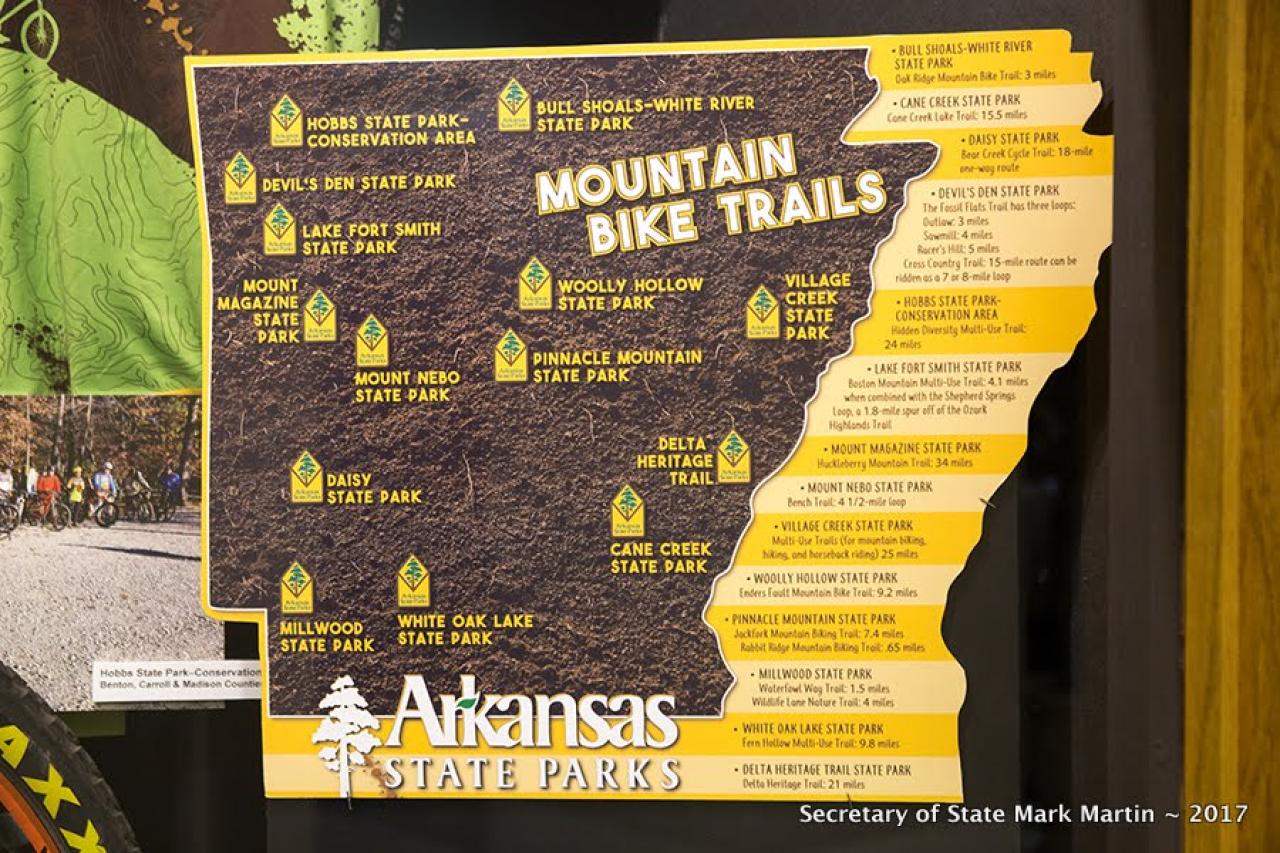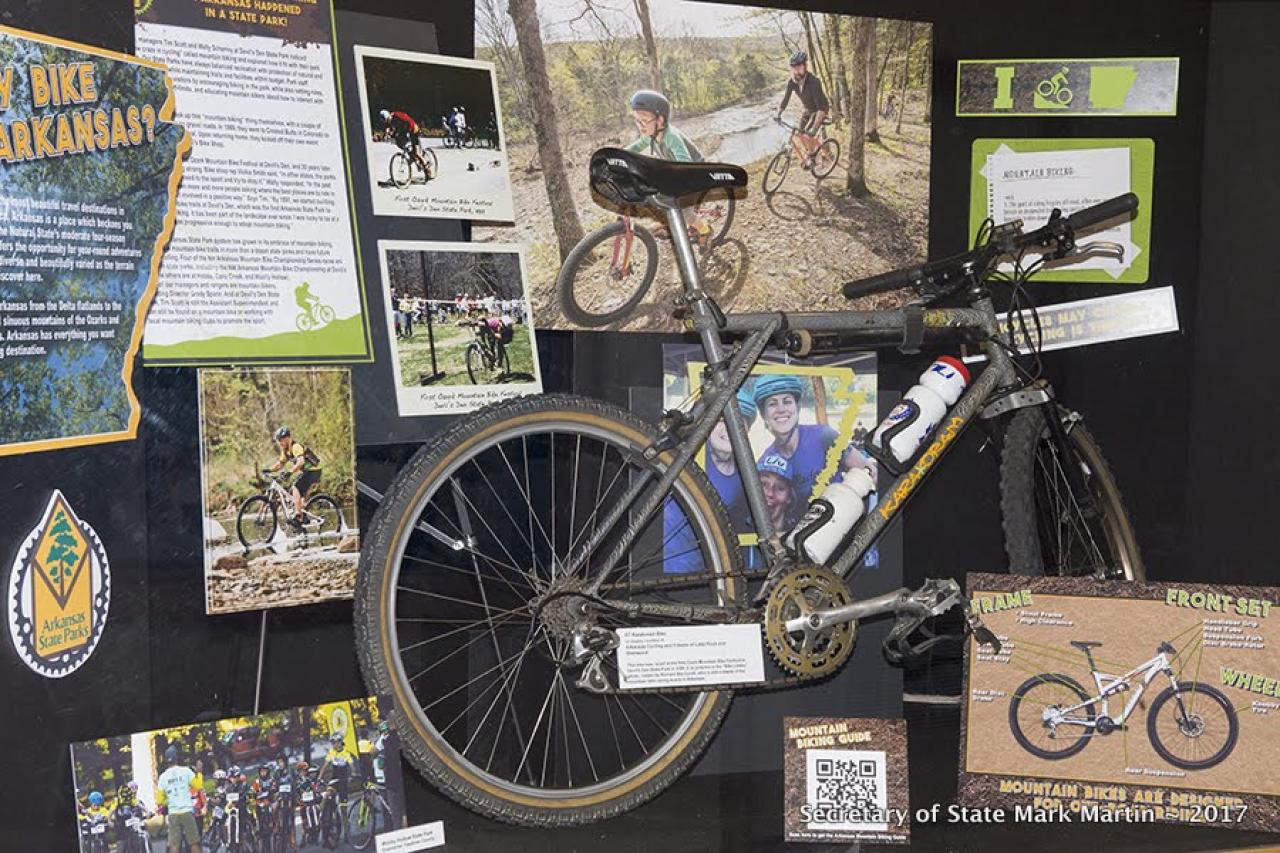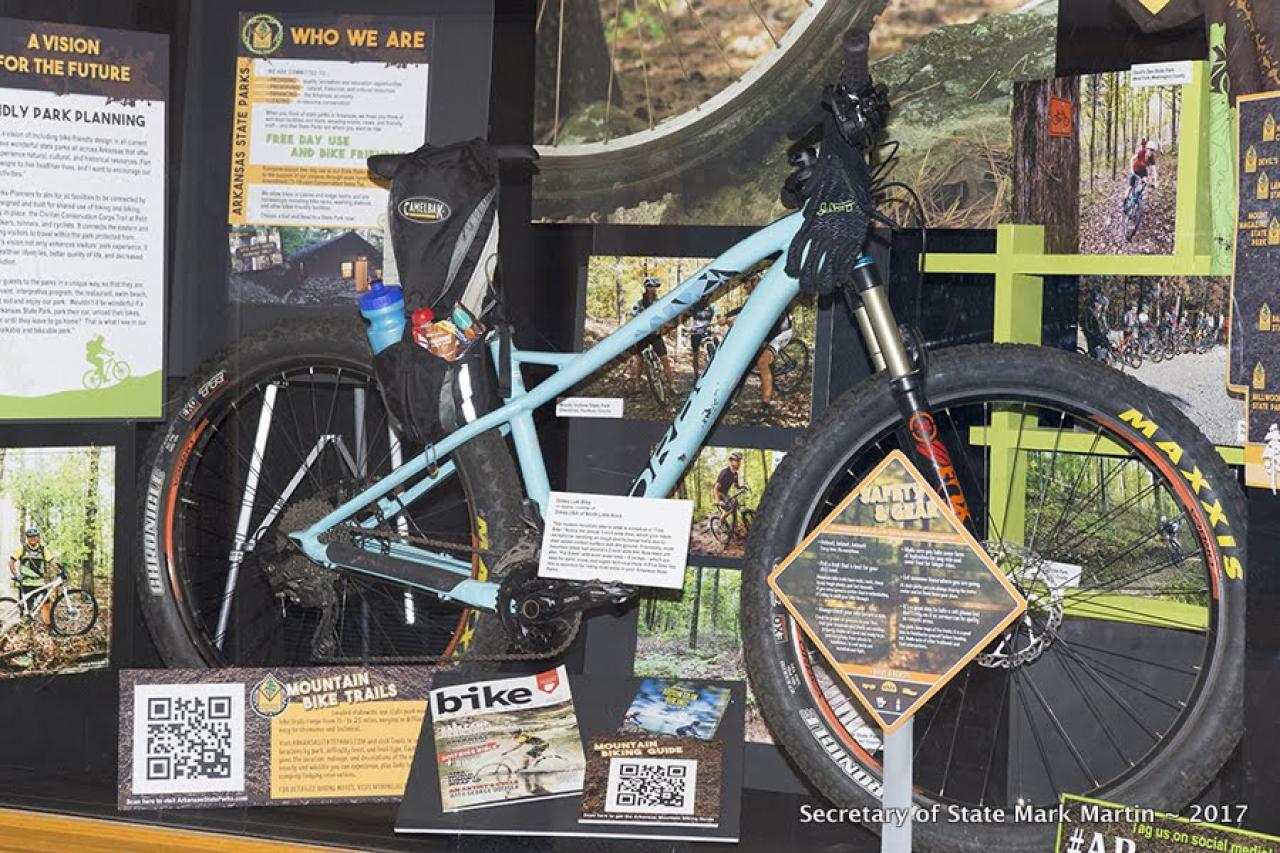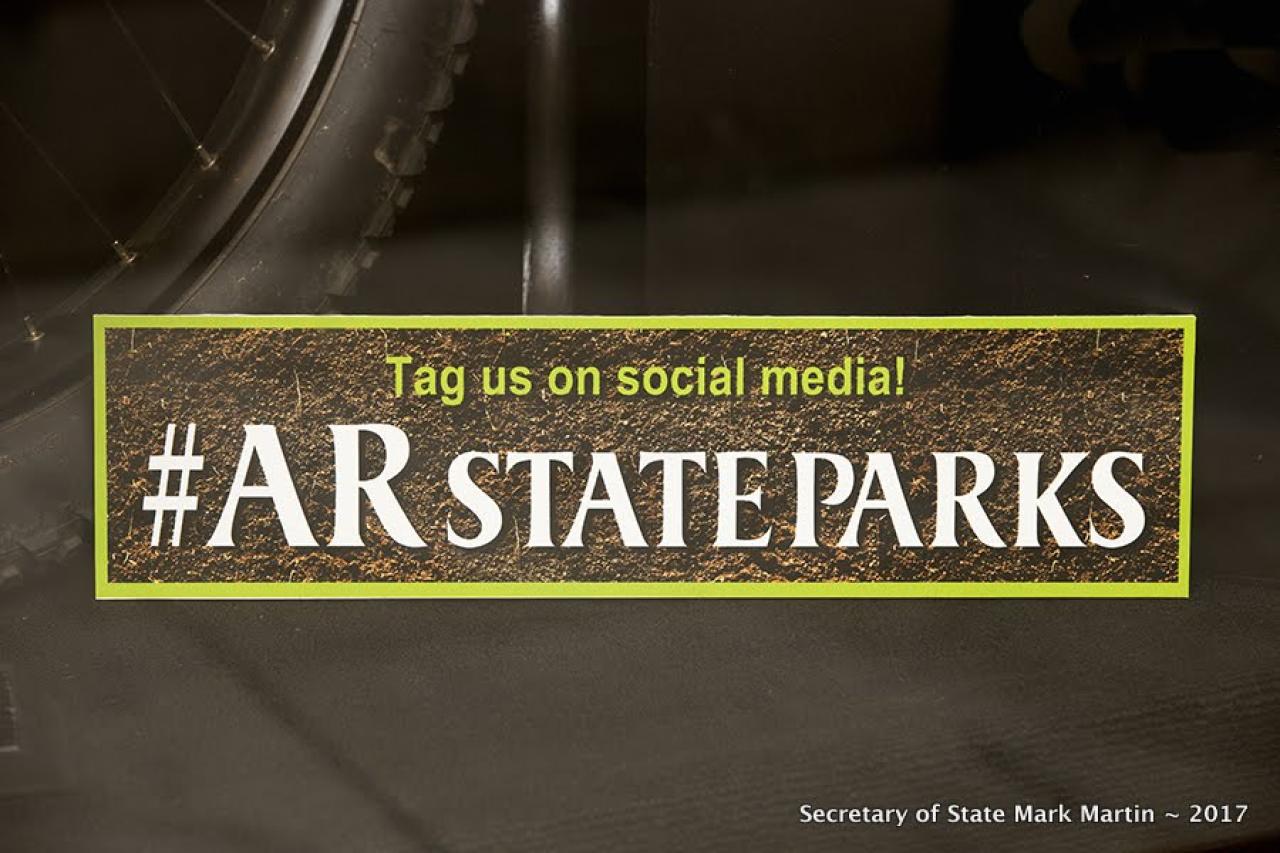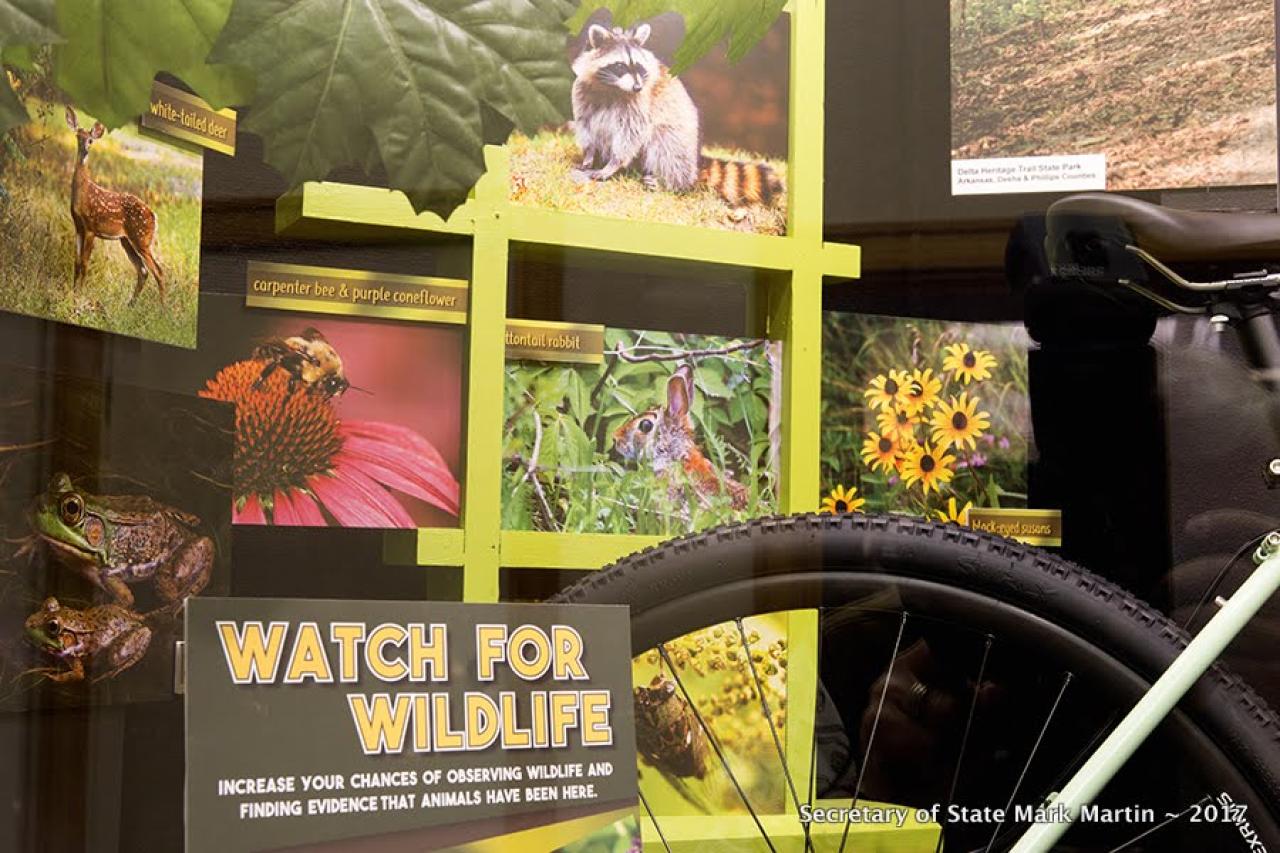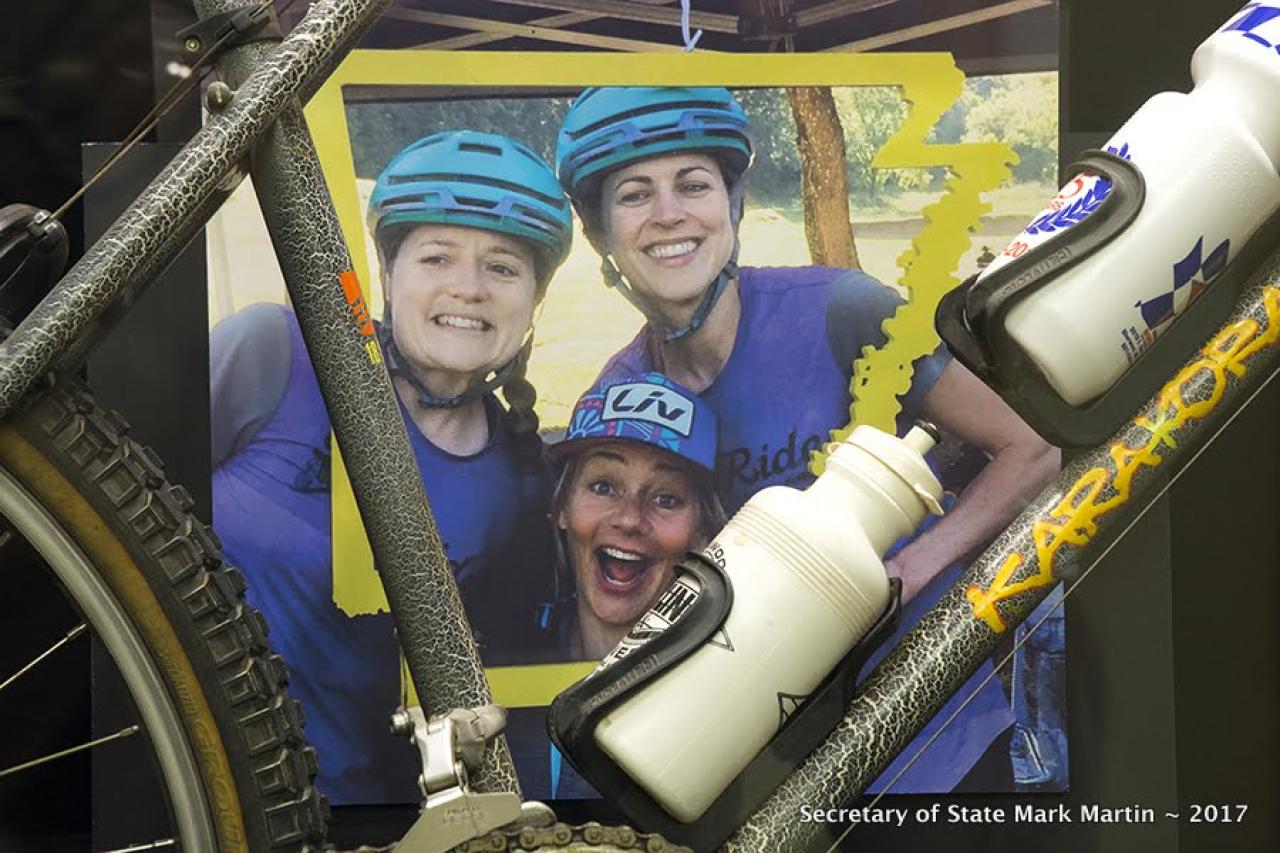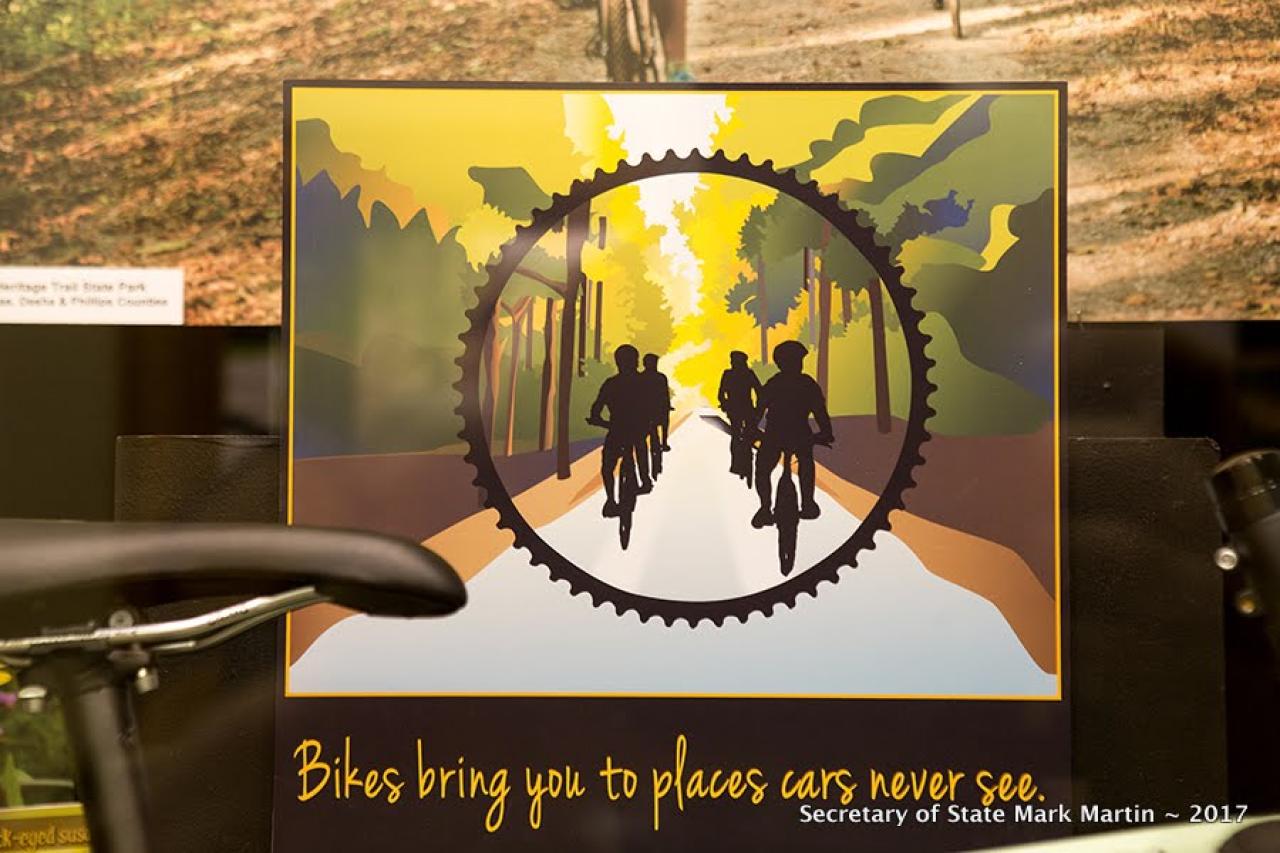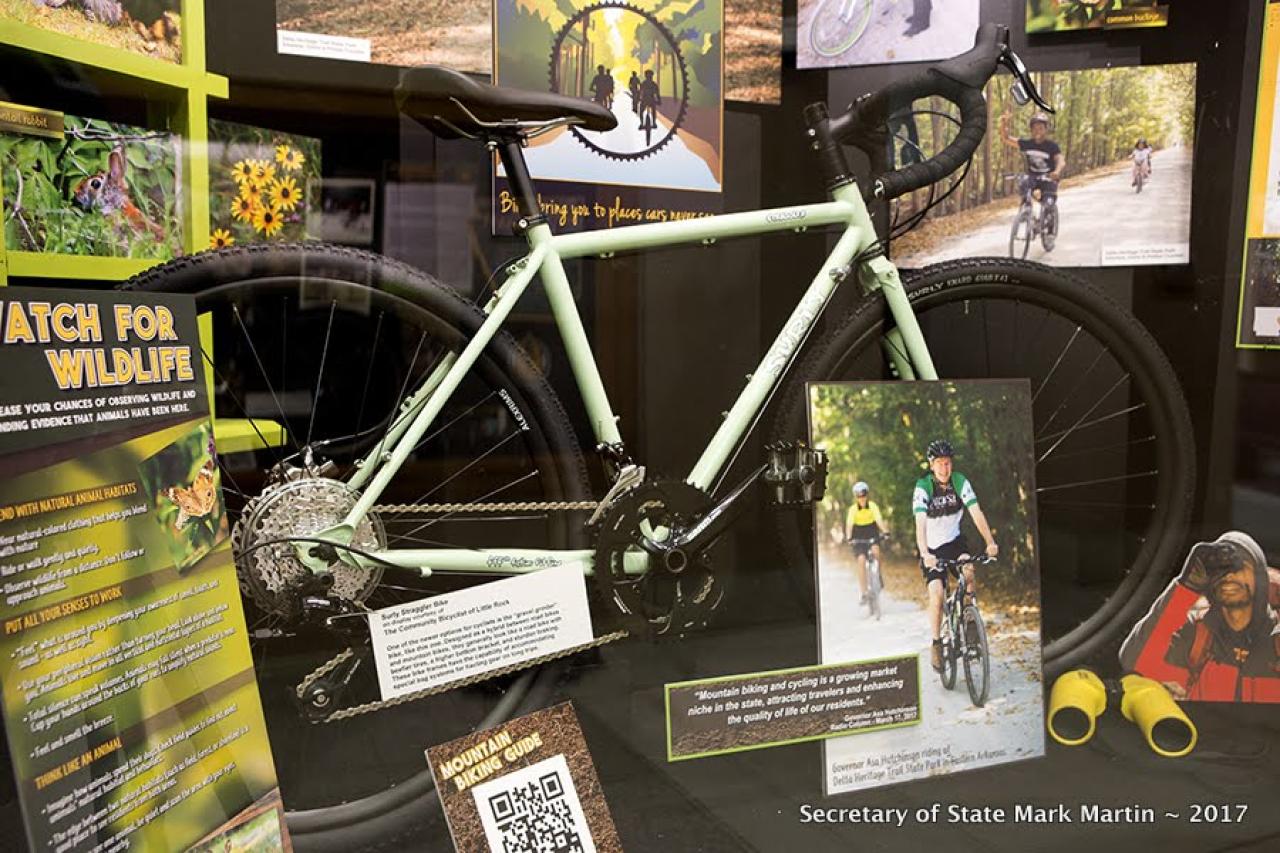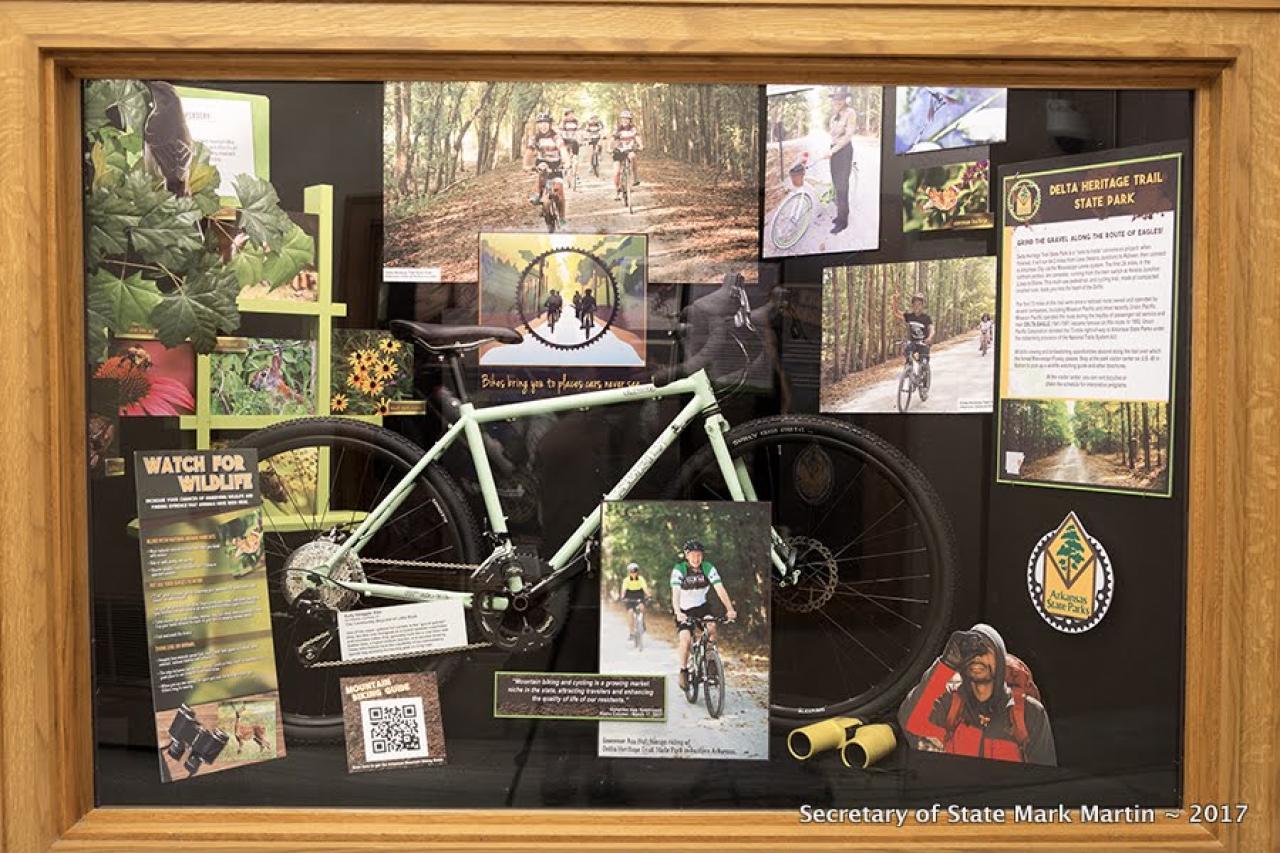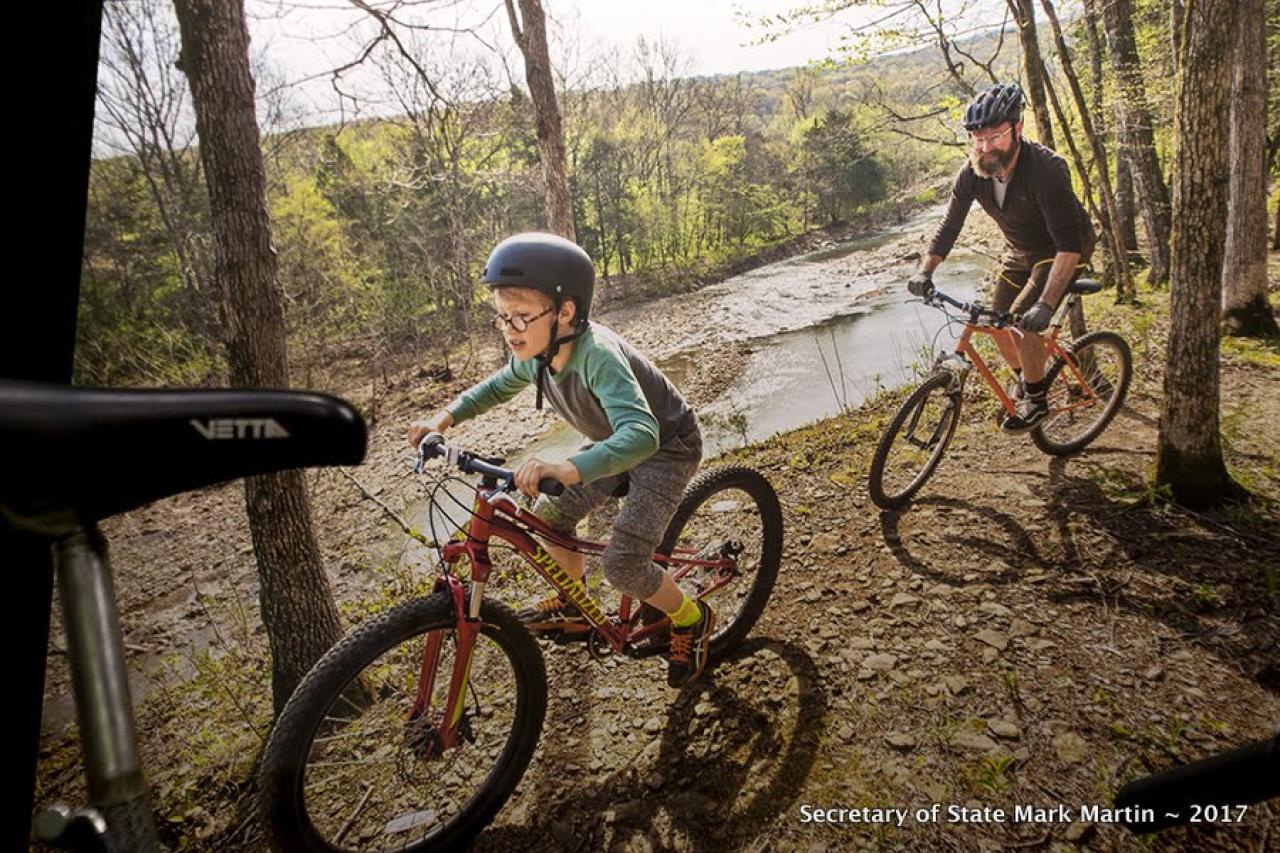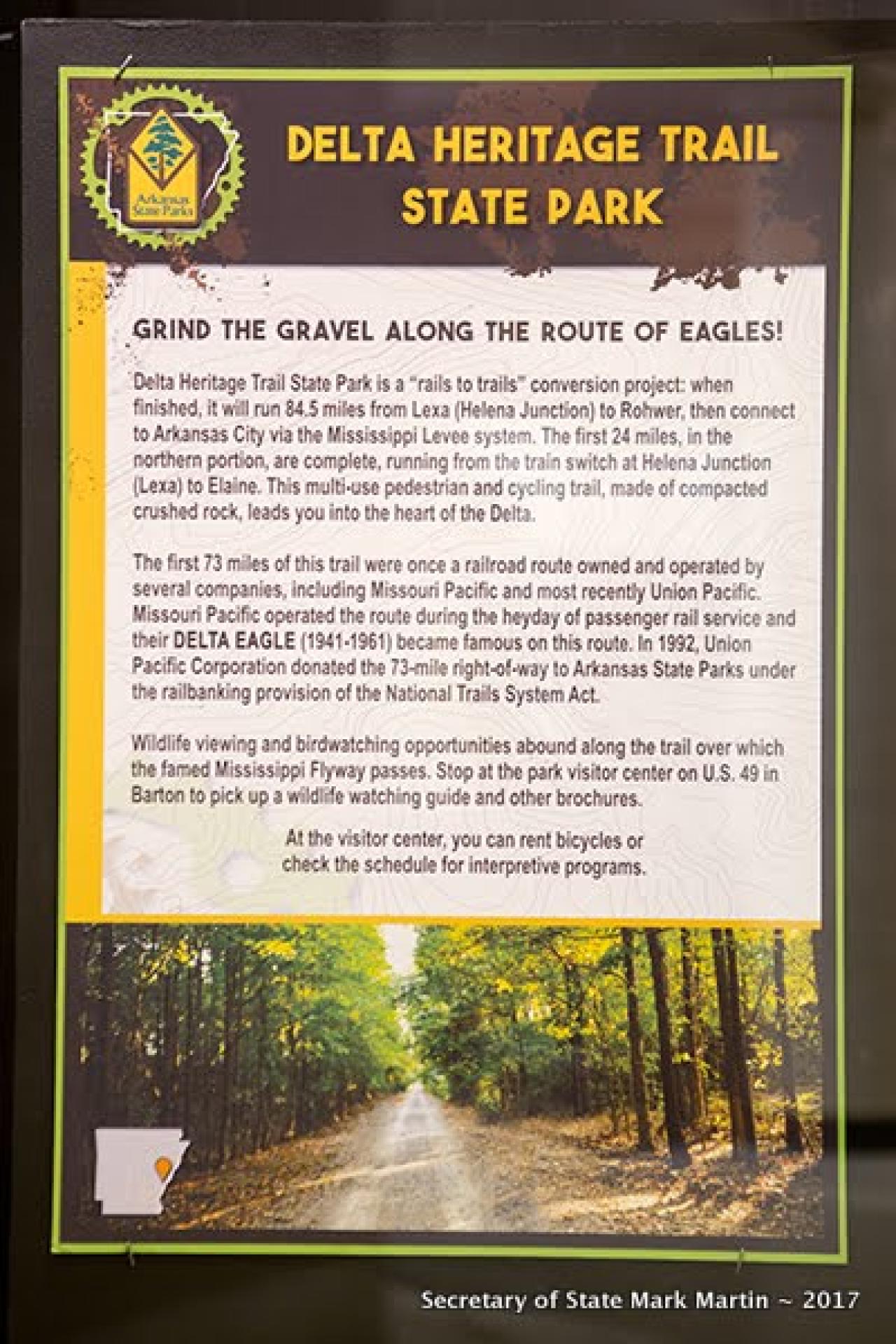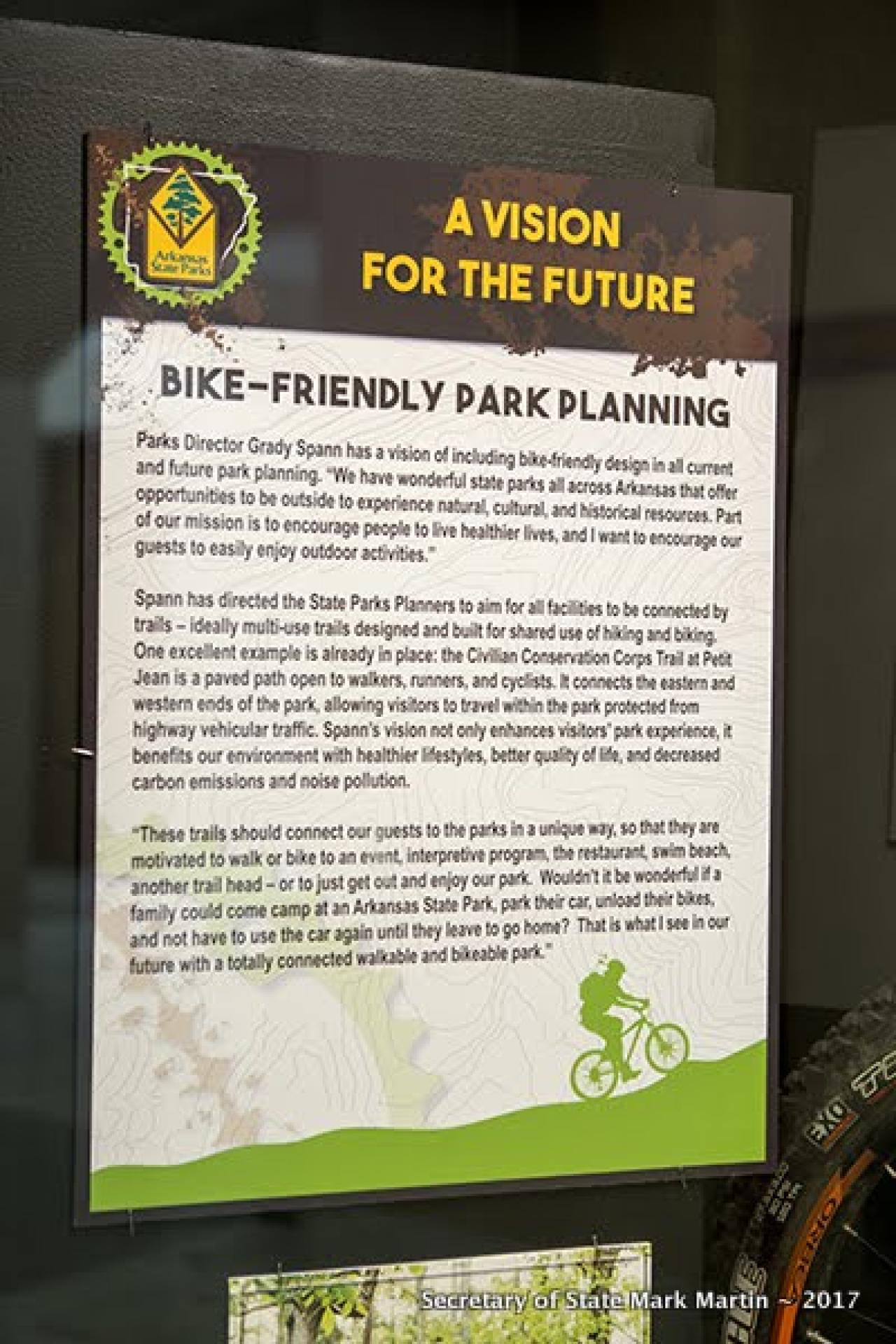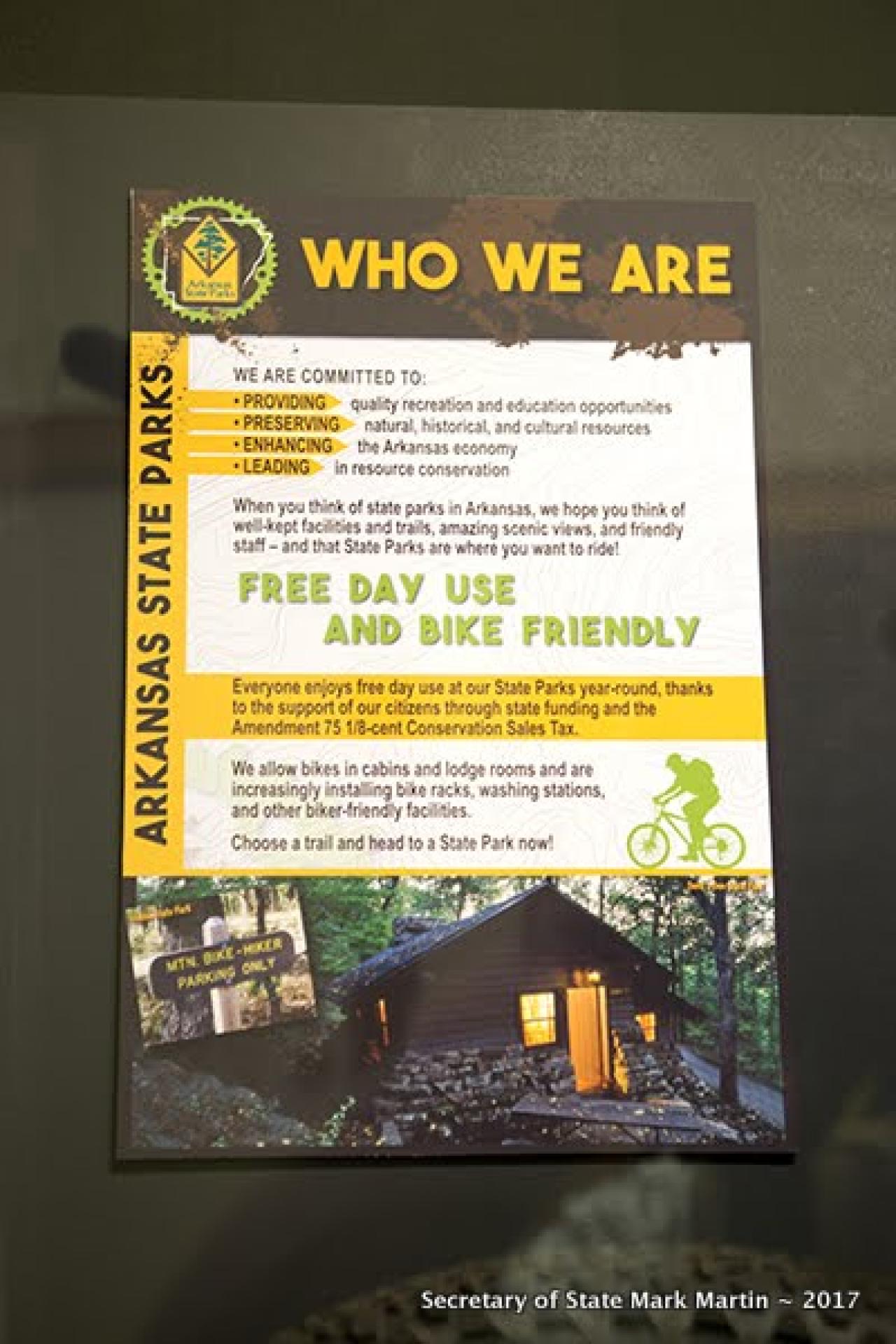 Our staff worked with Dr. David Ware and Jen Hughes with the Secretary of State's office to produce the exhibit after Dr. Ware's generous invitation. ADPT graphic artist Jennifer Hoornstra designed the exhibit graphics, exhibit specialist Keith Martin handled research and editing, and sign artist David Thompson helped with installation. Arkansas State Parks Marketing Manager Joe Jacobs secured the loaner bikes for display. Many thanks to our team and the Secretary of State's office for such a great exhibit highlighting mountain biking in our Arkansas state parks and we hope you get a chance to see it.
Video summary:
Once upon a time, all bicycles were, really, "dirt bikes." In cycling's earliest days, wheelmen—and women–followed uneven gravel roads and rough paths, both to get from point "a" to point "b" and for the sheer joy of the ride.  Today, many cyclists have rediscovered the fun and challenges of unpaved riding, and Arkansas's state parks offer a variety of such opportunities. This summer, the Arkansas State Capitol's first-floor galleries feature "Let's Ride: Mountain Biking in the State Parks of Arkansas," a celebration of adventurous cycling around the Natural State.
Created by the Arkansas Department of Parks and Tourism in collaboration with the Secretary of State's office, "Let's Ride" highlights the state parks' connection to the beginnings of mountain biking in Arkansas: two staffers at Devil's Den State Park helped organize the state's first mountain bike gathering, the Ozark Mountain Bike Festival, at Devil's Den in 1989.  Today, state parks feature mountain bike trails for cyclists of all skill levels, ranging from beginner routes to rocky advanced-level "technical" trails. The Delta Heritage Trail, a state park venture, is a crushed limestone rail-to-trail path that when completed will offer a nearly eighty-five mile "gravel grinding" ride through the historic and scenic heart of the state's southeastern quarter.
"Let's Ride" includes scenes from and information about trails statewide, as well as select examples of the two-wheeled technology suited for them: one cycle, a 1980s-vintage GT "Karakoram," is a veteran of the 1989 Devil's Den event.  Others, loaned by area cycle shops and distributors, illustrate the variety of modern-day mountain cycles.