Each year, hundreds of bald eagles find their way to the Natural State to winter.  Arkansas State Parks have numerous programs and special events to help you explore the fascinating world of these and other birds of prey.  Bull Shoals-White River State Park hosts such an event:  Eagle Awareness, held annually in January. This special weekend features a variety of activities and presentations from guest speakers.
One of these activities is the Eagle Watch Van Tour.  Bull Shoals Lake and the world-famous White River are havens for these wintering birds and ideal locations to catch a glimpse of these majestic creatures.  Our van tours take you to parts of the shoreline along the lake and river.
Writing of these van tours brings to mind an experience I had on one such outing in recent years: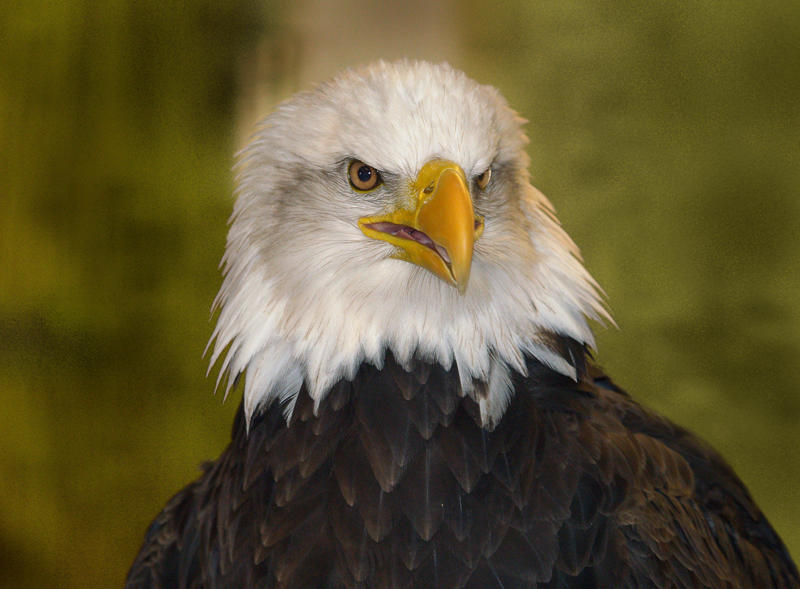 Our Journey Begins
My story took place on a cold January morning. I was riding along in Van #2 with a group of excited would-be eagle spotters.  Three vans were on the hunt, scouting different locations throughout the state park in search of these sometimes elusive birds.  Our group was an eclectic one, ranging in age from early twenties to, well let's just say "up in their years."  Small chat filled the van as each rider had one eye looking out of the windows to the cloudy sky above.
After a short drive into the campground we began scanning the bluffs above the crystal-clear waters of the White River, which flows right alongside the campsites. Up ahead, we noticed some activity from Van #1.  The vehicle had stopped and the riders had piled out. They were hastily approaching the river's bank afoot, pointing to the bluff across the river.  Their binoculars in position and their fingers pointing to the bluff told us they had hit the jackpot!
Our van had barely come to a stop when the first of our group sprang open the doors. Each followed closely behind, binoculars and bird checklists in hand.  I look back, now, and imagine that sprint across the grassy field as a hazy, dream-like jaunt in slow motion.  I see binoculars flopping around the necks of grown men and women as they hold their hats on their heads as they run in an attempt not to lose them. In this almost-Olympic event, such an occurrence would cause one to have to stop and pick it up, only placing them even further behind in the heat.  Had Vangelis' theme from Chariots of Fire been playing, nothing could have been more fitting.
We arrived riverside next to group #1 with our whole group slouching over, gasping for enough oxygen to ensure our brains could fire a message to our hands to raise our binoculars and place them to our eyes.  Something had caught the eyes of our companions and we were going to get in on the action.  After looking in the direction of the pointing fingers I noticed something white in a tree high above the river.  "It's a bald eagle!" someone exclaimed. I placed my binoculars against my eyes and after a little focus adjustment I spied the anomaly.  There it was…..a white plastic grocery bag.
Quietness overcame the group and disappointment was on the faces of all standing there.  A plastic grocery bag, deposited outdoors by an obvious non-environmentally-conscious shopper, had been the cause of untold elation and then sadness.  Do you know how long it takes those things to decompose?  But that's another story.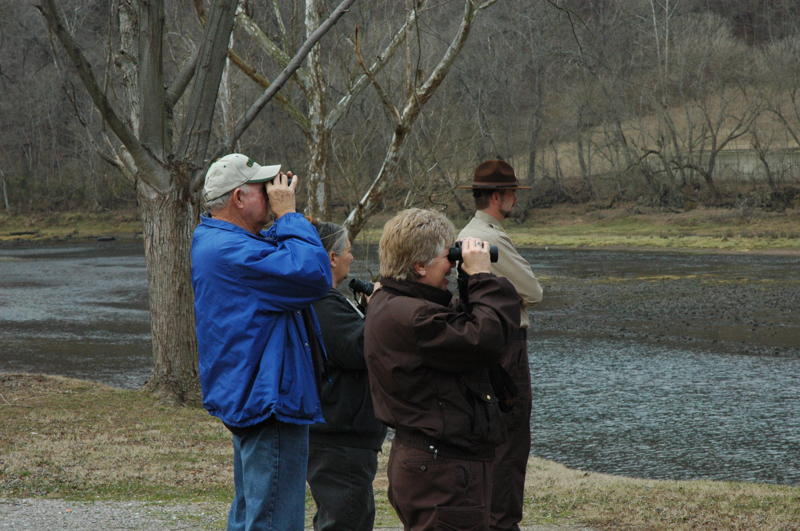 A Second Chance
I'm unsure if it was disappointment from not seeing an eagle or embarrassment from mistaking a polyethylene bag for the symbol of our great nation that silenced all in the group.  But in that silence a faint static was heard.  It was coming from the radio held in my hand.  I raised the radio closer to my ear and adjusted the volume.
"This is Van #3…we have a sighting at"…..then static.  Everyone in the group stopped in their tracks and leaned forward, holding their breath and turning their heads so their ears could catch every nuance of the transmission.  "This is #2…please repeat."
More static then… "This is Van #3.  We have spotted and eagle just below Bull Shoals Dam."  Silence filled the air as each redeemed bird spotter looked around at the reaction of the others.  Then in a flash of excitement, the previous "run for the roses" was repeated but in the opposite direction.  You would have thought a blue light special had just been announced in the electronics department of a discount store on Black Friday.
In record time the vans were once again filled and ready to go.  As Van #1 quickly pulled away I found myself sitting shotgun in a van full of over-zealous, bird-loving adults with no driver.  My colleague, the driver, was still on the bank of the river standing in awe of several species of waterfowl paddling in the water.  In an attempt to maintain my composure and a desperate sense of professionalism I yelled out the window across the field.  "Hello…there's an eagle at the dam….didn't you get the memo?"  I could sense the tension in the van as the driver scurried toward us, but to everyone's credit nothing was said.  Finally we were on our way.
The Sighting
After another short drive, we safely arrived at the dam site in time to share what would be an incredible experience with our companions.  There across the river, perched high on the limb of a tree, sat a bald eagle.  As I peered through my binoculars I could see the detail of its beautiful iconic coat, which consists of an amazing 7,000 feathers.  Its yellow eyes stared directly at us, as if to acknowledge our presence there.  Its huge, powerful talons gripped the tree limb, while the winter breeze made its way through the pristine White River valley.  We all have seen photographs or video of a bald eagle at some time in our life.  But standing there observing, with our own eyes, this magnificent animal was an experience which can hardly be put into words.
Everyone stood quietly in adoration as they viewed the spectacle.  I looked around the group; smiles were everywhere.  Some of the couples even held hands as they shared the moment.  Then, without notice, the bald eagle left its roost as its 6-foot wingspan lifted it into the air.  A few gasps and exclamations sounded from the group as we watched the eagle soar above the river.  All eyes, some filled with tears, watched the bird as it flew high out of sight.
We all just stood there for a moment, reflecting on what had just happened.  It was as if the whole world had just stopped and nature, in all its beauty, reached out a touched each of us.  It was a moment that I, and all who were there, will never forget.