Bull Shoals-White River State Park has become a very popular fishing destination since it was established in 1955, following the completion of Bull Shoals Dam. Two incredible fishing ecosystems were formed here because of the dam's geographic placement: Bull Shoals Lake, a 45,000-acre mecca for bass, catfish, and walleye fishing; and the White River tailwaters, producing some record-sized trout for over 90 miles downstream of the dam.  
While fishing for warm water lake species requires a certain approach and technique, trout fishing the cool waters of the White River has its own unique challenges. It demands an understanding of the species of fish that live there and the environment where they thrive.  
This article highlights time-tested White River fishing strategies that anyone new or experienced in the sport of trout fishing can implement. By adding these simple trout fishing tactics to your tackle box, you can better understand and connect with our park's White River resource in your quest for catching "the big one."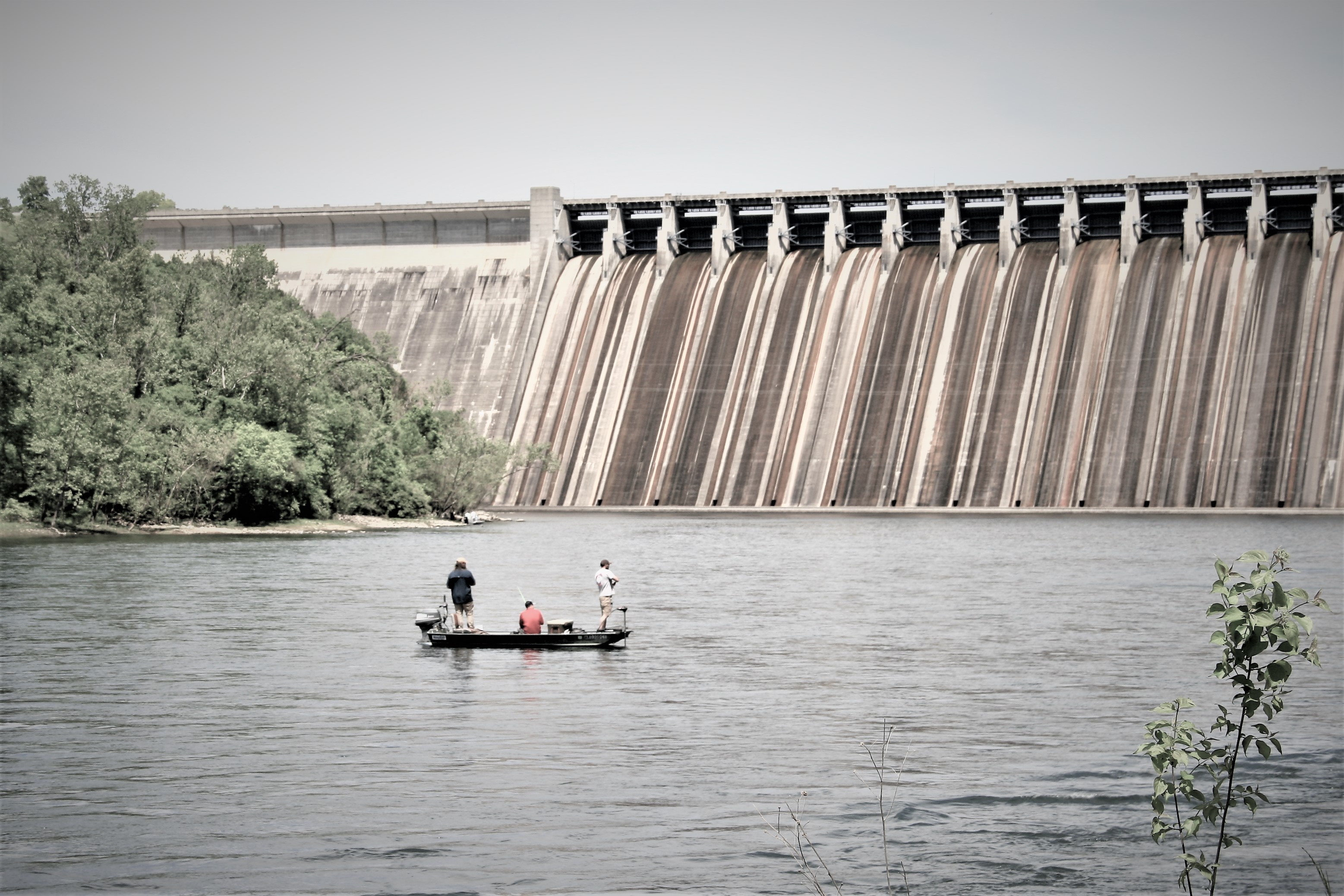 It's all about the water. 
The first tactic that will help you connect with this resource is to adjust to constantly varying water levels. Understanding the dynamics of a moving body of water is essential when trying to catch fish in their natural habitat.  
There are two key environmental factors at play that drastically affect trout behavior on the White River. First, and most importantly, the water level continually changes based on the amount of water that is released through Bull Shoals Dam. Even though water flow is dictated by the Army Corps of Engineers and power supply companies, it does not have to ruin your fishing game if you play it right (more on this to come, keep reading).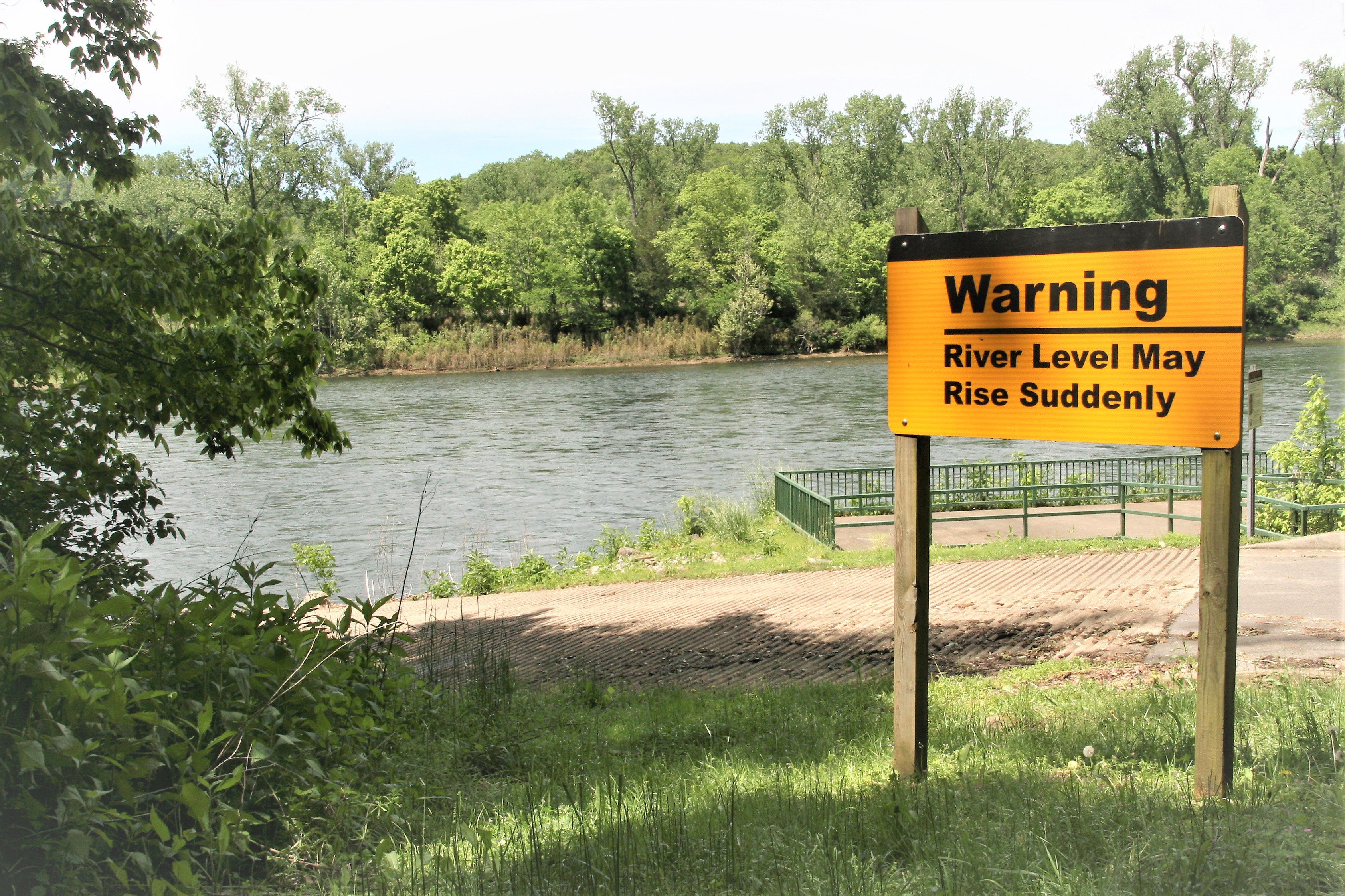 Second, the water temperature here is consistently around 50° Fahrenheit year-round, and trout prefer and thrive in these cold, oxygen-rich waters. However, there are temperature fluctuations seasonally and on extremely hot or cold days which influence trout. Because trout constantly respond to both of these shifting elements, it is necessary to adjust your approach and choice of tackle accordingly. 
Where are all the fish? 
Developing some "stream sense" is another tactic that greatly enhances your knowledge of the White River and where its inhabitants hide out. There are certain areas along any given stretch of a stream or river that fish are drawn to because of important geographical features which often provide food, shelter, and abundant oxygen. Because of the current, trout will utilize bank edges and submerged structures (rocks and logs) to wait behind while natural food drifts by. Eddies, or places that cause the water to slow and change direction, are also areas where trout rest and feed on insects that have been trapped in these small pools. In addition, runs that occur following a rippling section (shoal) provide a place for trout to snatch food while remaining out of the main channel. Finally, on warmer days, deeper pools provide cooler temperatures and shelter, but because the water is not moving as fast, food sources are not as abundantly resupplied. Keep in mind that the White River levels can change daily, even hourly, and will create longer runs, wider bank edges, deeper pools, faster eddies, and stronger ripples as the amount of water increases (and vice versa with falling water). 

Setting Up Your Pole 
The next trout fishing tactic is determined by personal preference and defines how one chooses to engage with our park's dynamic fishing resource.  
The two main styles of fishing for trout on the White River are spin fishing and fly fishing. While both approaches have the same goal – catching fish – they are drastically different in setup, technique, form, and strategy. For simplicity, this article will address basic spin fishing arrangements only. 
For a trout setup, choose a spinning or spin-cast reel paired with an ultra-light or light action rod and 4-6 lb. test line. Low visibility fishing line that is adjusted for the seasons is key. Use fluorocarbon line, which is a sinking line with little stretch, in the warmer months when the trout are deeper. Then switch to monofilament line, a floating line with a lot of stretch, in the cooler months when the trout tend to stay in shallow areas.  
Rigging Tactics 
Now that we have discussed the water levels, trout behavior, and fishing pole setup, let's consider how to stock your tackle box for a big catch. Determining how to rig your line properly is the first critical step when fishing the fluctuating waters of the White River. There are two popular bait fishing techniques: the slip sinker rig, and the three-way rig, that when combined with a variety of bait options, are optimal methods for trout fishing. Ultimately, both setups help to account for the water speed and depth.  
As a general rule of thumb, the more water that is flowing, the more weight is needed to appropriately mimic the natural baits that are drifting downstream. In both styles, the amount of sinker weight is adjusted so that the weight 1) provides enough resistance against the flow of the river in order for the bait to be spotted and 2) does not overcompensate in weight and cause the sinker to sit still, making the bait wave like a flag unnaturally in the current. Ideally, the sinker bounces along the bottom of the river, providing just enough allowance for the bait to be slowed and seen, but not stopped. As the water level rises and falls, sinker weight should be adjusted accordingly.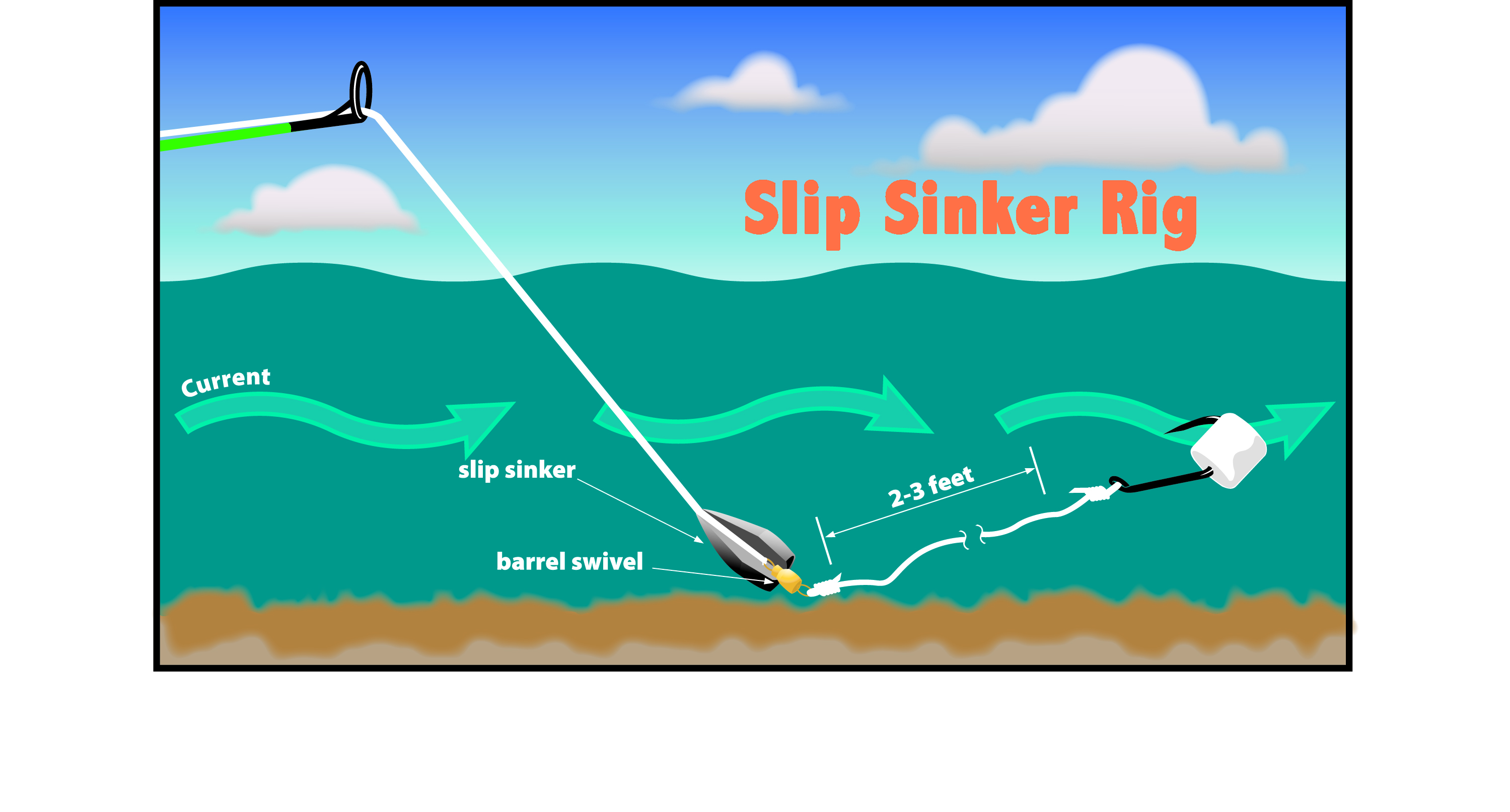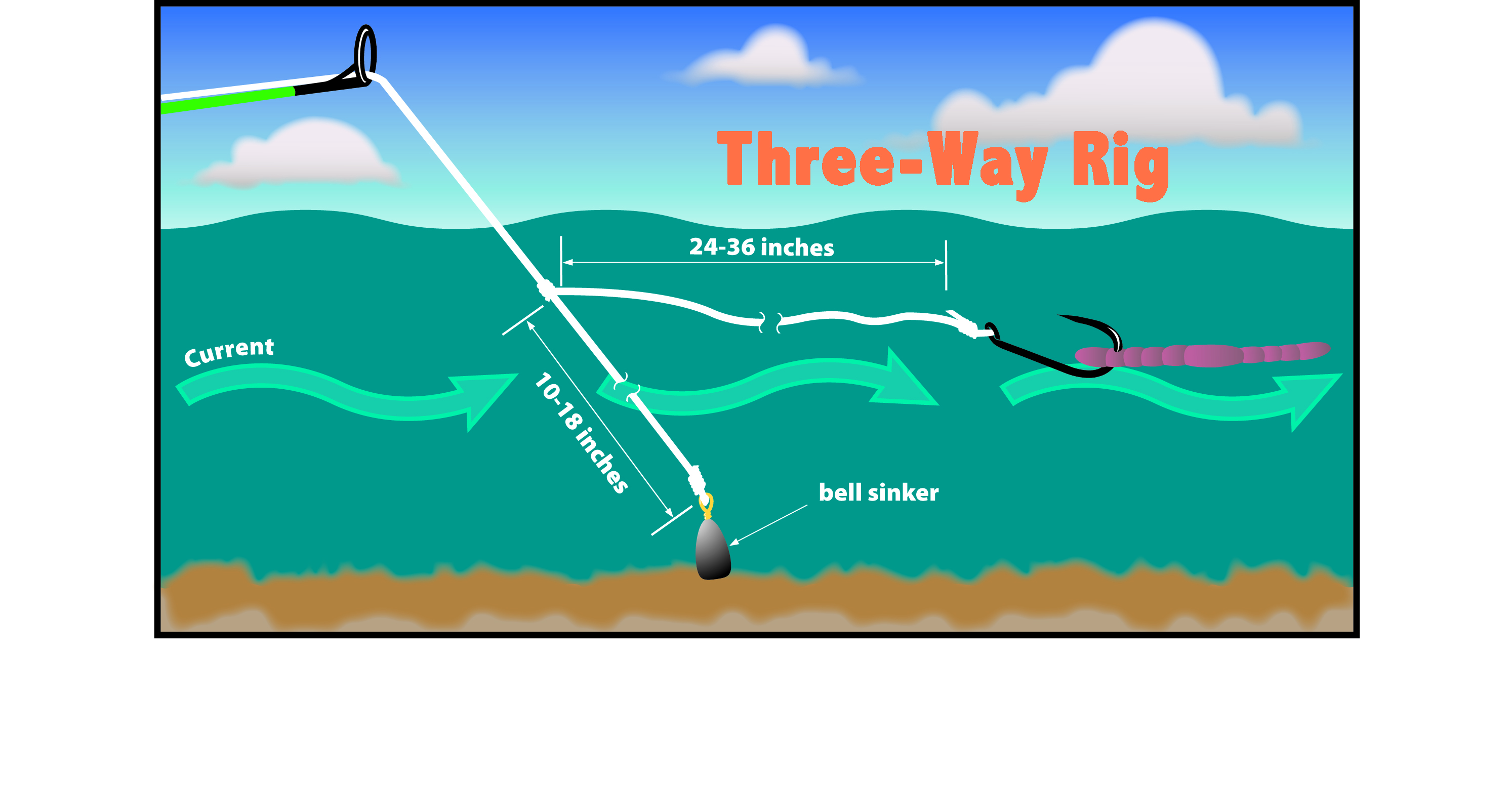 Illustrations above courtesy of Arkansas Game and Fish Commission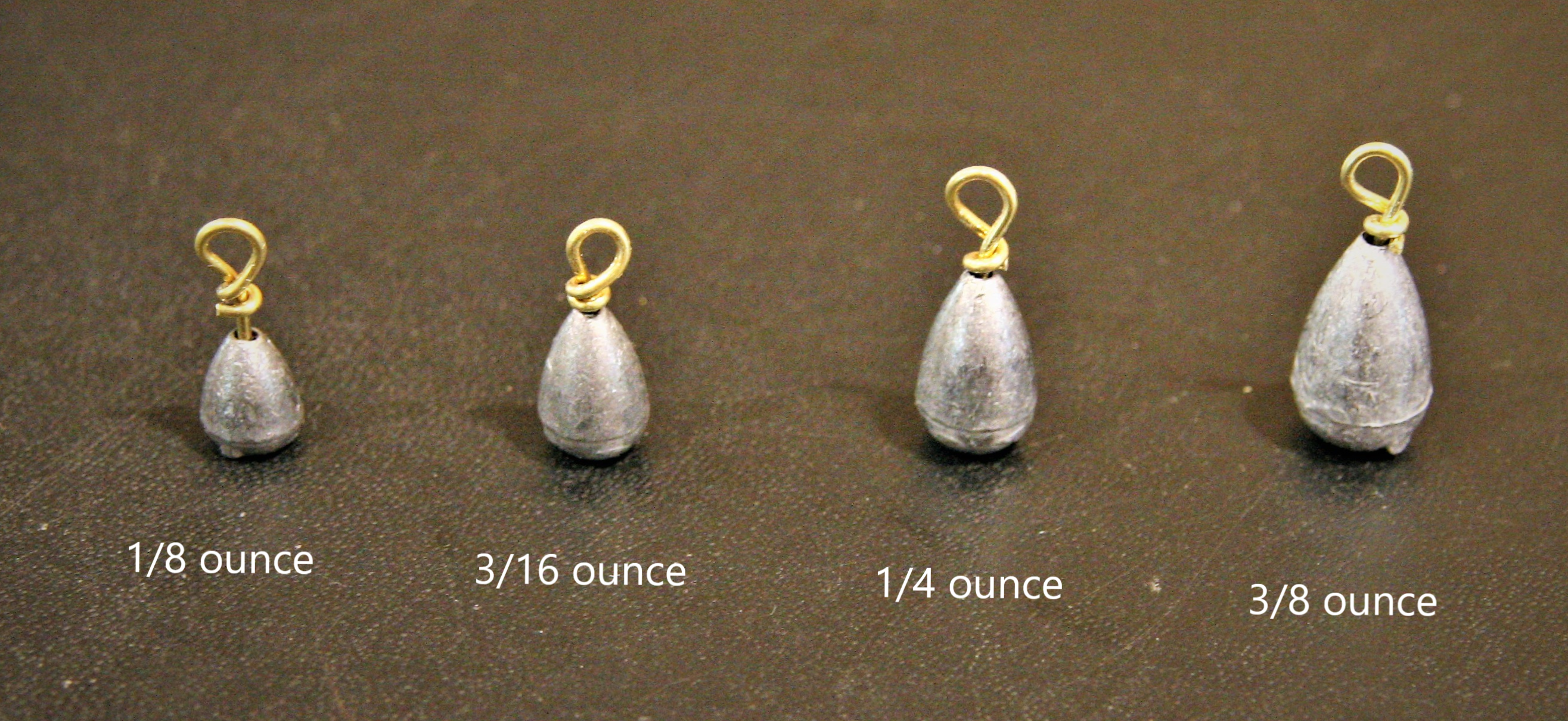 Types of Bait and Lures 
Obviously, how you choose to attract a fish to your hook goes hand-in-hand with your rigging setups, and you will need a variety of options in your tackle box. There are countless bait options when fishing for trout, and each choice will have its advantages and disadvantages depending on several factors: water clarity, temperature, level, desired depth, seasonal occurrences such as a specific insect hatch or shad kill, weather elements, and time of day. In addition, certain spots along the White River have regulations outlining the specifics of what anglers are allowed to use when fishing.  
Having considered these details, some anglers choose to use natural and live bait, like earthworms, minnows, crayfish, sculpin, shrimp, and insect larvae. Prepared bait like scented PowerBait eggs, worms, and nuggets are also very popular and come in a variety of colors and textures. Artificial lures range in size, weight, display, function, and color pattern (spoons, spinners, crankbait, jigs, etc.), and generally try to mimic something natural looking – an insect on the water's surface, the shiny flash of a shad, or a bottom-crawling crayfish.  
Keep in mind that the size of your lure depends on the amount of water flowing through the dam into the river. In lower water, you should stick with smaller sized bait, while higher water usually necessitates larger bait. If are stumped on what to start with, ask around as many people rely on local knowledge for what is working along the White River at certain times of the year.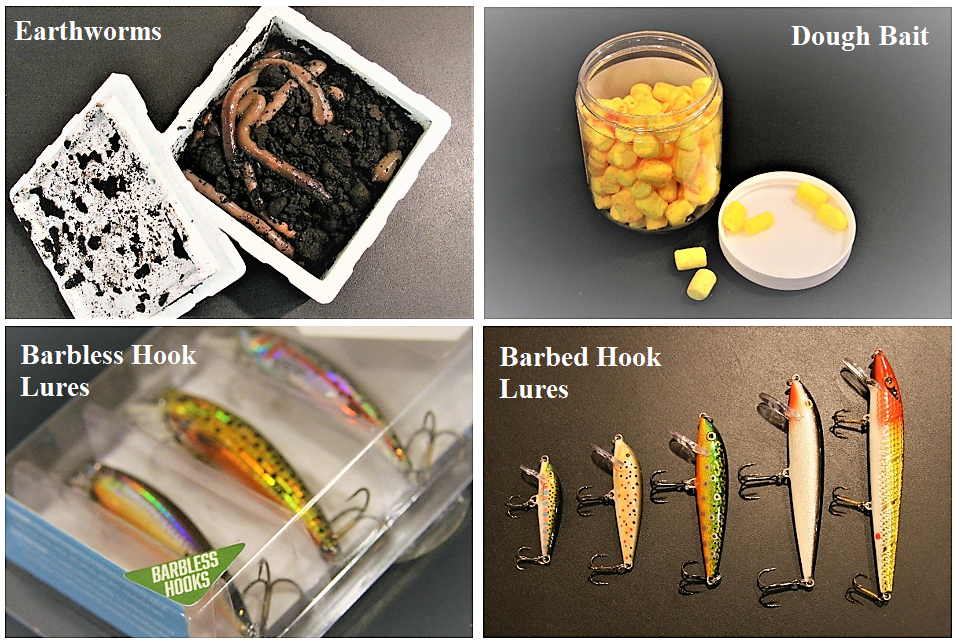 Your approach will need to be adjusted regularly because what works one day may not the next. Learning to experiment with different types of bait is part of the fun in getting that fish to snatch! 
Best Practices for Trout Fishing: Catch & Release 
This next tackle box tactic is arguably the most important but least discussed strategy, and directly relates to the preservation of trout fishing on the White River. Trout are extremely fragile fish and can be easily killed if you are not careful when handling them.  
Avoid touching the fish with your hands, which contain salt and oils, as this can destroy the fish's protective slim coat. If you must hold the fish, wet your hands or a towel, and use soft netting material (cotton, soft nylon, or rubber) that has been wet before landing the fish. Only remove the fish from the water to unhook and take a picture because unlike certain fish species which can withstand greater handling out of water, trout are very sensitive to these environmental adjustments.  
Lastly, it is important to remember that fish can become easily exhausted while being caught. If necessary, when releasing a fish, gently hold it in the water to stimulate its gills and allow the fish to swim away on its own. 
By practicing these simple catch-and-release trout handling tips, you can ensure that the fish is returned to its natural environment unharmed and that another lucky fisherman has the opportunity to snap a photo of their big catch, too.  
Know the Rules and Regulations 
Finally, before you head out on your trout fishing adventure along the White River, familiarize yourself with the regulations of the specific section you will be fishing and outfit your tackle box accordingly.  
In addition to needing a current Arkansas State Fishing License, both residents and out-of-staters also need to purchase a Trout Permit. Make sure to understand where fishing is and is not allowed, as there are year-round and seasonal catch-and-release spots, locations restricted by bait and tackle mandates, and prohibited fishing areas. Check out Arkansas Game and Fish for regulations on fishing. 
In terms of keeping fish, (at the time of this publication- subject to change) the statewide daily limit is 5 trout, and within the Bull Shoals Lake Tailwater section where the state park is located, only 1 trout over 14 inches may be kept. There are other specific limitations on sizing and number of each trout species that may be kept, so stay accustomed to these rules. However, many people choose to release their catch, especially as the fish get larger. This is especially crucial for brown trout because out of the four species, they are the only type that naturally breed in the tailwaters right below Bull Shoals Dam. 
For the most up-to-date trout fishing regulations, area maps, trout stocking schedules, and other trout fishing locations around the state, check out the Arkansas Trout Fishing Guidebook published by the Arkansas Game and Fish Commission annually.  
Make It Count! 
There is no exact "right way" to fish for trout. Many would say it requires a healthy combination of knowledge, skill, and luck.  
The beauty of this sport, though, is that each angler can find their own style, whether they are fishing from the shore with a silver spoon or drifting in a boat tossing worms on a hook. Know that it will take time to learn the fish – their eating habits, their hiding spots, and their reaction to environmental changes. Know that it will also take time to learn the White River – its pools and runs, eddies and deep holes, and the ever-changing water levels. It will require practice, patience, and persistence.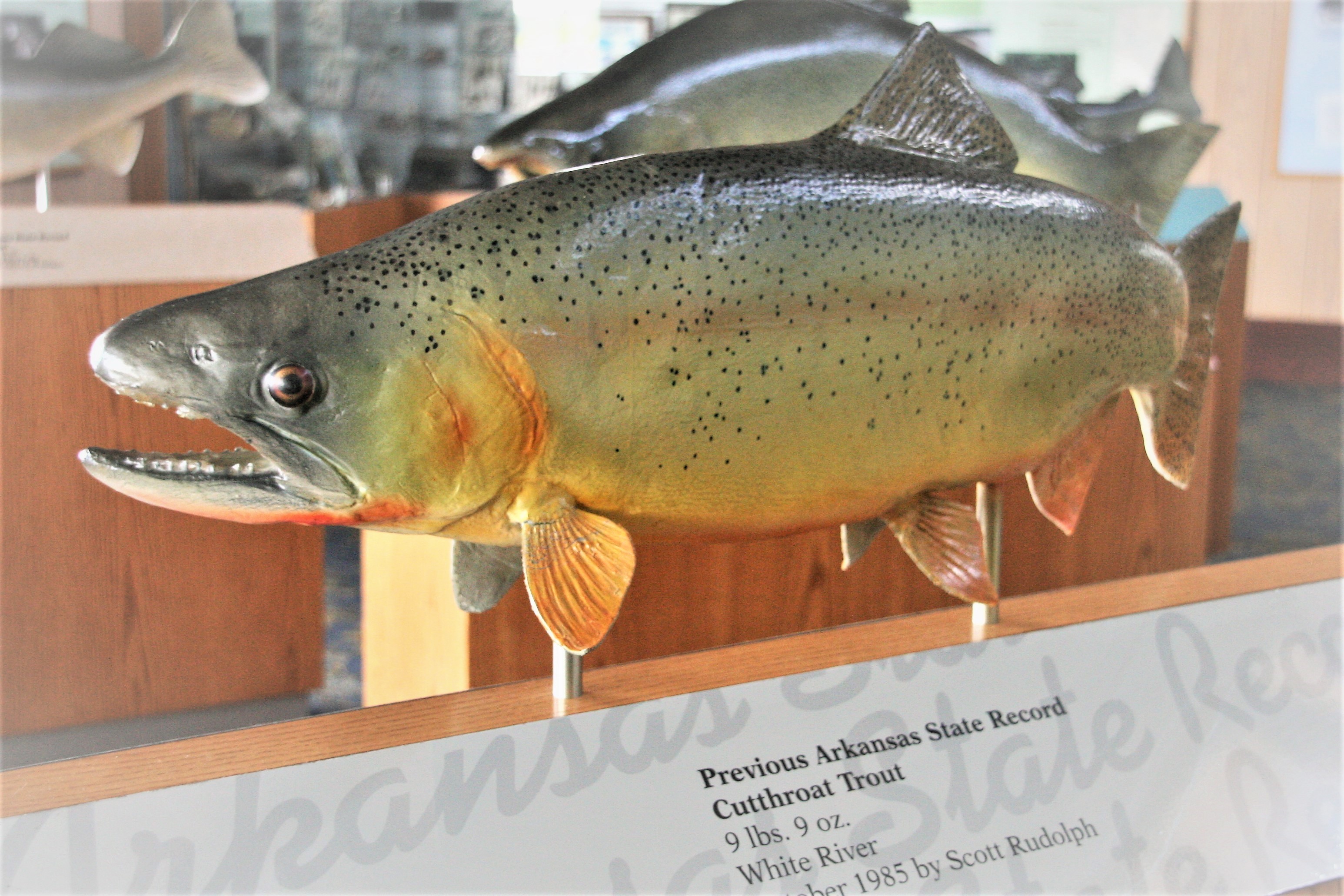 Hopefully, you can use these trout fishing strategies to help you better connect with the beautiful White River and land that trophy fish. If you want to share your catch with others, tag #ARStateParks on social media and mention Bull Shoals-White River State Park. Don't worry, you won't have to divulge your secret fishing spot or signature bait setup! 
One final thought: remember perspective. Whether or not you catch something, any amount of time spent fishing along one of the countless waterways in The Natural State is worth savoring.