Only a few short years ago a few friends and a coworker of mine had an unusual experience while kayaking the flooded woods of Moro Bay State Park.  It was spring time and the river rose to the point where it closed the park.  This happens every couple of years at Moro Bay State Park so our facilities are built to withstand high water.  It doesn't rise fast like it does in the hills of northern Arkansas.  Instead it climbs only about a foot per day or two feet per day in severe cases.   Once the river exceeds 85 ft above sea level the only way to explore the park is by boat or kayak.  I prefer kayak because negotiating the current in the woods is more exiting with a paddle and the quietness of a kayak affords a paddler some excellent wildlife viewing opportunities.  Such was the case on this cool spring evening in April of 2008.  It was almost sunset when a critter was spotted in the slough near the campground.  At first glimpse we could only see the ripples behind a dark object as it moved across the top of the water.  When Mark Myers (the former Park Superintendent) moved closer to investigate, it was clear that this was no scary alligator or dangerous serpent.  Instead it was a baby beaver (beaver kit) and the mother was nowhere in sight.  The beaver swam and played amongst the group of us for a few minutes.  Then Mark held his paddle out by the beaver kit and to our surprise, it climbed up on it as if it were a diving board.  The beaver jumped off the paddle and climb back on it several times in a playful manor.  The beaver kit was curious.  It didn't run like most wild animals.  It had not yet learned to fear humans.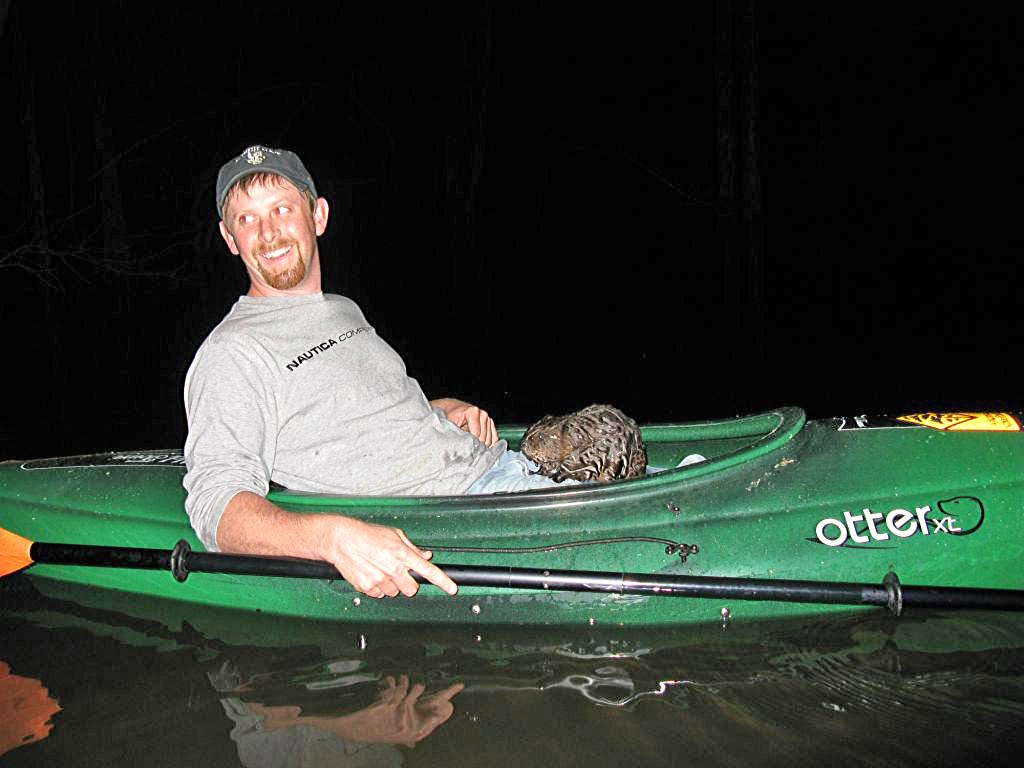 We laughed and smiled in amazement of this unique experience.  However, we soon began to wonder where the mother was.  The area this beaver was found in was very close to the park and only about 100 yards from the visitor center through the flooded woods.  It was not an area beavers had been sighted in before, even during flood conditions.  Our best guess was that the high water and current had separated this beaver from its mother.   It is our nature to want to protect babies of all species but the last thing we would want to do is take it from the care of its mother if she would return.  Many times people bring baby deer to the park that are often more kidnapped than rescued.  What people don't realize is that the mother of the deer fawn is usually nearby and will return as soon as they leave.  The same is true with most mammals.  The rule I use is, leave the baby alone unless you visibly confirm the mother has died or the location of the baby is dangerous for it.  My experience with trying to raise wild baby animals is that they often don't survive without their mothers regardless of how well you try to take care of them.  Our decision in this case was a compromise.  We had the opportunity to look over the baby and only move it a short distance from the location we found it in.  We brought it with us to the back of the visitor center.  The beaver rode on my lap in the kayak and I made no effort to keep it from escaping.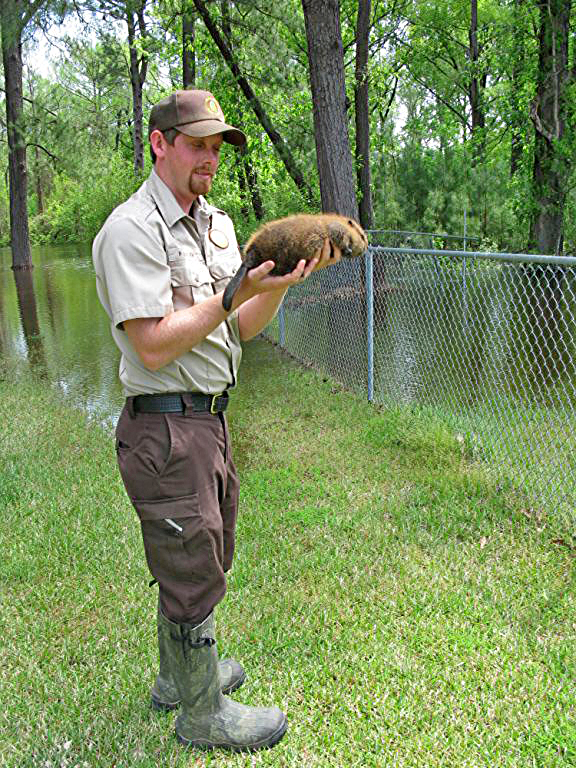 Our plan was to keep the beaver close and release it if the mother was seen or if the beaver chose not to stay.  We supplied it with food and a make shift hut made of limbs and a dog kennel.   Every few hours I let it out to swim and play on its own.  Each time the beaver returned to the kennel.  However, the following afternoon I let the beaver out to swim and it ventured a little further than usual.  I watched as it swam back to the slough where we had found it.  I didn't try to capture it. Instead I simply said, farewell.  I left the kennel where it could return but we never observed it again.  However, a few weeks later the water receded and a lady came by the visitor center.  She was a local from just down the river and began to tell me a story about a curious baby beaver she had recently seen by her dock.  I smiled as I told her about our experience just a few weeks prior.
Reflecting on the experience now I am thankful to work at a park that provides visitors the opportunity to have experiences like this one.  Arkansas has many excellent parks like Moro Bay where visitors can rent a kayak or canoe and set out on an expedition with a Park Interpreter.   They can also set out on their own and enjoy the solitude of nature like I have many times canoeing in Moro Creek.  Sometimes, a person sees a bald eagle, wild hogs, or a white tailed deer.  Most times a person sees fish flouncing and a couple of Great Blue Herons coupled with a beautiful sunrise or sunset.  However, every time a person sets out they can experience the majestic cypress trees, a beautiful river, and the excitement of not knowing what critter will be just around the next bend.  It is my hope that the readers of this blog will realize the value of their Arkansas State Parks.  As our population increases and our natural resources are continuously transformed into subdivisions and parking lots, experiences like these are becoming increasingly rare.   Your Arkansas State Parks are set aside, protected, and determined in their mission to provide you with outdoor experiences that can enhance the quality of your life.  We are not only concerned with this generation but also the ones to come.