Enjoy Southern Country Cooking
The Skillet Restaurant at the Ozark Folk Center State Park is nestled atop a wooded Ozark hill. Large windows in the glass-enclosed, natural cedar and stone dining room frame the view of the surrounding butterfly garden. Featuring wildlife feeding stations and a water garden, it is frequented by birds, raccoons, foxes, and an occasional bear. While taking in this natural scenery outside, enjoy the tasty Southern country menu, weekend buffets, and numerous Herbal Event Meals designed around recipes by special, guest gourmet foods experts. Our herbal events highlight the use of Fresh Herbs and native plants in their preparation.
Breakfast, lunch, and dinner and served daily throughout the regular season. During the off-season, the restaurant opens for specific holidays, special events, and groups.
Satisfy your hunger for traditional, Southern country fare, accented by enticing contemporary menu items, here at the Skillet Restaurant.
Current Hours:
Skillet Hours 8 a.m. to 2 p.m. Sunday - Thursday; 8 a.m. to 7 p.m. Friday & Saturday
Lunch served from 11 a.m. to 2 p.m.
Breakfast served from 8 a.m. to 11 a.m.
Dinner Specials begin at 4 p.m. on Friday & Saturday
Current Limited Menus: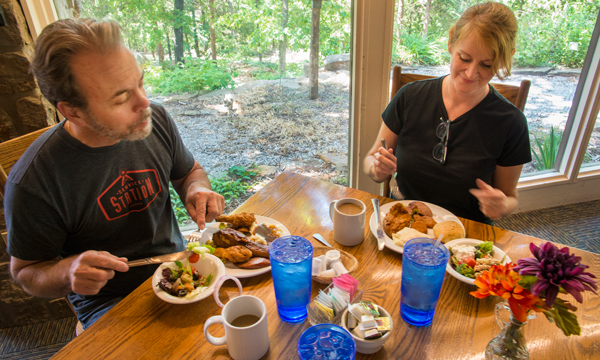 ​