Arkansas State Parks offer plenty of great accommodation options for guests, ranging from luxurious lodges to cozy cabins and rustic campgrounds. But if you want to experience something new in a campground setting under the stars, a YURT (Year-round Universal Recreational Tent) may be just the thing. YURTs are perfect if you don't have camping equipment but would still like a camping experience. There is a fire pit, grill and picnic table on the campsite too so you can still make s'mores and cook out. There is no set up either, so you can concentrate on enjoying your time in the park.
These round, high walled tents are some of the best YURTs in Arkansas, complete with electricity, wood floors, screened windows, and a door with a lock. YURTs are also equipped with bunk beds, a lantern, gas cook stove, and ice chest. Linens are not furnished, so you need to bring your own. They sleep up to six people.
Rent-a-YURT is available at DeGray Lake Resort State Park, Lake Catherine State Park, Lake Charles State Park, or Petit Jean State Park. There is a new YURT at Daisy State Park also, but it doesn't have electricity yet.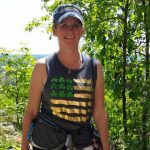 Monika Rued is the public information officer for Arkansas State Parks. She and her son, Pierce, love the outdoors and taking advantage of our incredible state parks. Monika is passionate about sharing everything Arkansas has to offer, making a difference for families in need, her family, enjoying incredible local fare, rock climbing, and as a ginger is always on the quest for the best sunscreens and moisturizers.