Friday Fan Event to Kick Off Spring Game Festivities
FAYETTEVILLE, Ark. – The Razorbacks are headed to Central Arkansas April 6-7, 2018, for a weekend of festivities surrounding the 2018 Red-White Spring Football Game. Arkansas head football coach Chad Morris and the Razorback football team will take part in a fan interactive event at Dickey-Stephens Park, in North Little Rock, on Friday night before taking the field on Saturday for its spring game at War Memorial Stadium in Little Rock.
"We are looking forward to an exciting weekend in Central Arkansas as we introduce fans to Coach Chad Morris and our new staff while also providing fans their first look at the 2018 Razorback Football team," Hunter Yurachek, Arkansas Vice Chancellor and Director of Athletics, said. "We appreciate the cooperation of our friends at War Memorial Stadium and the Arkansas Travelers for partnering with us to make this weekend possible. I hope fans throughout the state will join us and take advantage of this opportunity to meet our team and cheer them on during the spring game."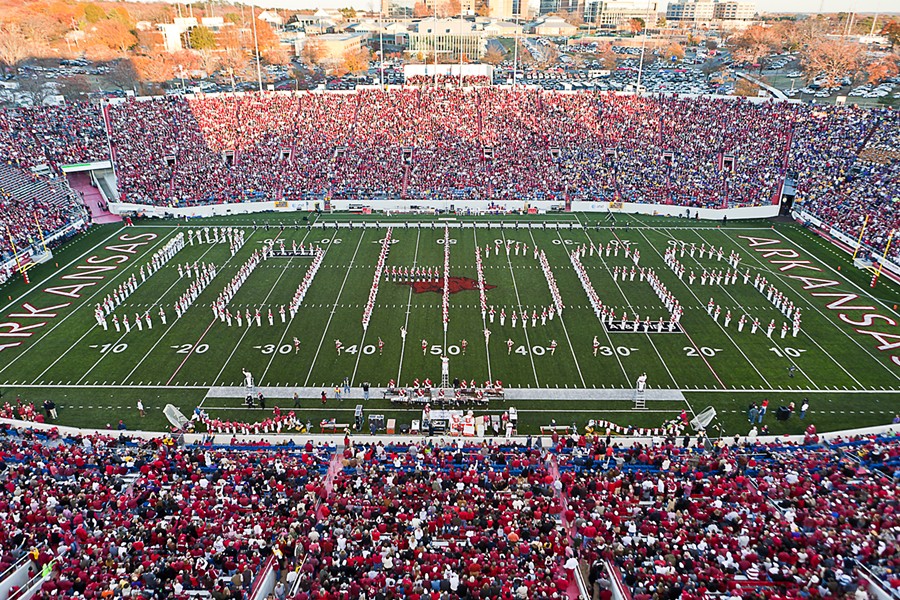 "What a fun weekend this is shaping up to be," Kane Webb, executive director of the Arkansas Department of Parks and Tourism, which manages War Memorial Stadium, said. "We're thrilled to be able to play a part with the spring game at the stadium and look forward to the game, all the fun festivities surrounding it, and just having the Razorbacks here in Central Arkansas."
In advance of the 2018 Red-White Spring Football Game, Arkansas fans will have the opportunity to meet the Razorbacks on Friday, April 6, at the Arkansas Travelers baseball game at Dickey-Stephens Park in North Little Rock.
About Arkansas State Parks
Arkansas state parks and museums cover 54,400 acres of forest, wetlands, fish and wildlife habitat, outdoor recreation facilities and unique historic and cultural resources. The system includes 1,100 buildings (including 183 historic structures), six National Historic Landmarks, a National Natural Landmark and 16 sites on the National Register of Historic Places.
The state parks have 1,800 camp sites, 1,050 picnic sites, 208 cabins, five lodges, and 415 miles of trails. Eight million visitors annually come from all regions of the country. Park staffs provide over 42,000 education programs, activities and special events to more than 700,000 participants each year.
Established in 1923, Arkansas State Parks preserve special places for future generations, provide quality recreation and education opportunities, enhance the state's economy through tourism, and provide leadership in resource conservation.