2017 Arkansas State Park of the Year Awards
Five Parks Chosen by Their Peers for Outstanding Service
(Little Rock, AR) October 5, 2017
Lake Ouachita, Woolly Hollow, Village Creek, Logoly and Petit Jean State Parks were selected as the Park of the Year (POY) for the five regions in the parks system at the recently held annual Superintendents Conference. This is a coveted honor, as it is a peer selected accolade.
"The way the awards work is that each park presents their yearly report to all their peers," said Arkansas State Parks Director Grady Spann. "The selection of the POY is by other superintendents and not by central office just looking at numbers on a page. It's really very much a recognition of a leader among their peers."
The Region 1 winner is Lake Ouachita State Park in Mountain Pine. Superintendent Lee Howard noted several aspects of the park's operations that make 2017 a genuine standout.
"Now that our campground renovations are completed we set a new revenue record," said Howard. "We brought in $1.3 million, which is 8% higher than anticipated."
Howard also noted that Lake Ouachita's Bird Island continues to be a favorite amongst guests. It is home to purple martins and during the roosting season, tours of the island drew in guests from throughout the state. Also, other unique events continued to lure in visitors.
"If it takes a village to raise a child, it certainly goes to say that it takes just about everyone in the park to make sure that each Kayak Campout is a success," said Howard.
The Region 2 winner is Woolly Hollow State Park in Greenbrier. Superintendent Steven Wilson said despite an unusual rain event in April– 9 inches fell in 5 hours – the park overcame this unexpected occurrence and went on to have a great year.
"We saw a 75% increase in visitation," said Wilson. "As well as a nearly 50% increase in revenue and camping occupancy. To top it all off, the Weather Channel named us as best swimming spot in the state!"
Wilson also noted their increase in volunteer service. Woolly Hollow had 573 volunteers that served more than 3,500 hours – a value of $76,119.
"All of our parks are doing everything very well, which is what makes these awards so interesting," said Spann. "Because we operate at such a high level, it's always achieving just that extra special unique opportunity that usually is what sets that park apart."
The Region 3 winner is Village Creek State Park in Wynne. Superintendent Vicki Trimble says they've seen a 60% increase in visitation compared to last year.
"We've had many special events this year, which has increased program attendance," said Trimble. "Village Creek offered everything from star gazing weekends to kids campfire cooking. Also our golf tournament revenue was 40% more than 2016."
Village Creek is one of the few state parks that offer equestrian camping. They hold an annual fund raiser called Saddle Up for St. Jude and this year raised over $8,500 for that charity.
"We are also very proud of our resource sustainability efforts," said Trimble. "We recycled 500 cubic yards of paper, plastic and aluminum and reduced diesel use by 80 gallons."
The Region 4 winner is Logoly State Park in McNeil. Superintendent Jim Gann says having the new state of the art visitor center open last spring has made a big difference. Visitation has increased by more than 40% and gift shop revenue is up 200%.
"I fear we have awakened a sleeping park," said Gann. "Logoly has traditionally been a school field trip destination and that now continues with renewed vigor. School programming increased by nearly 80%."
"It makes a big difference opening a new facility," said Spann. "However, it's not the fact that you have a new facility but how you manage that facility and the increased visitation that brings new demands. That takes good leadership. A facility is easy to open and then numbers will automatically go up, but it's still the impact and the experience you have with the guests that come to our parks that make the difference."
The Region 5 winner is Petit Jean State Park in Morrilton. Superintendent Joe Buckley says he's humbled by his peers giving this park the award and credits his staff and volunteers for their hard work.
"This is the fifth consecutive record setting year for revenues," said Buckley. "We were able to stay 6% below budget in extra help. We had a 75% increase in volunteers with 522 people giving their time freely to help keep this important resource functioning at its best for our visitors."
Petit Jean completed 15 major maintenance projects under budget.  An outstanding project with a fishing pier and renovation of 3 cabins was completed with teamwork by the park staff working along with the newly formed Operations Task Force (OTC). OTC is a crew of skilled tradesmen that go from park to park to help with big projects.
"We look forward to Park of the Year Awards every year," said Spann. "It's a little friendly competition that usually brings out the best in people."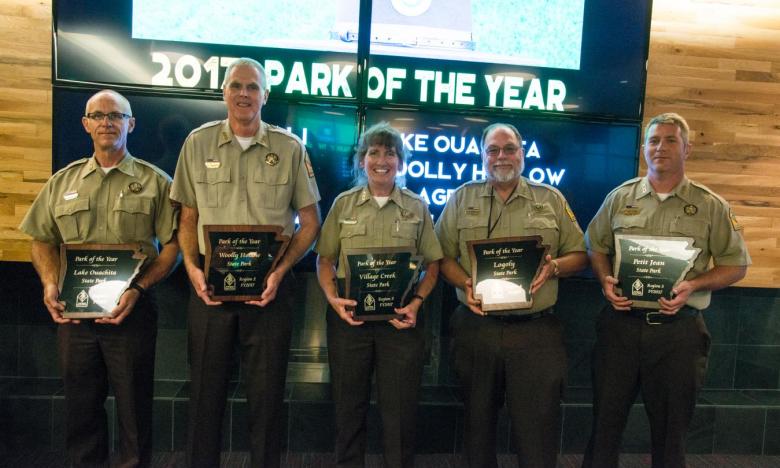 About Arkansas State Parks
Arkansas state parks and museums cover 54,400 acres of forest, wetlands, fish and wildlife habitat, outdoor recreation facilities and unique historic and cultural resources. The system includes 1,100 buildings (including 183 historic structures), six National Historic Landmarks, a National Natural Landmark and 16 sites on the National Register of Historic Places.
The state parks have 1,800 camp sites, 1,050 picnic sites, 208 cabins, five lodges, and 415 miles of trails. Eight million visitors annually come from all regions of the country. Park staffs provide over 42,000 education programs, activities and special events to more than 700,000 participants each year.
Established in 1923, Arkansas State Parks preserve special places for future generations, provide quality recreation and education opportunities, enhance the state's economy through tourism, and provide leadership in resource conservation.