100 Hours of
Centennial Service
There are many ways to love State Parks: doing recreational activities in them is certainly a major one—whether you choose to hike, camp, fish, bike, birdwatch, or just relax. But, another way to show your love is to volunteer.
This year, we are encouraging participation in a special, self-guided program called 100 Hours of Service.
To participate:
Download and print a volunteer service log linked below. 
Log your hours in the table. Logging is on the honor system and does not require park staff signature.
If you choose, you can also use the reverse side of the page as a fun visual tracker, by coloring in one stone per hour of service. Much like the Civilian Conservation Corps built our first parks, you will build up a symbolic stone wall of service time. We recommend filling in the special heart-shaped stone for either your first or 100th hour!
All service hours should be during the 2023 calendar year and take place at an Arkansas State Park site (or for social media entries, in promotion of Arkansas State Parks).
To claim your rewards at the 5, 40, and 100-hour service levels, email a photo or scan of your service log to 

[email protected]

. You will receive an email confirmation and rewards will be mailed to you.
Those pursuing the 100-hour service drawing must submit entries by January 15, 2024.
Youth are eligible to participate and receive rewards. Volunteer service by all minors must be under direct supervision of parent/guardian. In the event a minor wins the grand prize drawing, lodging certificate will be issued to parent/guardian.
Rewards: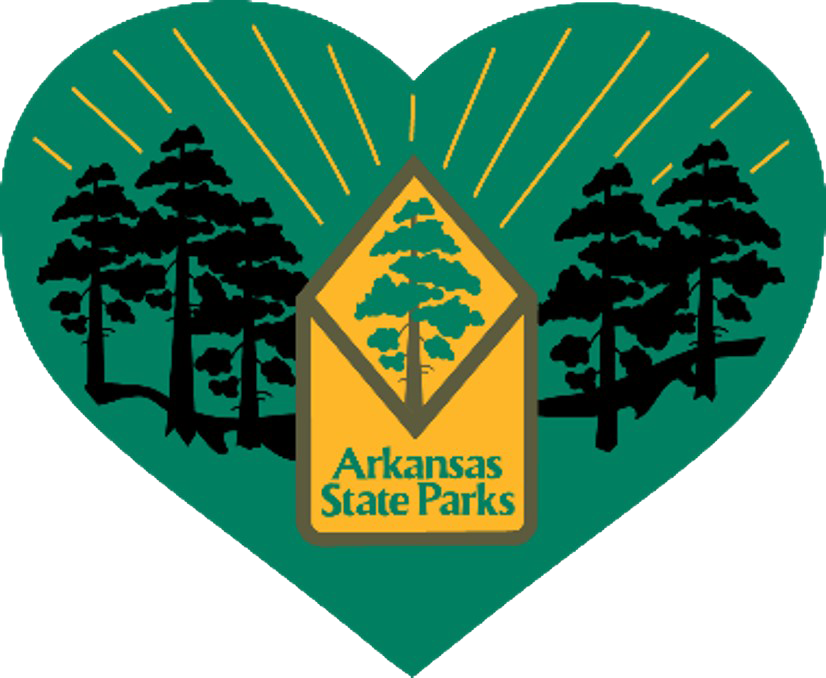 ​
5 hours of service: Receive an exclusive sticker to show the world your love for Arkansas State Parks. Display on your car, trailer, cooler, water bottle, etc.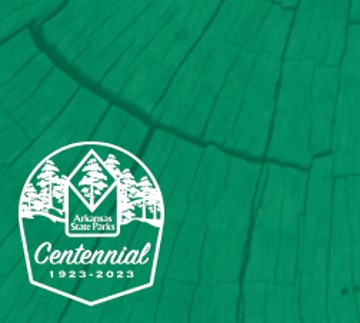 ​
40 hours of service: Receive a special Centennial-logo neck gaiter you can use as a sweatband, head wrap, neck scarf, etc.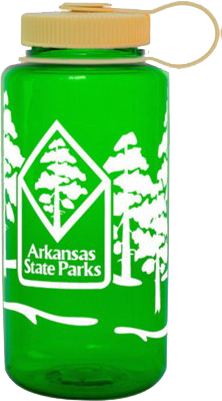 ​
100 hours of service: Receive an Arkansas State Parks Nalgene reusable water bottle, AND be entered in a special drawing for grand prizes.
Grand prize drawing: Those submitting 100 hours of service logs by January 15, 2024 will be entered into a drawing:
Top prize: A hiking stick that has gone on tour during the Centennial year to every state park, and has on it hiking stick medallions from all 52 parks, AND a free two-night stay at any Arkansas State Parks lodge or cabin.
Two runners-up will also receive a free two-night stay at any Arkansas State Parks lodge or cabin.
What counts as service?
Litter pickup is welcomed and can be done as an unscheduled and self-guided activity. Safety while doing so is top priority. If desired, complimentary gloves and bags can be obtained in the visitor center. Dispose of collected litter in park receptacles. For all other self-guided service projects, please get approval from park officials before starting.
Park-assigned projects:  Visit ArkansasStateParks.com/about/become-volunteer to get connected to specific parks. Through correspondence, park staff will work with you to identify projects that best fit your schedule and skillset, as well as the parks' needs. Park staff will also review any safety guidelines for specific activities. Projects may include, but are not limited to: trail maintenance, native plant landscaping, community science observations, interpretive program assistance, etc.
Park-guided events: Check the online calendar for special days of service scheduled at state parks throughout the year. You can specifically search for volunteer events using that search category.
Social media promotion (up to 5 hours): If you tag @ARStateParks on five positive social media posts, and also include the hashtag #ARStateParks100 for our Centennial, you can log those five posts as one hour of service. Up to five hours of your 100 can be logged for social media promotion (25 social media posts).