"Just a Walk in the Park" Newsletter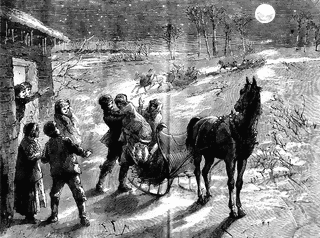 Can you BELIEVE we are in December!?!
We will wind up the year with our biggest award winning event - Christmas and Candlelight. The first of this special two night event has already happened. We hope you came out and enjoyed yourself and the beautiful sights. If not, you have one more chance...Saturday, December 8, 2012 from 1 - 8 p.m. Evening tours with lighted luminaries begin at 5 p.m.
See photographs taken by HopePrescott.com at http://www.hopeprescott.com/christmas-and-candlelight-at-historic-washington/
While you are here you can try a little spiced apple cider at the Morrison taproom and learn a new (old) game called skittles.

http://www.vintageprojects.com/kids/SkittlesGame.pdf
Spend a little time in the gift shop looking for special one of a kind handmade in Washington items and browse the clearance shelf. (I do regularly)
You can stop at the home of Dr. James Alexander Lafayette Purdom and learn more about early medical treatments and doctors. Below is a link to a summary of the history of the medical licensing laws for the State of Arkansas. This is how good ol' country doctors got their credentials.

Medical Licensure in Arkansas.pdf
While you are at the 1836 Confederate Capitol Courthouse remember this story of the community events that often centered around this historic building.
"Local News

There will be a Union Christmas tree at the schoolhouse tomorrow night, and it will be a fine one, too.

Celebrate the Christmas holidays in the proper spirit—not in drinking and carousing –but in all kinds of innocent amusements.

Conway has a new arrival—Whiskey. The very best, try it in your nogg, or straight, as you like, it is good any way.

Six beautiful presents will be raffled tonight at the Christmas tree—two nicely dressed dolls, a one silk handkerchief, a moustache cup and a magic mirror. Take a chance.

Dr. A. L. Purdom, whom the PRESS is proud to claim as one of its best friends, was here yesterday. From him, we learn that the good people of Red Land Township will have a Christmas tree to-night. May they enjoy it to its utmost extent.

Christmas is here. Remember the printer.

The whole country seems to be taking in a big Christmas.

Make the printer's Christmas happy by paying what you owe him.

Jim Ellis' Christmas gift to the PRESS was a dozen big red apples. Thanks.

John Lowry, the jolly bow-legged drummer will spend Christmas here at home.

The young people will dance to-night after the presents are distributed from the Christmas tree.

Take a chance at the six elegant prizes to be raffled to-night at the Episcopal tree."

[Source: South Western Press December 24, 1880, pg. 5- http://historicwashington.wetpaint.com/page/Local+News]
And complete

your trip to Historic Washington with a meal at Williams' Tavern

CHRISTMAS AND CANDLELIGHT BUFFET MENU
CHICKEN & DRESSING
GIBLET GRAVY
CRANBERRY SAUCE
HAM STEAKS WITH ORANGE GLAZE AND PINEAPPLES
CANDIED YAMS W/MARSH & PECAN TOPPING
ITALIAN GREEN BEANS
CREAMED POTATOES
CORN
WHITE GRAVY
YEAST ROLLS
CHOCOLATE PECAN EARTHQUAKE CAKE
AMBROSIA SALAD
Have you checked out Video News from TAC yet?
You can see these stories in the November 2012 edition of this monthly half-hour show, available now on our nonprofit streaming-media Web site, The Archaeology Channel (

http://www.archaeologychannel.org

)

as
well as on cable TV in cities across the United States.
Receipts and Recipes

It is the time of year for baking pies. The kitchen feels cozy and
warm on cold days with the oven on as the most delicious smells
fill the house.
These recipes were prompted by two pie
experiences.
The first was stopping by Williams' Tavern Restaurant and seeing pumpkin pies cooling. Manager, Joyce Graves told me about recipes using sweetened condensed evaporated milk that are delicious and easy. I knew right then that I had to offer one here.

Next, I have many pecans and like simple recipes. The pecan pie recipe was gained by a search for a simple pie like my sister makes. She is the family pecan pie maker.
Easy Pumpkin Pie
1-9 inch unbaked pie crust (optional gluten free pie crust)

1- 15 ounce can pumpkin

1-14 ounce sweetened condensed milk

2 eggs

1 teaspoon

cinnamon

½ teaspoon ginger

½ teaspoon salt
Heat oven to 425 degrees.

In a bowl whisk together pumpkin, sweetened condensed milk, eggs, cinnamon, ginger, and salt.

Pour into unbaked pie shell.

Bake 15 minutes.

Reduce oven temperature to 350 degrees and bake for 35-40 more minutes or until knife inserted into the center comes clean.

Cool completely and serve.
1 basic pie pastry recipe (Or "store bought" pie shells)


3 large eggs

½ cup dark brown sugar

½ cup white sugar

¾ cup light corn syrup

2 tablespoons butter

2 teaspoons vanilla extract

¼ teaspoon salt

2 cups pecans (chopped is optional)
Use only half of the pie dough. Roll the dough and fit into a 9-inch pie plate and chill.

Melt the butter, then add all ingredients, except pecans, and mix well.

Stir in pecans.

Pour filling into pie crust. Bake at 350 F for 55 – 60 minutes or until set.
[Source: http://sugarywinzy.com/irresistible-pecan-pie]


-------------------------------------------------------------------------------


Coming Soon - 2013 Calendars of Events!




Available - volunteer opportunities! Call Vicky at 870-983-2558 or email.


Group Rates

Choose from Individual Admission -$20.00 and Family Admission $30.00 (Parents and children through age 18)

Call for more information - 870-983-2684 Your friends can sign up at http://www.historicwashingtonstatepark.com/enews/


Friends, just enter your name and email, then submit. It is that easy

!